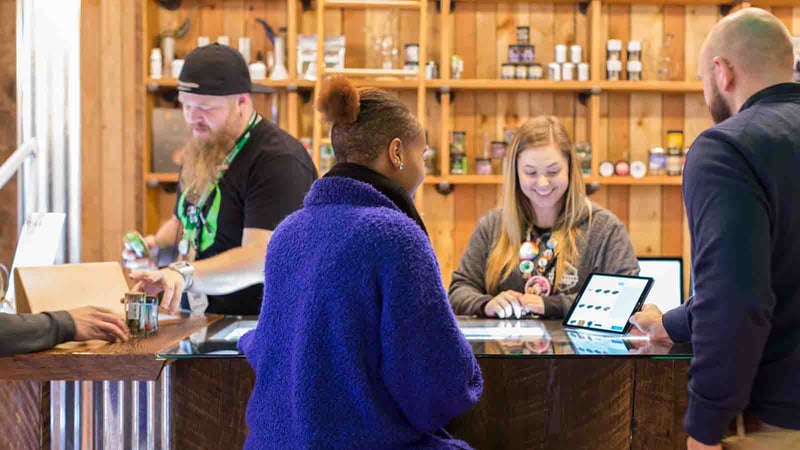 Cannabis-specific software services have made dispensary record-keeping and compliance reporting easier than ever. With the industry now teeming with tech companies, cannabis retailers no longer need to rely on cumbersome spreadsheets or—even worse—pencil and paper to track their sales and inventory counts.
But if you're in the market for a point of sale system for your dispensary, you're going to want to do some homework before making a purchase decision—because not all cannabis POS platforms are created equal.
Downtime Is a Reality
The ability to integrate dispensary point of sale and inventory management software with web-based traceability reporting systems like Metrc has simplified statewide seed to sale tracking. However, internet connectivity issues and downtimes are a harsh reality. So what happens when there's an outage—either on the state's end or yours?
Unless your POS has a functional offline mode, you'll have to resort back to the archaic spreadsheet or pencil-and-paper method. This is less than ideal for several reasons.
Remaining Compliant When the System Is Down
First, recording all transactions by hand—including the substantial amounts of detailed traceability information required by the state—will significantly increase wait times for customers. This inevitably will lead to lost revenue from impatient customers walking out the door because the checkout process is just taking too long.
Manually ringing out sales also significantly increases the risk of errors—not just in seed to sale data tracking, but in calculating product weights and equivalencies to ensure customers don't exceed transaction limits. If your POS typically alerts your budtenders when a daily limit has been met, they're not going to be used to quickly computing product equivalencies in their heads.
There's more than just lost revenue that you have to worry about in these situations, though. Accurately recording seed to sale traceability data and ensuring customers don't purchase more than the daily limit are major factors in remaining compliant with the state—and we already know what can happen when your dispensary is found out of compliance.
POS Reliability
Having an offline mode that can record all necessary transaction and traceability data while keeping your lines moving in times of an internet outage is ideal. But what good is this function if your POS itself is unreliable?
And as an industry, we've seen plenty of examples of cannabis software system failures that left retailers in a lurch. That's why it's critical to do your homework and thoroughly evaluate any point of sale systems you're considering for your dispensary.
Along with system features and functionality, consider the software company's pedigree and reputation within the cannabis industry. What is their demonstrated history of uptime, emergency backup functions, and customer support? What about security?
Meet Cova
At Cova, we provide cannabis retailers a software platform designed to streamline their operations—from checkout counter to stockroom—and keep them compliant with the state's regulations.
Want to learn more? Book a free demo today and let us show you how Cova can help grow your empire.