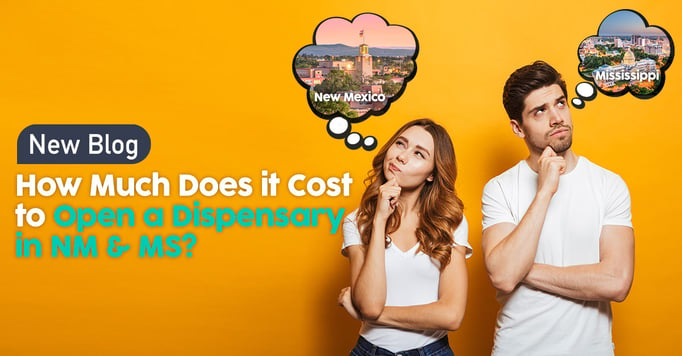 While Mississippi recently became the latest state to legalize medical marijuana, New Mexico took a giant leap to start recreational cannabis sales from April 1, 2022. Both these states are quite different, and the cost of opening a dispensary can vary. However, similar to other industries, cannabis businesses require physical locations, motivated teams, high-quality products, and technology, which cost around the same, no matter which state you operate.
Operating a dispensary is not just another regular business. Starting a cannabis business entails state applications, licenses, fees, and computer hardware and software that comply with tracking requirements and other regulations. In this blog post, we explain the application and licensing costs for opening a cannabis dispensary in New Mexico and Mississippi, and then dive into all other basic costs that every dispensary must incur to launch a successful business.
How Much Does it Cost to Open a Cannabis Dispensary in Mississippi?
Mississippi will not limit the number of dispensary licenses, but the initial application fee begins at $15,000. All dispensary licenses issued by the department for the Medical Cannabis Program will be valid for one year from the date of issuance. Dispensaries will also have to pay an annual non-refundable fee of $25,000 to maintain their license. Cannabis regulations in Mississippi are still being established, and 'The Mississippi Department of Revenue (MDOR)' will start accepting medical marijuana treatment centers applications by July 2022.
How Much Does it Cost to Open a Cannabis Dispensary in New Mexico?
As compared to Mississippi, it is relatively cheaper to apply for a retail dispensary license in New Mexico. Annual fees for a dispensary license are $2,500 and an extra $1,000 for each additional licensed premise. In fact, all these fees are reduced by half for medical marijuana dispensaries only. Thus, if you are only operating a medical cannabis treatment center in New Mexico, you need to pay an annual license fee of only $1250. New Mexico has also established social equity provisions and 'The Cannabis Control Division' will offer discounts on license fees to applicants from a community disproportionately impacted by cannabis prohibition.
Initial Capital Requirements and Banking Fees
Opening a cannabis dispensary requires higher capital requirements than other retail sectors. Some states may also ask for financial statements to prove that you have sufficient liquid assets to keep your business running. Your capital requirements include initial expenses, investments, and startup costs. Since cannabis is still illegal federally, big banks are wary about doing business with dispensaries. Using local credit unions is a common alternative instead of a traditional bank. Some small private banks can charge up to $2,000 a month for their services.
Real Estate Costs and Location Challenges
You will likely be leasing retail space unless you own a location. An area that has good visibility and high footfalls would be ideal. With zoning restrictions, you'll probably find it challenging to discover a good location for your cannabis business, but real estate costs are decent in New Mexico and Mississippi. In both the states, the rent of a retail store ranges between $20/sqft and $40/sqft annually, depending on the location. However, many landlords may be reluctant to have a cannabis dispensary on their premises, and you'll likely have to pay a premium.
Construction, Infrastructure, and Technology
Once you have chosen an ideal location, you may have to spend $10-15/sqft in design and renovations to meet regulations, match your brand identity, and optimize store flow. Dispensaries are also mandated to have a security surveillance system, so add on at least $20,000 for that. Your tech infrastructure, including tablets, computers, cash drawers, receipt printers, barcode scanners, etc., will add to your upfront capital costs. Investing in a reliant POS like Cova will give you a higher return on your initial investment.
Cannabis Products Costs and Employee Wages
To maintain a regular supply of cannabis inventory, you will need to buy products in bulk, and high-quality cannabis could cost you up to $1,500 per pound. You must also designate enough money for packaging supplies and labels. Efficient inventory management can help keep costs low. Your dispensary also needs fully trained employees for smooth operations. A couple of budtenders, a supervisor, and a store manager will amount to an annual payroll of approximately $200,000 in New Mexico or Mississippi.
Marketing, Taxes, and Other Operational Costs
Cannabis is among the country's highest-taxed and highly regulated industries, and marketing and advertising restrictions only add to the costs. You can expect to spend at least $20,000 or up to 10% of your sales revenue on marketing and advertising annually. In Mississippi, medical marijuana products will fall under the state's existing 7% sales tax. In New Mexico, the cannabis excise tax on retail sales is currently set at 12%, and gross receipts taxes, ranging from 5.125% to 8.8125%, would apply to recreational but not medical cannabis.
Despite the hundreds of thousands of dollars required to open and operate a cannabis dispensary, nearly 90% of operating dispensaries report that they are profitable, and you can certainly make good money as a dispensary owner. If you're looking at opening a dispensary in New Mexico or Mississippi, Cova can be your technology partner, guide you through the whole process and help you set up a compliant dispensary in no time. Click below to learn more.