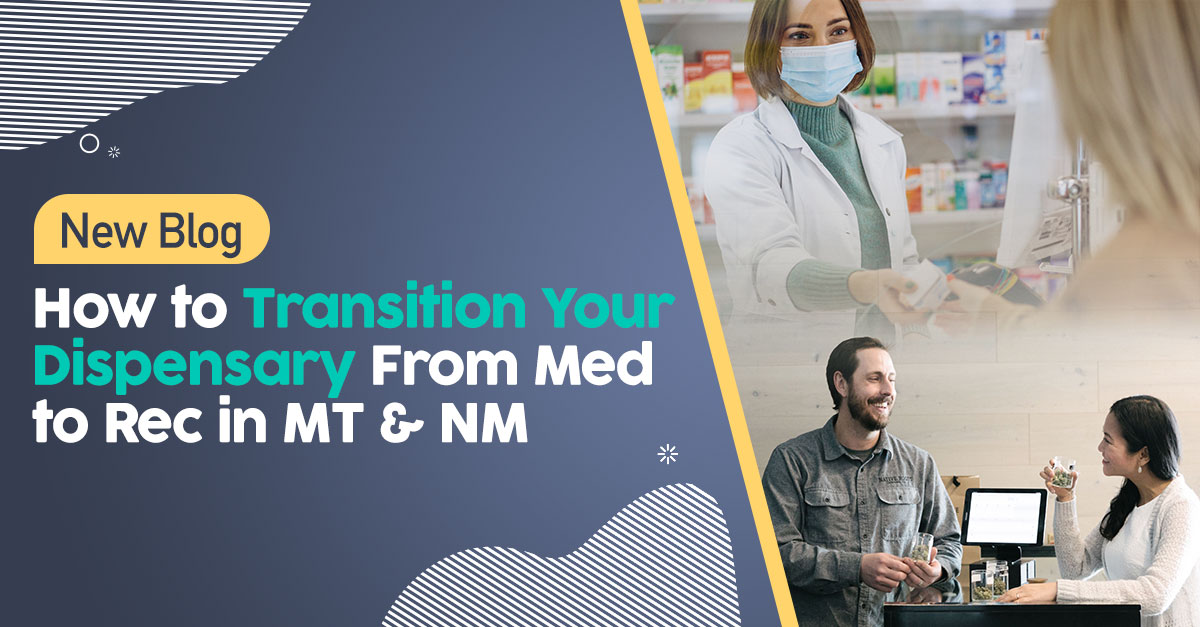 In the United States, most states first tend to legalize medical marijuana before making cannabis legal for recreational use. Montana and New Mexico followed the trend by making adult-use cannabis legal recently in 2022. It is a massive opportunity for existing dispensaries to tap into a new customer base and scale their operations. However, while the possibilities to build or expand your cannabis retail business are endless, transitioning from a medical to a recreational dispensary business can be challenging even with a well-thought-out plan, considering different regulations for adult-use cannabis.
Recreational Cannabis Regulations in Montana
In Montana, sales of recreational cannabis became legal from January 1, 2022. However, many counties have decided not to participate in the adult-use program, so you can only make legal recreational cannabis sales in counties that have allowed the same. Licensing regulations are also quite stringent in Montana. From January 2022 until July 2023, only Montana medical marijuana licensees that held licenses on November 3, 2020, or had an application pending on that date, may be issued a legal license for the sale of adult-use cannabis.
Recreational Cannabis Regulations in New Mexico
New Mexico has not imposed limits on the number of cannabis retail licenses. Local counties may limit the number of dispensaries or restrict where they are located but will not be allowed to ban them entirely. New Mexico launched recreational cannabis sales on April 1, 2022, as it became the 18th state to do so legally. Medical marijuana dispensaries must apply for a recreational dispensary license and can operate both entities on shared premises.
What to Know Before Transitioning Your Dispensary From Medical to Recreational
Before making the transition from medical to recreational cannabis in New Mexico or Montana, it's important to understand what this change will mean for your dispensary business.
Changes to Customer Demographics
Your customers are not just patients anymore, and your customer base for recreational cannabis will expand to cover different demographics, including health enthusiasts or creatives. These customers will buy cannabis for various purposes, and your marketing communications will have to be customized for your new target market.
Changes to Taxes and Operations
Things will change from an operational perspective as well. For example, a cannabis excise tax of 12% is levied on cannabis retail sales in New Mexico but there's no tax on cannabis sales to registered patients, caregivers, or visiting patients from other states. In Montana, medical marijuana is taxed at 4%, while adult-use marijuana will be taxed at 20%. Consider what this will mean for your pricing strategy and profit margins.
Changes to Compliance Requirements
The recreational cannabis market requires stricter compliance laws and regulations. In Montana, people aged 21 and above can legally buy up to one ounce of cannabis, while medical patients can purchase up to 5 ounces. In New Mexico, recreational cannabis consumers can purchase up to 2 ounces of cannabis, and medical patients will be able to buy up to 15 ounces of cannabis flower after an upcoming change in the law. Dispensaries in both states must use Metrc for seed-to-sale tracking of all cannabis products sold.
Steps to Transition from Medical to Recreational Cannabis in Montana and New Mexico
1. Acquire New License
Montana is limiting recreational licenses only to medical dispensaries for the next two years, while New Mexico will not impose a limit on the number of adult-use cannabis retail licenses. In both states, even if you already operate a medical marijuana dispensary, you still need a separate license to sell cannabis to recreational consumers. Verify with your state's adult-use regulations that your existing store location is properly zoned, as not all areas or municipalities allow recreational cannabis storefronts. Also, determine the cost of a recreational dispensary license and other operational costs before applying.
2. Expand Existing Inventory
Many cannabis products have potency rules that stipulate products can only be sold as med or rec, depending on the % of THC or CBD permitted. Check your state's regulations on how recreational dispensaries must manage inventory and how much extra stock you need to ensure that there's no shortage for medical patients, which is another crucial stipulation. In Montana, only 13 licenses for cannabis cultivation will be awarded. Thus, your suppliers are limited if you are sourcing all cannabis from within the state. As you expand your inventory, consider customer preferences, pricing, supply and demand, and compliance considerations.
3. Change Dispensary Layout
Incorporating new clients into your dispensary would require adjusting your dispensary layout. Recreational consumers don't have the same requirements as medical patients. They tend to buy primarily based on what is visible on the shelf or what your budtender recommends. Have a plan for where you will display your recreational products and set up any additional waiting rooms, shelves, or other storage, as needed. Keep security in mind when redesigning your layout, as enhanced measures will be needed with the increase in footfalls and inventory.
4. Update Processes & Train Staff
Recreational consumers bring new consumption methods that your staff must know. Your new customer base may not be as knowledgeable as medical marijuana patients, so your budtenders must be prepared to answer more questions about THC and CBD percentages in cannabis products and their effects. They also must adhere to the purchase limits, and a cannabis POS system like Cova, with built-in purchase limits for every state, will facilitate that. In a rec dispensary, you must verify a customer's age, but you need not save any personally-identifying information, and the two different customer groups must not be confused. As you update your dispensary policies and procedures, keep your staff in the loop.
5. Use a Compliant POS System
The final step in the transition to the adult-use market is updating your cannabis POS system. If you're also launching a cannabis eCommerce store, choose a POS system that integrates seamlessly with your online store or cannabis marketplaces. When shopping for the right cannabis-specific POS system, look for the following features:
The ability to seamlessly integrate with Metrc
ID and age verification of customers
Purchase Limit Alerts
Automatic reporting and inventory sync
Product information at the budtender's fingertips
You may have operated your medical dispensary with a generic POS, but it won't do the trick anymore. To remain compliant with recreational cannabis regulations, you need a cannabis-specific POS system. Cova is a POS built specifically for the cannabis industry and designed to handle the complexity of constantly changing regulations. With 2-way integration to Metrc in both Montana and New Mexico, Cova's reporting functionality is intuitive, fast, and will always keep your operations compliant. With a simple and user-friendly interface, Cova POS will make it easy for your staff to curate a great customer experience. Book a demo now to learn more.