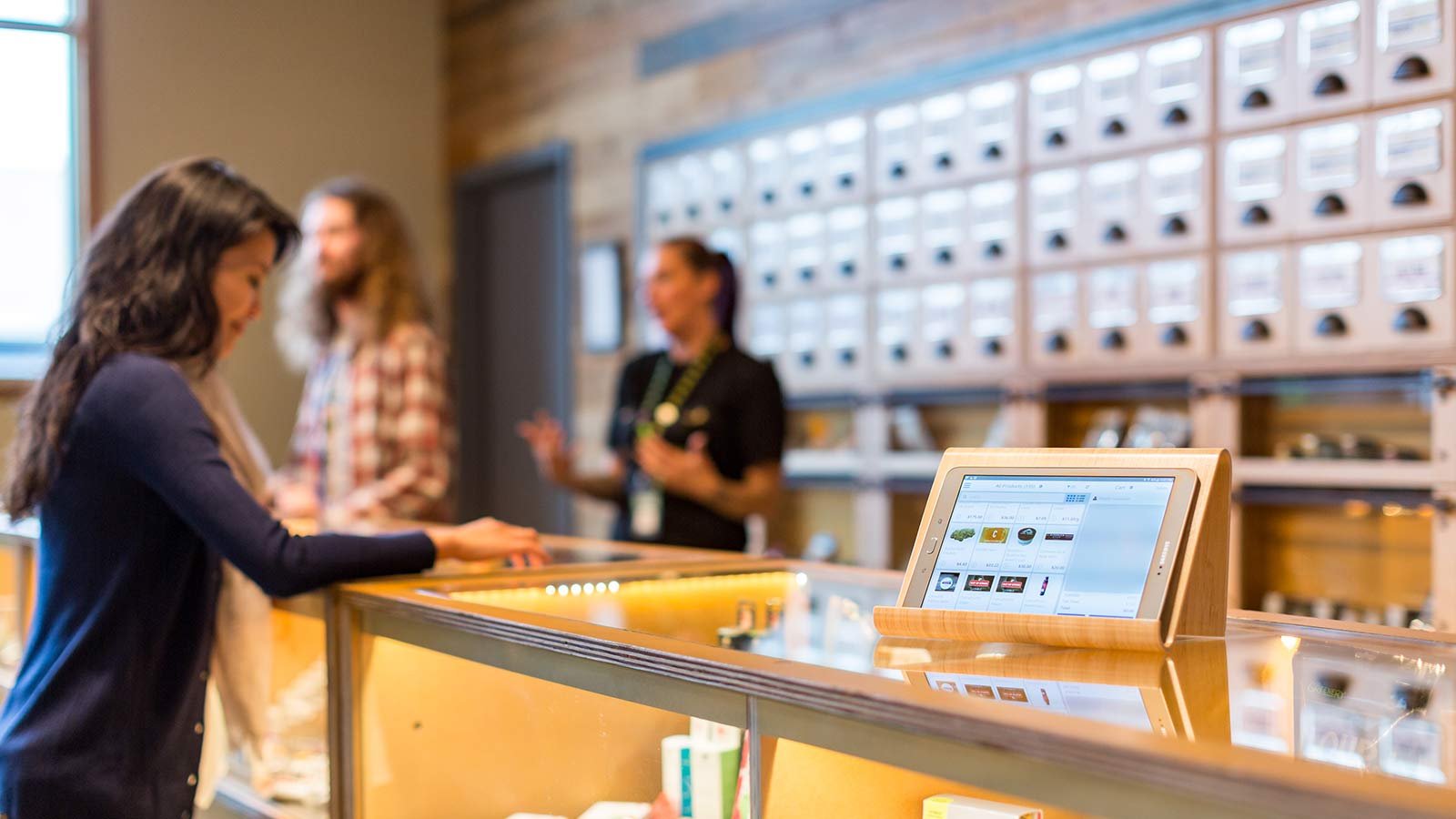 All cannabis retail businesses want to be successful, have regular customers who keep returning for our products and services, and have revenue that keeps increasing. But how do you do that? What's the best way to ease all the difficulties of running a dispensary and improve your services?
As a cannabis business owner, you should know the importance of having the best cannabis software solutions for your business, including dispensary POS, cannabis eCommerce, and digital payments. An advanced dispensary POS system helps in accurate retail sales tracking, inventory management, payment processing, customer data recording, and much more. The right POS system is designed specifically for your market and its unique requirements to help you run your cannabis retail store easily and efficiently.
This blog describes how using an advanced cannabis POS system and other seamlessly integrated cannabis software solutions can increase your sales and keep your dispensary ahead of the competition.
What does Advanced Cannabis Software Offer?
Modern cannabis software allows you to operate your dispensary by processing your payments and keeping track of your sales to ensure that you stay compliant with local cannabis regulations. Depending on the business you run and its requirements, you may want to make online cannabis sales, process digital payments, and track cannabis inventory from seed to sale.
A robust cannabis POS system is at the heart of all these operations and if it is seamlessly integrated with all the other software services that you need, your business will always have the best cannabis retail technology to ensure streamlined dispensary operations and excellent customer experience.
Different Types of Cannabis POS Systems
The two main types of POS systems are traditional POS systems and Cloud-based POS systems. While the former uses internal servers and works offline, Cloud-based POS systems, also called web-based systems, work with an internet connection. Compared to traditional POS systems, Cloud-web based systems offer a greater and more efficient service. This has made many business owners either change to Cloud-based POS, and traditional POS systems are gradually being phased out.
A web-based cannabis POS system is your best bet as with their ultimate mobility and flexibility, these systems allow you to access your data anywhere. What's more, unlike traditional POS systems, there's no need for on-site visits to update your systems. With cloud-based dispensary POS systems, the company sends updates regularly and overnight so as not to interrupt a working day. And if you need to integrate the POS system with another software solution offered by the company or connect to a third-party application through an API, all of it can be done easily so that you can quickly start using the services to boost your cannabis business revenue.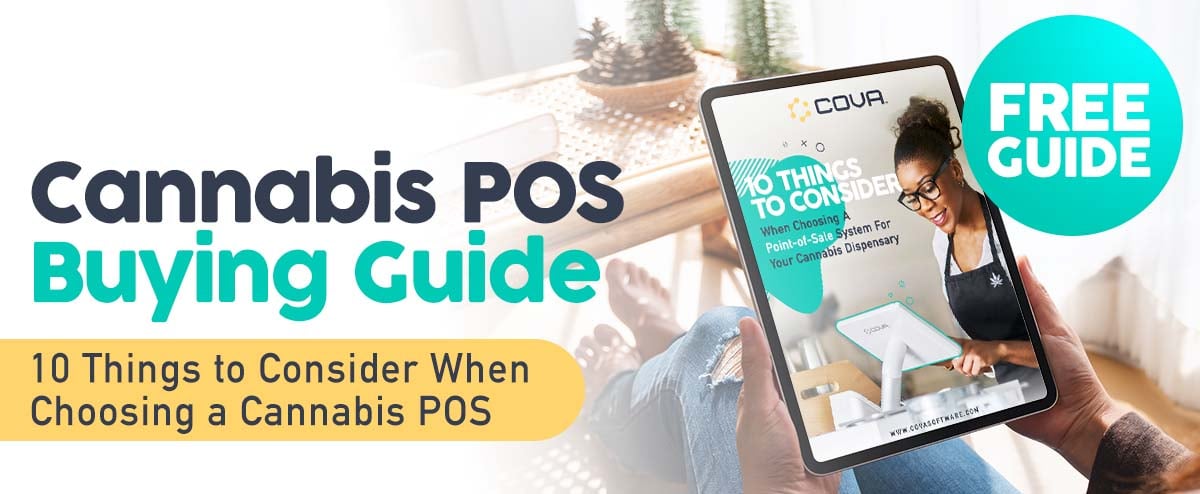 How Robust Cannabis Retail Technology Boosts Sales
Let's talk about how Cannabis Retail Software solutions and POS technology can boost revenue and improve dispensary services.
1. Improved Customer Service
You know what they always say, a happy customer makes a happy business. Don't you agree? No one can deny that the pillar of every thriving business is customers who leave the store happy.
A well-integrated dispensary POS system allows you to offer your existing and potential customers a seamless customer experience. By collecting and analyzing data on members` buying habits, POS systems help you make more informed business decisions. Using this information, you'll learn about new trends and high-demand products in the market so that you can fill up your store accordingly and retarget customers better on the platform they prefer to buy their cannabis on, whether it is your cannabis eCommerce store or retail dispensary.
One thing customers hate when shopping is POS systems crashing amid a busy day like 420 with long lines of customers. We all have better things to do than wait in line. That's why advanced cannabis software with minimal to zero crashes is necessary for every retail store.
Additionally, as business owners grow their footprint in the online world, a multichannel seamlessly integrated POS system with other solutions like cannabis eCommerce and digital payments helps business owners to control all their online and offline sales efficiently.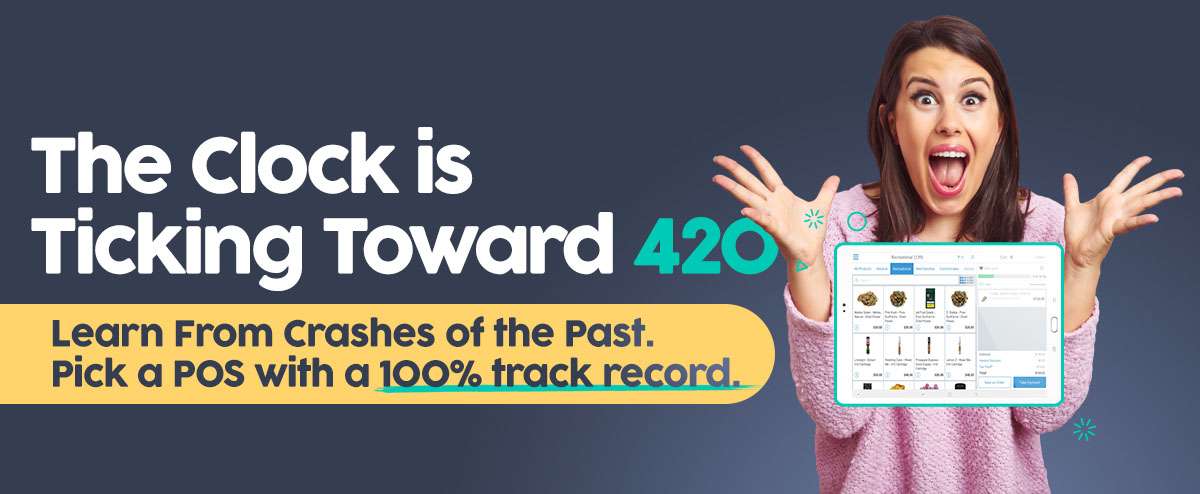 2. Cannabis Data Analysis
Running a business is all about making the right decisions. And to do so, you can't only rely on your knowledge or experience to make all those difficult decisions. Advanced cannabis software with AI data analytics helps you increase sales by gathering all the crucial information and making data-based decisions.
Checking and managing your inventory in different locations
Monitoring staff, attendance, and performance
Managing deliveries and shipments
Managing customers' shopping habits
Analyzing products sale
Analyzing market demands.
An advanced dispensary POS system provides business owners with different reports that analyze KPIs such as profit margin and total profit. By doing so, retailers can track their losses and profit and use these data to increase sales.
Moreover, the best suite of cannabis retail software collects information about best-selling products and vendors with higher sales. This information helps retailers manage their business, save money, improve services, and increase sales.
3. Improved Efficiency
One of the nightmares of every business owner is dealing with all the paperwork, including bills, reports, orders, sale figures, compliance reports, and more. This is especially an issue for dispensary owners, who have to deal with complex regulations too. That's not all. Paperwork is just the tip of the iceberg. Scheduling team members, managing cannabis inventory, and accounting all take a great deal of time and energy.
But creatively designed and reliable Cannabis Software and POS systems like COVA Software Cannabis Retail Solution can do all these time-consuming tasks efficiently. You can leave all this paperwork in the hands of capable cannabis retail software and focus on finding more ways to satisfy the customers and increase your sales.
4. Reduced Errors and Mistakes
Yes, mistakes are part of every human operation. But when it can cost us a lot of money and even a loyal customer, why not think of a way to decrease it? Using a cloud-based advanced cannabis POS system allows you to leave all the tedious work of collecting data and reporting to the system, thereby decreasing the possibility of human error in these processes.
Additionally, cannabis dispensaries in the United States need to stay compliant with state laws and regulations. To do so, they have to send out reports to state authorities regularly. Filing reports manually increases the probability of human error.
A cannabis POS system that syncs seamlessly with tracking systems like METRC for cannabis retailers can manage all the compliance reports avoiding possible mistakes made by human entry. Here are some of the cannabis compliance violations common in dispensaries:
Inadequacy in inventory reports
Inadequacy in deliveries
Sales to minors
Out-of-limit patient purchase
5. Fast Transactions and Payments
If you're still wondering how the best Cannabis retail tech solutions increase sales, one answer is speeding up your transactions. Waiting in long lines at the retail store checkout is a real pain in the neck. And it can be time-consuming and irritating. A POS system like Cova that runs on smartphones, tablets, and iPads and offers a fully integrated digital payments solution expedites the payment process and saves you a lot of time. Budtenders and sales staff can use the easy-to-use software and manage the transactions wherever customers wish.
According to recent research done by Capterra, about 64% of business owners have agreed that using a tablet or mobile POS system like Cova has helped them increase their products' sales. Moreover, 82% have reported that mPOS have also improved their customer services.
6. Seamless Management of Loyalty Programs
I'm sure you know the importance of repeat customers. But did you know they account for about 65% of the total product sales? Yes, that's a lot. And it's why you need plans to turn your first-time customers into loyal ones.
Customer loyalty programs have always been used by successful commercial companies. Now with cloud-based POS systems, retailers can take their loyalty management to the next level and provide a seamless customer experience.
Advanced cannabis retail technology can handle a loyalty program to award customers points when shopping for different products from your dispensary. Customers can later use these added-up points to get discounts or free products.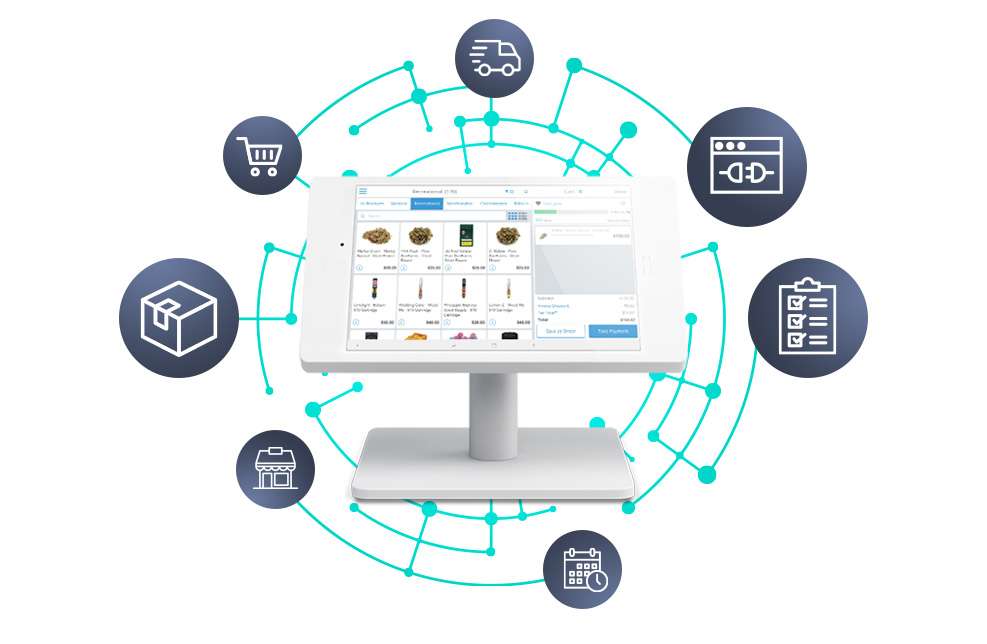 A Dispensary POS System vs. Regular POS System
If you're a newbie in the dispensary market, you're probably baffled about so many POS systems that are out there. You may even wonder why you should buy a dispensary POS system. And if it is any different from a regular one.
Well, the answer is yes. A dispensary POS system has all the features of a regular POS system and is even better, as it allows you to plug and play as per your requirements while staying compliant with all cannabis regulations. Running a cannabis dispensary is not a piece of cake. The market is always growing, the demands are changing, and the state's laws for selling cannabis products are often confusing.
Cova Software Demo
Are you looking for an advanced cannabis software solution for your newly opened dispensary? Or maybe you're tired of your old POS system crashing in the middle of a busy day. Either way, Cova is here to help you.
With Cova, you get a complete bundle of cannabis software solutions integrated seamlessly with the dispensary POS system. Whether you're looking for cannabis eCommerce, digital PIN debit payments, efficient inventory management, or advanced data analytics, we take care of all your needs so that Cova POS can work its magic to streamline and grow your dispensary business. With Cova, your customers will receive a fast, pleasant, and personalized experience.
Waste no more time and let Cova solve all your burdens. Now you can rest easy and focus only on developing your business. Check out our website to learn more or click below to schedule your COVA Software Dispensary POS Demo.