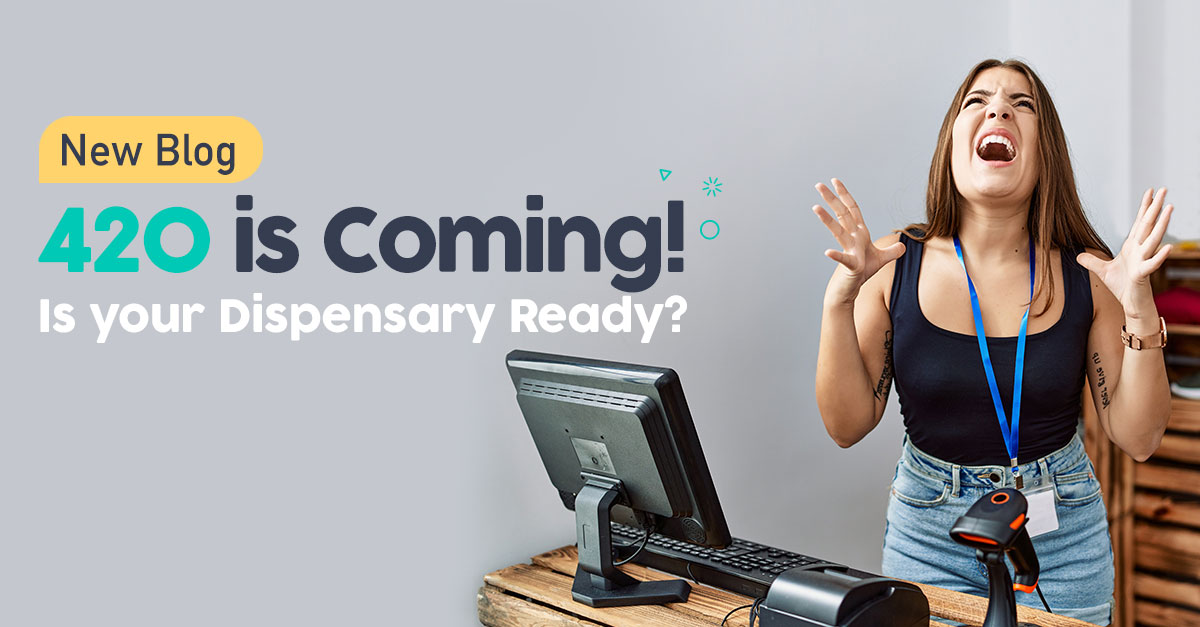 The cannabis industry's biggest holiday is just over a month away, and it is time for you to start planning now if you want to make the most of it. In previous years, many dispensary POS systems have had a chronic reputation of crashing on 420, as they are not well-equipped to handle the traffic and transactions on this big day. With covid restrictions eased and life getting back to normal, you can expect April 20, 2022, to be the biggest 420 so far, and your cannabis retail operations must be ready to capitalize on the industry's most important business day. If your dispensary POS system crashed on 420 last year, then that is indeed a big red flag, and it is probably time to switch. In this blog post, we highlight five ways through which you can evaluate if your cannabis technology provider will have your back on 420 or not.
1. Google Search- "Your Dispensary POS" Crash
A quick google search on your cannabis pos provider or any other pos system along with the keywords "420" and "crash" will paint a comprehensive picture of how multiple cannabis retail stores suffered in the past because of their dispensary POS systems crashing on 420. As a dispensary owner, you may have gone through a similar ordeal if your cannabis POS did not keep up with 420 traffic in previous years, and you certainly would not want to endure something like that again.
Many POS platforms don't have the capacity for high-volume transactions and crash on big occasions like 420 because they don't have a robust tech infrastructure to sustain the heavy traffic on such holidays. Cova has been the only cannabis POS that has never crashed on 420 because its system is built on decades of proven technology, and the software is regularly updated to keep up with the ever-changing cannabis regulations. A quick google search on Cova with the same keywords will corroborate this fact about our robust tech infrastructure.
2. Evaluate Ongoing Customer Support
How your POS vendor's onboarding and launch team helped you set up your dispensary operations is probably a decent reflection of ongoing customer support. However, many POS software companies do not have a customer support team at all and may leave you stranded during times of crisis. Even when initially choosing a POS system, you should verify whether they have a customer support contact number on their website, their hours of availability, and their response time. They may claim to have the best customer support- but don't take it at face value and personally verify everything before signing up.
A reputable POS provider will go above and beyond to ensure that their system is customized for your needs and ongoing support is of the highest quality. If you encounter an issue with the POS system, especially on big days like 420, someone must be available to help you solve that issue ASAP, or your customers will walk out and go to another dispensary instead. Cova has the most renowned customer support team amongst all cannabis POS providers, and our clients constantly rave about them.
3. Verify POS Provider Reliability & Expertise
Many cannabis tech startups may help you quickly launch your operations but when issues arise, they may be able to help you streamline your dispensary management. Your chosen cannabis POS system should have the ability to grow with you and adapt to changing times. Cova has a cannabis tech infrastructure exceeding current industry needs with enterprise-grade performance capabilities. Also, with our unique offline mode, which is extremely useful on 420, you can continue with sales in the case of a WiFi or another system outage, and everything will sync once back online.
A cannabis technology company having extensive experience in the industry will always be an authority on the latest developments and will regularly update its product to stay ahead of regulatory changes and also adapt quickly to evolving consumer buying behavior. This year 420 is predicted to be the biggest so far, and you definitely want to partner with a POS provider that has industry-specific knowledge and expertise to help you succeed. Cova is a rare example of a dedicated cannabis POS system built on a proven platform and trusted by over 2000 cannabis businesses across North America.
4. Data Analytics for 420 Preparation
In the days leading to 420, you must start planning the products you will be stocking for the day, based on the previous year's data and current market trends. Successful retailers track top-selling products and profit per product and use such data from their POS system to make the right decisions about procurement. A well-designed POS system should offer efficient reporting capabilities, not just about inventory and compliance but also other aspects of your operations- insights that can help dispensary owners succeed on the biggest day of the year.
Powerful analytics will also help you make smart decisions about dispensary staff scheduling, discounts, promotions, loyalty program, and customer experience. If your dispensary point of sale software doesn't have the tools to help in your preparation for 420, then it's time to switch. With data analytics from Cova POS and its seamless integrations to cannabis gift cards and loyalty programs, you can leverage comprehensive insights to help you design smart marketing promotions and ensure that both you and your customers have a profitable 420.
5. E-Commerce & Other Software Integrations
As buyer behaviors change and people are preferring to buy cannabis online, with curbside pickup and delivery options also on a rise, you must ensure that your dispensary POS seamlessly integrates with your E-commerce platform or online marketplaces, if you are still using those. Your chosen E-Commerce solution must integrate seamlessly with your cannabis POS system for efficient inventory management, transactions, delivery management, and payment processing for a quick turnaround.
Also, to ensure that your dispensary is fully prepared for 420, POS integration with HR & workforce scheduling software is essential to ensure that you have enough staff to attend to the increased traffic your store will witness on 420. With an expanding cannabis tech ecosystem, you must work with a POS system that offers the flexibility to choose the best-integrated technology solutions as per your needs. Cova has one of the best partner networks in the industry, and with seamless integrations to various solutions, your dispensary will be all set to conquer 420 like never before.
Choose the Best Dispensary Technology Partner for 420 & Beyond
Dispensaries can't be prepared enough for 420. April 20th is always a great opportunity for cannabis dispensaries to show their existing customers and potential future clients what they're made of and curate an elevated shopping experience. However, you must have the right cannabis technology partner to ensure that your 420 cannabis retail strategy is a success. If your dispensary point of sale software is not ready for 420, then it certainly lacks the capabilities to help you grow your business. 420 is coming, switch to the best cannabis pos now.