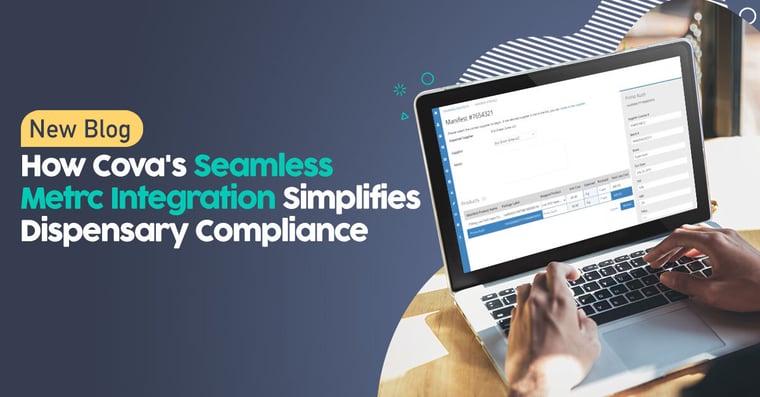 Operating a cannabis dispensary heavily binds to regulatory compliance, making that the number one priority for cannabis retailers intending to keep their doors open. In most US states, that includes reporting to the mandated traceability system—often Metrc. Currently enforced in 19 states, Metrc is a cloud-based reporting system that tracks cannabis production and products from seed to sale. Maintaining Metrc compliance could be daunting and complicated, but a cannabis POS system like Cova with cannabis compliance at the heart of its technology simplifies that complexity. Cova is beyond a Metrc-compatible POS and inventory management solution. Cova's seamless two-way integration and best-in-class support make Metrc compliance a breeze for cannabis dispensaries.
How Does Cova Streamline Metrc Compliance?
Seamless Full Metrc integration
Cova seamlessly integrates with the Metrc system to report relevant data such as sales, returns, product disposals, and order intakes via an automatic API push. Unlike the manual approach requiring dispensaries to export data from their POS via a CSV file, configure it to the correct formatting, and then manually upload it to Metrc, Cova automatically sends all your sales transactions and inventory adjustments as and when they occur in real-time.
Real-Time Sync for Transactions & Adjustments
Cova integrates with Metrc via a 2-way API that automatically pushes all transactions, adjustments, and corrections to the Metrc tracking system. Unlike manual Metrc reporting, which forces retailers to wait until the end of the day to manually upload reports, Cova's 2-way API syncs with Metrc in real-time and eliminates manual reporting that is not only time-consuming but also error-prone. Moreover, in states that mandate real-time Metrc reporting, only POS systems with live-sync Metrc capability can fulfill Metrc compliance requirements. Even if a connection issue comes up, all data is saved in Cova's offline mode and automatically syncs once you are back online.
"Although Metrc is an additional oversight for compliance, I endorse it as an inventory manager. And with Cova's 2-way integration, I know that we are prepared for Metrc "
Streamlined Compliance in Inventory Management
Manifest intake: Metrc compliance also involves syncing cannabis inventory data and purchase orders between your POS and Metrc account. Cova's seamless integration allows you to easily import all received Metrc manifests to Cova without the need for making double entries, which again takes time and raises the risk of human error.
Metrc reconciliation report: Ensuring that all inventory data accurately sync with Metrc is simple via Cova's Metrc reconciliation report. Cannabis dispensaries can generate Metrc reconciliation reports anytime to easily compare real-time data from their inventory in Cova and Metrc, spot any discrepancies at a glance, and quickly take necessary actions if needed.
Seamless Launch with Premier Support
Cova takes pride in its excellent customer support and commitment to its client's success. Our premier launch team stands side by side with you throughout the setup process. Beyond the mandatory Metrc training, you always have access to Cova's complimentary webinars and useful resources, along with attentive and award-winning customer support that streamlines your Metrc compliance.
"Cova's support team is all-time. Having Cova's support and help throughout the process made me feel much more comfortable"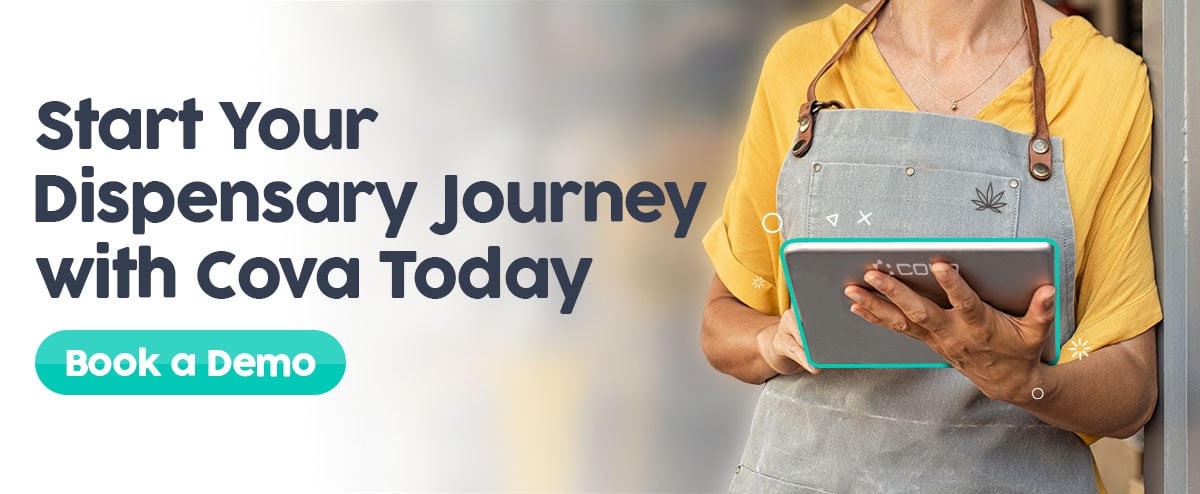 Why Cova is Beyond a Metrc-Compatible Dispensary POS?
Despite many POS software that barely meets Metrc compliance requirements, Cova streamlines Metrc compliance in an efficient and effortless approach. No other dispensary POS has top-notch syncing capabilities with Metrc as Cova POS has.
"We have a wide network in Oklahoma's cannabis industry, and pretty much every dispensary owner recommended us Cova POS. For any type of reporting, this is the most user-friendly system I have worked with"
Effortless and Real-Time Compliance
At Cova, we believe that a compliant cannabis POS must take the burden off dispensary owners' shoulders and let them easily and constantly maintain compliance. Thus, we designed our Cova-Metrc integration to be live synced with the Metrc system and automatically reflect any sales, purchase orders, inventory adjustments, and corrections.
Saves Time and Labour Resources
Enhancing efficiency, which correlates with dispensary profitability, highly relies on the solutions you use for your day-to-day operation. Complying with the Metrc system happens through your POS software. Choosing a sophisticated Metrc compliant cannabis POS like Cova not only simplifies the compliance process but also extensively boosts efficiency. Cova via its 2-way Metrc integration and Metrc reconciliation report prevents you from time-consuming manual data entry and lets you save time and labor resources. In addition, compliance automation limits risks of human errors that could expose your business to hefty fines and penalties.
Full Support Through the Entire Journey
From the very beginning, even before opening up your dispensary, everyone at Cova, from Sales to the Launch team and Customer Support, is committed to your success. Our state-expert and assertive launch and support teams ensure that your POS successfully integrates with Metrc, provide you with resourceful training, and are available via email, phone, and live chat to fully assist you in your journey. Book a demo with us to see how Cova can be your best-in-class partner to streamline dispensary management.
"The user-friendliness of the POS facilitated the onboarding and training experience. But even for any troubleshooting issues, the Cova support team is always available, which indeed makes Cova a lovable POS"