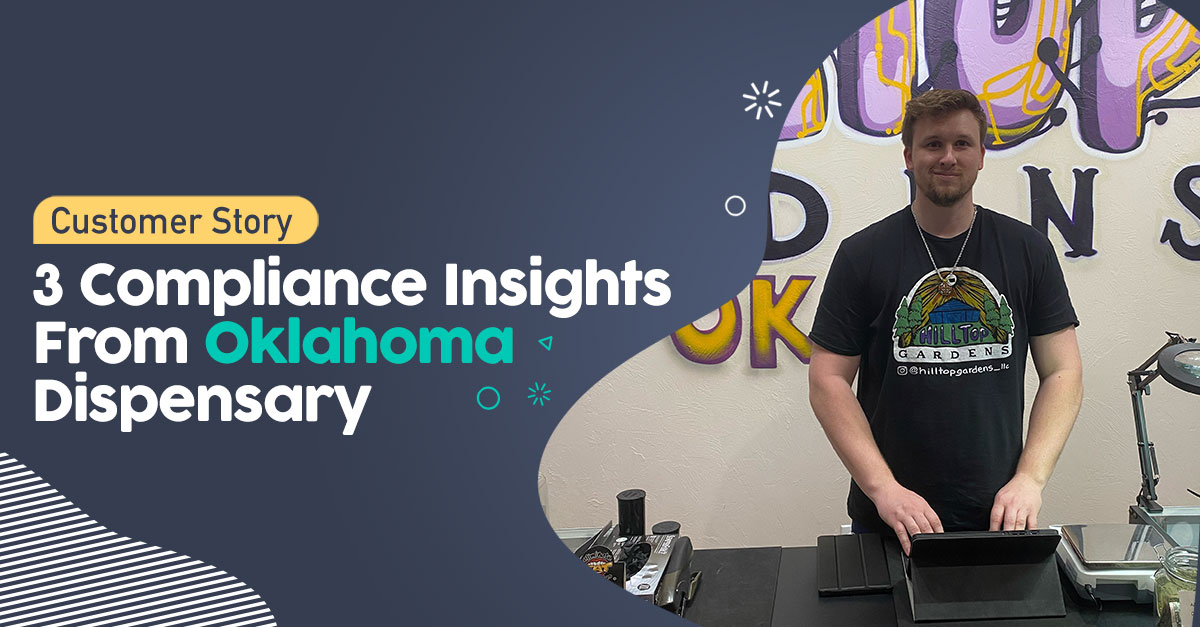 Oklahoma has been called the wild west of cannabis, and until last year, the OMMA had struggled to regulate the booming medical marijuana industry. However, with competition intensifying and the state cracking down on illegal operations, various new compliance requirements have been introduced. So far, many dispensary owners were operating either without a POS system or with a generic one. However, with the METRC deadline looming large, it is more than essential for dispensaries to migrate to a cannabis POS system to continue operating and grow their dispensary business while complying with regulations.
As these new regulations and METRC tracking come into force in Oklahoma, managing a dispensary becomes more than an art. The right technology tools can help you just not streamline operations but also facilitate compliance. Oklahoma city's Hilltop Gardens is a vertically-integrated cannabis business that recently opened a dispensary and has deployed Cova as its dispensary POS system. Their operations and inventory manager, Jonathan McGuffee, has some great insights on managing and keeping dispensary operations compliant.
1. User-Friendly Cannabis POS Simplifies Dispensary Compliance
As a cultivator and processing facility, Hilltop Gardens has always focused on growing and sourcing the best material from a single source and offering patients the most holistic medicine in Oklahoma. Following the right processes to ensure the best quality and impactful medicating effects is extremely important, and Hilltop Gardens strives to replicate the same ethos at their dispensary by ensuring compliance with all laws and regulations.
Cannabis is a highly regulated industry for a reason. It is to make sure that consumers or medical marijuana patients have legal access to safe cannabis products. By using the right cannabis POS system, dispensaries can avoid violations. The seamlessness of Cova POS has really helped Hilltop Gardens just not prioritize holistic health and provide a great customer experience but also stay on top of dispensary compliance.
"We have a wide network in Oklahoma's cannabis industry, and pretty much every dispensary owner recommended us Cova POS. For any type of reporting, this is the most user-friendly system I have worked with", says Jonathan, who has a tech background and has worked closely with software like Oracle and Netsuite.
2. Inventory Control and Tracking are Essential for Medical Marijuana
In the cannabis industry, where you deal with highly perishable products, inventory control and management play a significant role. For medical marijuana, certain regulations are even more stringent, and a high level of scrutiny must be maintained. When it comes to inventory processes, from receiving and auditing to monitoring stock levels and reordering, every element must be documented and clearly defined.
A quality dispensary POS system like Cova automates all inventory management procedures and integrates seamlessly with state traceability systems like Metrc for stress-free tracking and compliance. Now, Metrc has faced opposition in Oklahoma, and implementation has been delayed. However, OMMA has now mandated seed-to-sale tracking, and dispensaries must start using Metrc by May 2022. This will only help in simplifying inventory management.
"Although Metrc is an additional oversight for compliance, I endorse it as an inventory manager. And with Cova's 2-way integration, I know that we are prepared for Metrc ", mentions Jonathan, citing another reason why Hilltop Gardens chose Cova.
3. A Reliable Technology Partner Helps Streamline Dispensary Operations
From navigating strict regulations and efficiently managing inventory to monitoring employees and curating a consistent customer experience, there's a lot that goes into dispensary management. A reliable cannabis technology partner grows with you and never leaves you in the lurch in times of need. A POS is truly the heart of dispensary operations, and a system like Cova POS helps you streamline all processes while staying on top of compliance.
The simplicity of the system has stood out for Jonathan, and training budtenders on it is a breeze as well. "The user-friendliness of the POS facilitated the onboarding and training experience. But even for any other troubleshooting issues, the Cova support team is always available, which indeed makes Cova a lovable POS system", declares Jonathan.
As a medical marijuana dispensary owner, you can not afford to make any costly compliance mistakes. Ensure you partner with a company that automatically updates its software as OMMA rules change. With an ever-expanding partner tech ecosystem, 2-way integration to Metrc, real-time reporting, and other advanced dispensary management features, Cova's cannabis POS will always simplify compliance for you.