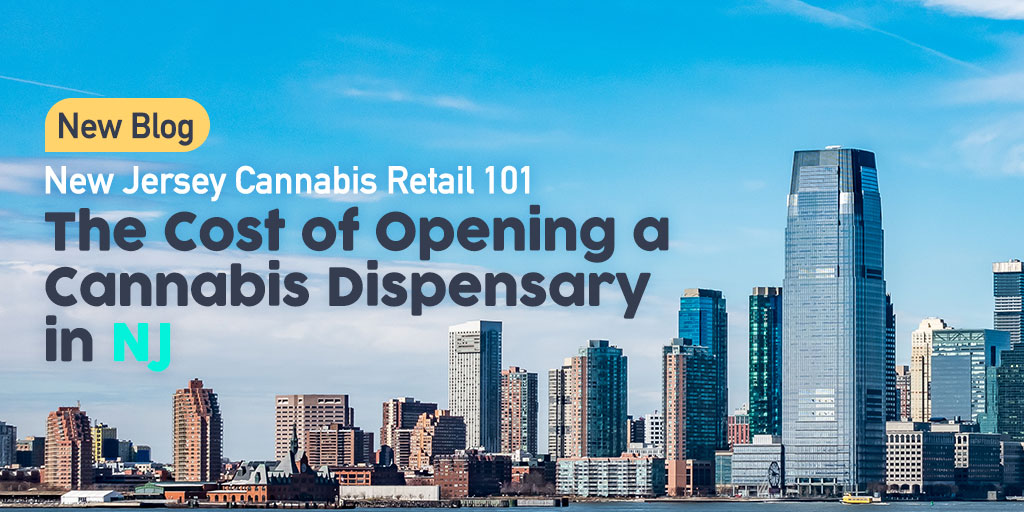 New Jersey's newly formed Cannabis Regulatory Commission met for the first time on April 12, 2021, to start the process of establishing a responsible, fair, and equitable cannabis industry in New Jersey. Initial cannabis regulations were released on August 19, 2021, and will empower the CRC to begin licensing cannabis businesses like cultivators, manufacturers, and retailers. The NJ CRC is in charge of awarding all cannabis retail licenses and will also assume the New Jersey Department of Health's responsibility of overseeing the medical cannabis industry in a market that is projected to surpass $1 billion in sales by 2023.
The most crucial elements of how to open a dispensary in New Jersey are applying for a Class 5 Cannabis Retailer license issued by the CRC, budget, and financing, a robust business plan, and figuring out how much it will cost to launch your cannabis business. If you are a visionary entrepreneur looking to jump onto the bandwagon early and capitalize on this exciting opportunity, this blog post will help you understand the main costs that you will incur as a marijuana dispensary owner in New Jersey.
Application and License Fees
To reduce barriers to entry, initial application fees are low, and applicants will pay the full application only after approval. Applicants only need to pay 20% of the fee at the time of submission, and the remaining 80% will be collected after the license is approved. The cost to submit an application will start as low as $100, and the total application costs will range from $500 - $2,000. The annual retailer license fee for cannabis dispensaries in New Jersey has been set at $10,000 per year. Here's a complete guide to applying for a cannabis retailer license in New Jersey.
The New Jersey Cannabis Regulatory Commission has extensive criteria for applicants, and an application must include a detailed business plan to qualify. Some of the requirements include the applicant's environmental impact plan, community impact plan, workforce development plan, a summary of the applicant's safety and security procedures, and the chosen point-of-sale system for compliant sales of cannabis products.
It's essential to consult cannabis industry experts and lawyers before you submit your application, and as a potential dispensary owner, you will have to incur professional fees of at least $10,000 or more. If you are considering launching a marijuana delivery service, you also have to apply for a separate Class 6 Delivery License.
Location and Real Estate Costs
Unless you own a store location, you will most likely be leasing retail space in a neighborhood that has good visibility, and high foot traffic, and where you can easily target your ideal demographic. You'll probably pay a premium for being in the cannabis business, and annual real estate expenses can run over $100,000. The rent of a retail store can range between $100/sqft and $400/sqft annually, depending on the location. And even though the New Jersey retail market witnessed a slump of $0.47/sqft during the pandemic, new retail locations will also have to adapt to the rising trends of curbside pickup and delivery to provide the best customer experience in the future.
Once you have selected an ideal location compliant with all local zoning laws of New Jersey, you may have to spend up to $75/sqft in design and renovations to meet regulations, match your brand identity, and optimize store flow.
Technology and Infrastructure
Your tech infrastructure is the foundation of your marijuana dispensary. Cannabis sales at your store require fast and reliable hardware and software and a compliant cannabis-specific POS system. For your IT infrastructure, you will need Tablets, Computers, Cash Drawers, Receipt Printer, Barcode Scanners, etc., all of which will add to your upfront capital costs. Investing in a reliant POS software system, like Cova, which has the best features to ensure fast and compliant sales, will be a wise decision, as you will get a higher return on your initial investment.
New Jersey requires you to maintain a security surveillance system or risk having your NJ marijuana license revoked for lack of compliance, so add on at least $50,000 for that. As a cannabis dispensary owner in New Jersey, you must maintain impeccable records of all your inventory, finances, and other aspects of your business, so employ the right tech to set it all up.
Inventory Costs and Employee Wages
Substantial investment is required to maintain a regular supply of cannabis inventory. As a retailer, you will need to buy products in bulk, and stocking your shop with high-quality cannabis could cost you around $1,500 per pound. Considering the anticipated demand at your dispensary, it's crucial to have enough stock and some buffer for inventory spoilage. You must also park money for packaging supplies and labels. Efficient inventory management can help keep costs low.
To run any business successfully, you need dedicated and fully trained employees. The size of your shop will dictate how many people you need on staff, but a couple of budtenders, a supervisor, and a store manager will amount to an annual payroll of approximately $250,000 if you pay them at industry standard rates.
Marketing, Advertising, and Taxes
Cannabis is among the country's highest-taxed and highly regulated industries, and marketing and advertising restrictions only add to the costs. You can expect to spend at least $25,000 or up to 10% of your sales revenue on marketing and advertising annually. Adult-use cannabis sales in New Jersey will be taxed at 7%, and municipalities will be allowed to charge local sales taxes of up to 2%. These taxes must be paid to the state government.
Navigating through all these legal cannabis regulations can be challenging, but we are here to help. If you are a cannapreneur looking to open a cannabis dispensary in New Jersey, you certainly need an expert technology partner to be successful in this business. Cova can guide you through the whole process and help you set up a compliant dispensary in no time. Click below to learn more.