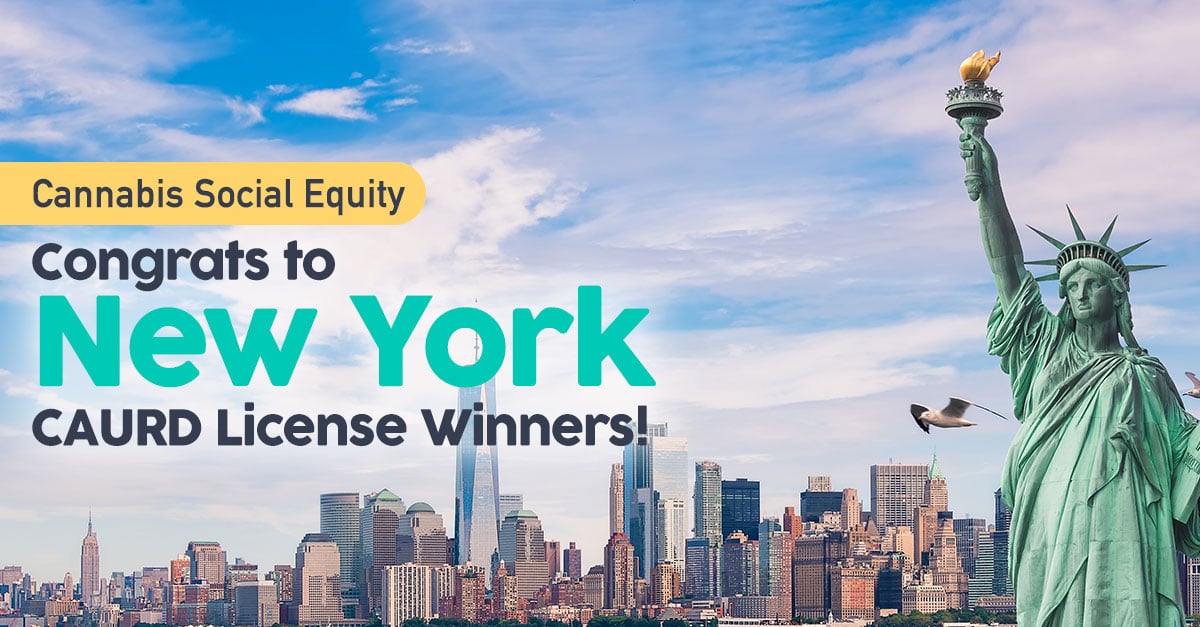 Just a few days before the Thanksgiving holiday in November 2022, New York's Office of Cannabis Management announced the approval of 36 CAURD licenses, giving New Yorkers more reasons to rejoice and be thankful. The OCM also announced that qualifying businesses can launch cannabis delivery services before opening their brick-and-mortar dispensaries. New York's adult-use cannabis retailers are projected to generate over $1 billion in sales in 2023, growing to around $2.5 billion by 2026, according to the 2022 MJBiz Factbook. The first group of Conditional Adult-Use Retail Dispensary licensees include 28 individuals with marijuana convictions or family members who'd been arrested for the possession of cannabis.
The list of New York cannabis dispensary winners includes a diverse mix of people and businesses, and social equity is the foremost priority for regulatory authorities. A total of up to 175 CAURD licenses will be issued by 2023, with a maximum of 150 individual applicants and 25 non-profit organizations. Eventually, license applications will be sent to the Cannabis Control Board for ongoing review on a rolling basis. Individual licensees will receive support from the social equity cannabis investment fund, which is being funded by licensing fees and cannabis industry revenue collected by the state. This has been a momentous step in kicking off the legal cannabis retail industry in New York, and congratulations to all the CAURD license winners. Following are the names of individuals/companies that have been issued these licenses:
OCMCAURD-2022-000011 Capital District Cannabis & Wellness Inc.
OCMCAURD-2022-000548 Royal Leaf NY LLC
OCMCAURD-2022-000056 William Durham
OCMCAURD-2022-000558 Keep It A 100 LLC
OCMCAURD-2022-000109 D-Andrews LLC
OCMCAURD-2022-000565 CGG Enterprises Inc
OCMCAURD-2022-000157 Nube NYC LLC
OCMCAURD-2022-000579 CURED NY, LLC
OCMCAURD-2022-000234 Gabbys Green LLC
OCMCAURD-2022-000581 Kush & Kemet, LLC
OCMCAURD-2022-000253 Essential Flowers
OCMCAURD-2022-000589 Urban Weeds LLC
OCMCAURD-2022-000274 Brian Stark Enterprises LLC
OCMCAURD-2022-000598 GOTHAM CAURD LLC
OCMCAURD-2022-000281 Albert D Capraro
OCMCAURD-2022-000609 CWS Holdings I, LLC
OCMCAURD-2022-000326 Strain Stars LLC
OCMCAURD-2022-000610 EASTERN HOLDINGS 88 LLC
OCMCAURD-2022-000352 On Point Cannabis, Inc.
OCMCAURD-2022-000624 PLANET 51 LLC
OCMCAURD-2022-000361 Smacked LLC
OCMCAURD-2022-000634 Stage One Cannabis LLC
OCMCAURD-2022-000387 Brent L Rogers
OCMCAURD-2022-000686 Suzanne M Furboter
OCMCAURD-2022-000390 Root 13, LLC
OCMCAURD-2022-000693 NYCCABUDS
OCMCAURD-2022-000402 Gabriel Marin
OCMCAURD-2022-000714 Anthony Crapanzano
OCMCAURD-2022-000406 Housing Works Cannabis LLC
OCMCAURD-2022-000724 SAMINY Holdings LLC
OCMCAURD-2022-000430 Florisun LLC
OCMCAURD-2022-000771 Union Chill Cannabis NY LLC
OCMCAURD-2022-000460 Growth Industries
OCMCAURD-2022-000834 Hydro Phonics
OCMCAURD-2022-000471 The Doe Fund LLC
OCM000471-2022-000521 Carl M. Anderson IIT
If you are one of these lucky winners and are looking for a one-stop compliant cannabis retail tech solution for your dispensary, book a demo with Cova and see how our award-winning cannabis POS and eCommerce platforms can help you quickly start your journey to success.