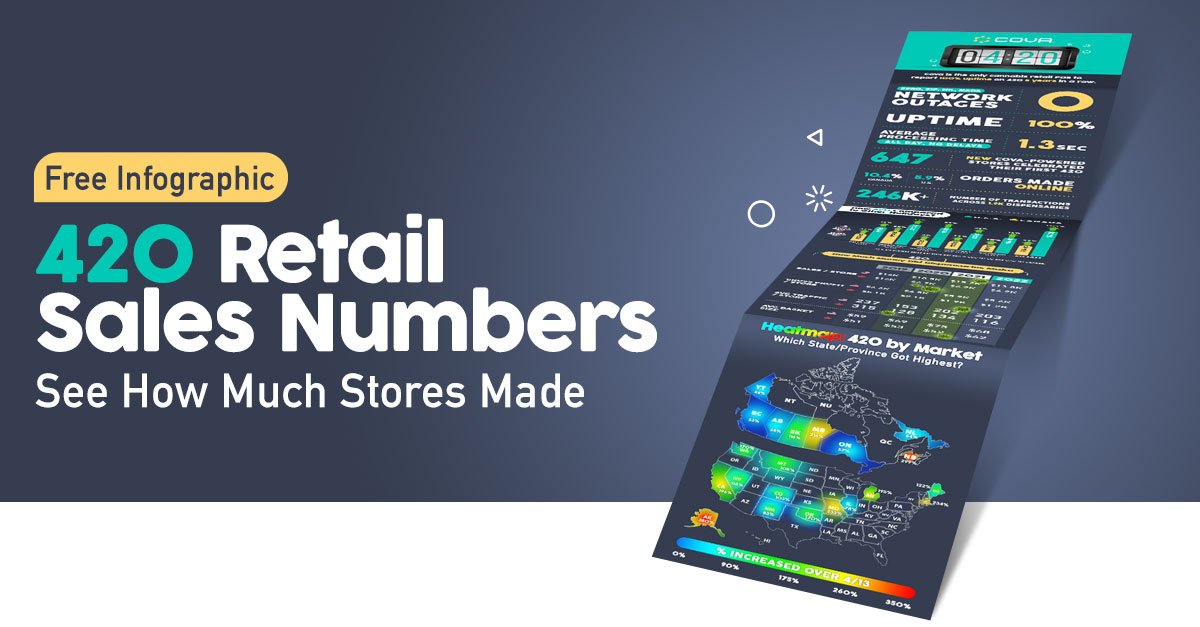 420 is always a big day for the cannabis industry. Although celebrations in the last couple of years were marred by the pandemic, cannabis enthusiasts flocked to dispensaries in-person to purchase their celebratory stash on 4/20/2022. With pandemic restrictions eased, online orders for cannabis declined as compared to 420 last year. This means that a majority of cannabis consumers prefer an in-store shopping experience, as also evidenced by the poll we conducted on LinkedIn. Cannabis retailers using Cova POS rejoiced as over 246K transactions were recorded across nearly 2000 dispensaries in North America.
Cova Continues its 100% Uptime Streak on 420 as Overall Sales Surge
With an average processing time of 1.3 seconds, Cova reported 100% uptime for 5 consecutive years, making it the only dispensary POS to have never suffered an outage on 420. 647 new Cova-powered cannabis retail stores celebrated their first-ever 420 in 2022, as dispensaries in newly legalized states like New Mexico raked in huge profits. Although average sales per store did not match pre-pandemic levels, overall sales were up. As per reports, Americans spent an estimated $128M+ on cannabis on 420 this year, while Canadians spent just a little over $16M.
420 vs Other Holidays: Is April 20 Still the Biggest Day in Cannabis Retail?
Holidays are always a time to celebrate and bring with them a surge in cannabis sales. As seen in the image below, dispensaries make significantly more sales on certain holidays as compared to average sales on a regular day. In both Canada and the US, consumers tend to purchase more cannabis on Canada Day and the 4th of July, respectively. In fact, last year's Canada Day sales were higher than 420 sales this year. Does that mean 420 is no longer the biggest cannabis holiday in Canada? We'll have to wait for Canada Day this year to find the answer to whether sales will decline on other holidays as well.
Of course, New Year's Eve and Halloween rake in big sales in both countries, while Green Wednesday and Superbowl are more popular only in the US. However, with a whopping increase of 130% and 48% over regular day sales in the US and Canada, respectively, 420 certainly takes the infused cake, cementing its status as the cannabis retail industry's biggest sales day, at least in the US, if not Canada.
Do Americans Consume More Cannabis than Canadians?
From this infographic, it may be correct to assume that Americans consume more cannabis than Canadians on holidays, especially 420. However, let's not forget that 4/20 traditionally has been one of the main days when cannabis advocates tend to organize gatherings to protest against the war on drugs and push for federal legalization. Since consumption of cannabis has been legally federally in Canada for over 3 years now, perhaps it's not as important a day for Canadians anymore as it is still in the US, where cannabis is still illegal federally. Also, regulations on promotions are quite stringent in Canada, while dispensaries in the US are able to offer more discounts and sales promotions, especially on 420. Both these factors likely impact the higher rate of cannabis consumption on holidays in the US as compared to its neighbor up north.
How Much Money Do Dispensary Owners Make on 420?
Dispensaries definitely make good money on 4/20 every year. On 4/20/2022, cannabis retail stores in Canada and the US recorded an average gross profit of CA$1200 and US$5600, respectively. Here's a look at the 4/20, 2022 sales numbers:
Average 420 sales per store in the US: $13.8K USD
Average spend per transaction in the US: $68 USD
Average 420 sales per store in Canada: $4.9K CAD
Average spend per transaction in Canada: $42 CAD
Are Average 420 Sales per Cannabis Store YoY Breaking Any Records?
We know that there are some consistent patterns on 420: dispensary footfalls increase, sales surge, and customers enjoy discounts. Despite the pandemic, 420 in 2021 was a big sales day for dispensaries. However, in 2022, the overall sales per store and average basket size declined a bit in both countries. This can likely be attributed to the following factors:
The cannabis retail markets in Canada and some legacy American states are reaching saturation, as consumers are spoilt for choice.

Cannabis shops in Manitoba

recently outnumbered Tim Hortons stores, and Ontario's cannabis market has grown exponentially from just a few stores in 2020 to over one thousand in 2022.
During the pandemic, Americans and Canadians received a lot of stimulus cheques from their governments and had excess money to spend on cannabis while they were locked indoors due to restrictions. As we revert to a certain sense of normal, people are likely spending more money on other regular recreational activities now.
In 2022, we're witnessing the highest inflation in decades, which is likely another factor impacting the average basket size on 4/20/2022 in both the US and Canada.
People likely stockpiled over the Easter weekend, which was just a few days before 420.
420 Cannabis Sales By Market Across the US & Canada
The heatmap below highlights how much more cannabis products did each state/province sell on 4/20 as compared to the week before. Undoubtedly, legacy states like California, Colorado, and Washington still celebrated 420 with great pomp and splendor, while only medical marijuana states like Oklahoma and Missouri 'stoned' their way even further. Manitobans certainly enjoyed their cannabis more than Tim Hortons' coffee on 4/20, while New Brunswickers gave Alaskans stiff competition by taking the highest road in Canada.
Make the Most of 420 with the Right Cannabis POS
Overall average sales per store may have dwindled this April 20, but states like New Mexico, which celebrated its first-ever 420, recorded massive sales. Even Illinois, which has a limited number of dispensaries, recorded an average store revenue of up to $60k. As more states jump onto the legal cannabis bandwagon, a first-mover advantage will always favor the brave. As a dispensary owner, you must partner with the right technology provider to ensure that you make the most of our industry's biggest celebration and other holidays as well.
While many big cannabis POS systems falter on 420, Cova customers have always enjoyed flawless POS performance, with 0 outages and 100% uptime. On the cannabis industry's biggest holiday, you need a reliable technology partner that is always there by your side to provide support, when required. Cova can help you deliver what your customers need, so you can focus on making your business a success—on 420, and every other day. Check out our complete 420 infographic to see how your cannabis store and tech stack up.