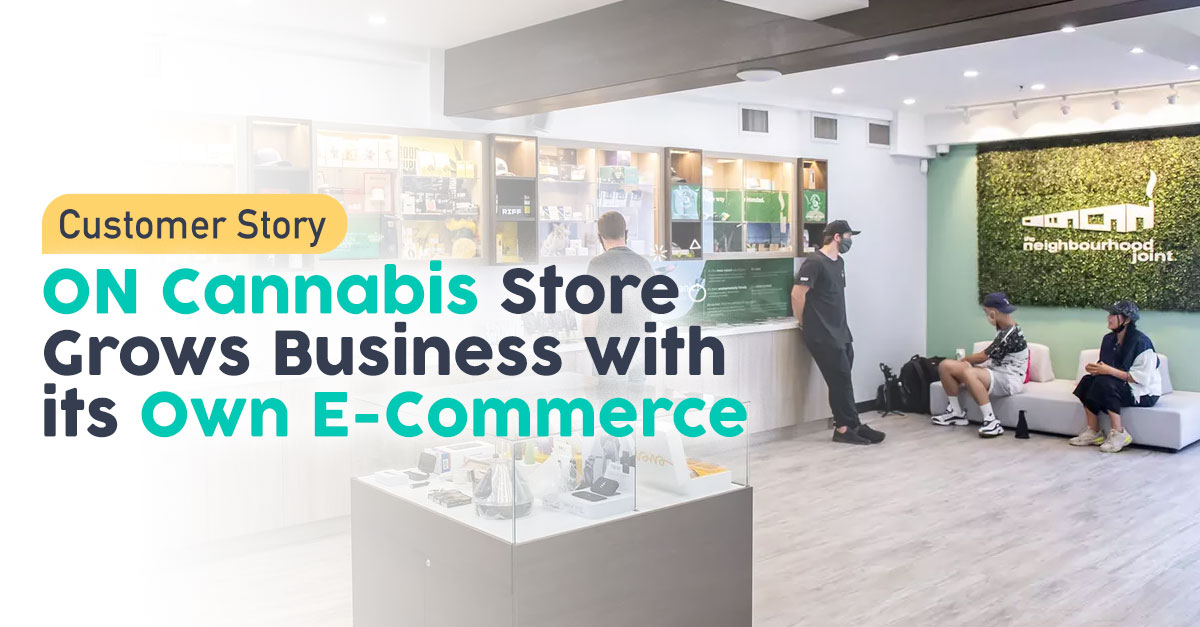 As the Canadian cannabis industry goes mainstream and consumers are increasingly looking to buy cannabis products online, many retailers have realized that they can't rely on third-party marketplaces anymore to grow their business online. Toronto's The Neighbourhood Joint was one of the first cannabis retail stores in Ontario to understand the importance of owning your own cannabis E-commerce platform and started looking for alternatives to hosting their products on a third-party website, which wasn't bringing as much value to them as they'd anticipated.
"With intense competition and new stores launching in every Toronto neighbourhood, we realized that we needed better brand awareness and more visibility online, and using a third-party E-commerce platform was not an ideal solution.", says co-owner, Brian Rhodes.
After evaluating various options, The Neighbourhood Joint decided to choose a customized cannabis E-commerce solution offered by Dabber that is powered via WooCommerce and integrates seamlessly with Cova, the cannabis POS used by the company at all its retail locations in Ontario.
The Neighbourhood Joint- Your Next Door Cannabis Shop
Founded in 2019, The Neighbourhood Joint has two locations in Toronto that blend into the local neighbourhood and cater their product offerings as per the needs and preferences of their local demographics. The company has been using Cova POS since its inception at their retail locations, and the mobile POS tablets have really allowed them to curate a more personalized experience for walk-in customers. Since they have implemented their own E-commerce solution, they have just not increased online orders but also witnessed a better brand awareness amongst the locals. This new solution integrated into their website offers their business great SEO value and has helped with better online discoverability amongst their target market.
From Third-Party Cannabis Marketplace to a Customized E-commerce Platform
Because of an average online shopping experience, while hosting its products on a third-party marketplace, The Neighborhood Joint had little opportunity to differentiate itself from competitors. At a time when the Ontario cannabis market is growing fast with over 1000 cannabis retailers and online ordering has become widespread due to COVID-19 restrictions, Brian and co-owner Andrew wanted more search engine optimization (SEO) features to help customers find specific products via Google search.
With Dabber's native E-commerce functionalities powered by WooCommerce and seamless integration with their existing website and Cova POS, The Neighbourhood Joint has been able to capitalize aggressively on local SEO discoverability strategies. As Google now crawls its website better, its products are ranked #1 on the search engine, especially for the geographical areas where its cannabis retail stores are located.
"As soon as we launched, some of the high in-demand products got completely sold out within a few days, and elevated SEO rankings helped us with new customer acquisition.", says Brian, who understands well the advantages of having an independent E-commerce platform.
Seamless Integration Between Cova POS and Tech Ecosystem
The Neighbourhood Joint's team has always loved Cova POS, the tech equipment- particularly the tablets, features like the offline mode, and how the processes work so smoothly. Brian pointed out that how Cova stays on top of AGCO regulatory changes and adapts quickly to constantly improve product offerings allows them to always provide a safe and exceptional customer experience.
With Cova's multiple partner integrations to various software providers in the cannabis tech ecosystem, Brian and his team have streamlined operations at their cannabis retail locations and benefitted greatly from its simplicity. Of course, this new seamless integration with WooCommerce by Dabber is another feather in Cova's cap that has empowered The Neighbourhood Joint to enhance its brand awareness and grow its retail business.
"The product integration with Dabber and data collection through Cova has been working beautifully for us. It allows us to display relevant product information on our E-commerce store that can be easily found on Google and drive organic traffic to our website.", declares Brian.
Since they own all customer data that is available to them to carry out any kind of analysis, Brian is happy that he can extract information from various parameters that will help him build direct relationships with customers and design a better business strategy for the future.
The Future Holds More Growth and Profits for The Neighbourhood Joint
Building an online market takes time, and trial and error is part of the game. Although things may not be 100% perfect, they know that they are in complete control of their data and brand, and not dependent on a third-party marketplace to build their E-commerce business. They don't need to pay any commission to such third-party E-commerce platforms either and avoid all other hidden costs while investing the extra profits directly into their own business.
Once pandemic restrictions ease and the world returns to some sense of normalcy, The Neighbourhood Joint is looking forward to an increase in footfalls, as tourists will likely return and its Beaches location in Toronto is ideally situated to cater to that crowd. By then they'd have built an excellent SEO authority on Google and with their top rankings for various products, people would certainly be lining up to purchase their stash from The Neighbourhood Joint.
Are you ready to up your E-commerce game, maximize online visibility, and grow your brand? Whether you need to get online fast or build a better long-term cannabis E-commerce strategy, Cova can help. The future of cannabis E-Commerce is here, and the choice is yours. Click below to get started now.