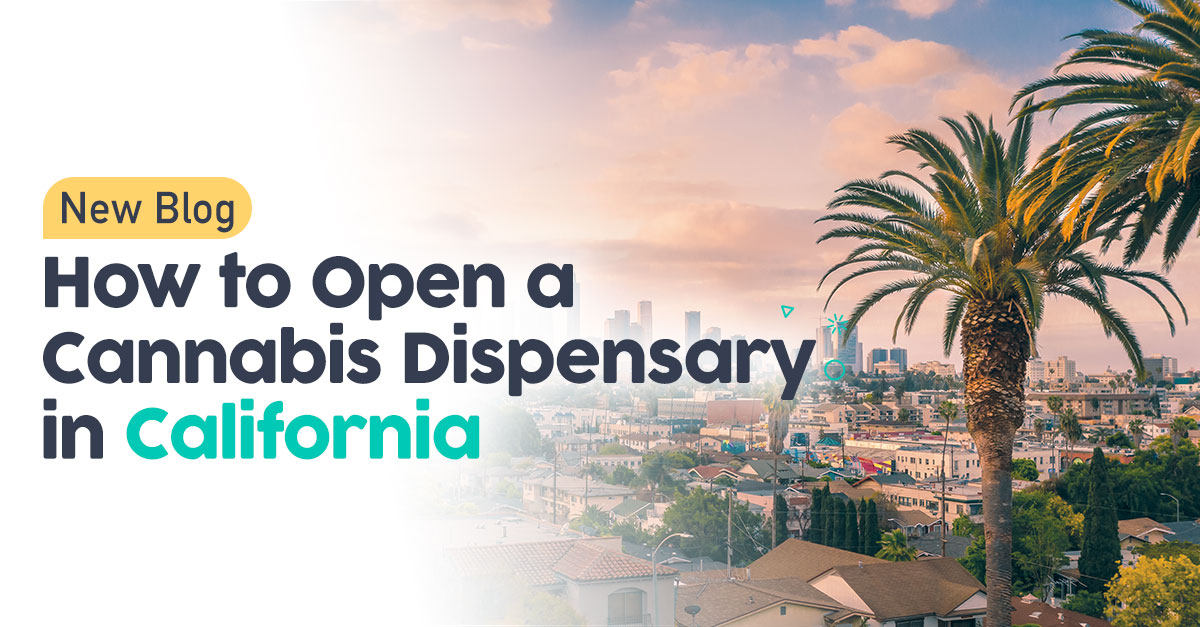 Since the early days of legalization, California has been a pioneer of the cannabis industry. Today, the California cannabis market is one of the largest and hosts a diverse range of successful entrepreneurs and intelligent consumers alike. However, as consumer behavior is changing fast, most regular cannabis consumers in California prefer to order their cannabis products online, with over 50% of consumers purchasing cannabis exclusively via delivery.
If you are interested in opening a dispensary in California or launching a cannabis delivery business, one of your primary sources for information will be the Bureau of Cannabis Control. Established as the state's regulatory body for medical and recreational commercial cannabis, the government agency is tasked with administering California's cannabis dispensary regulations.
California Dispensary Regulations
Not only should you familiarize yourself with how to get a license to sell marijuana in California, but you should also be well-versed in key dispensary regulations and cannabis laws, such as:
Cannabis purchase, transport, and use are permitted only for individuals verified to be over 21.
There are two types of cannabis retail sales allowed in CA: storefront retail and online for pickup or delivery.
Dispensaries may sell up to 28.5 grams of cannabis and 6 (immature) cannabis plants per customer.
Other regulatory details, such as the tax rate, reporting requirements, and others, are imperative to your dispensary's ability to remain in business.
Continue reading to learn more about how to start a dispensary in California or expand into cannabis eCommerce, including a summary of licensing procedures, what to look for in a cannabis POS system, and more.
How to Open a Dispensary in California
Most prospective dispensary owners spend a minimum of 6 to 12 months preparing to open and launch their cannabis retail business. This includes obtaining a license, setting up their business plan, and strategizing for effective compliance. Long before you welcome your first customers, you should expect to invest your time, effort, and money to set yourself up for success.
A) Research your City and County Processes
Be aware that before you can receive a California dispensary license, you will need to secure approval from the local jurisdiction (city/town/county) in which your dispensary will be located. There are variances among the various jurisdictions, making careful research of vital importance.
B) Apply for California Cannabis Retail License(s)
You will then choose one of two types of dispensary licenses in CA, with applications accepted on a rolling basis.
Adult-Use Retail (A-License): Allows for the commercial sale of recreational marijuana
Medicinal Retail (M-License): Allows for the commercial sale of medical marijuana
Each dispensary location must have its own license, though a single dispensary can hold both an A-License and an M-License.
CA dispensary licenses are further categorized according to the type of retail business:
A (Type 10) retailer that operates retail sales from a storefront, including on-premises and delivery sales
A (Type 9) non-storefront retailer that provides delivery only (from a licensed premise not open to the public)
A (Type 12) microbusiness, which participates in three of the following four activities: Retail sales, Cultivation on a plot of less than 10,000 square feet, Distribution, or Manufacturing.
Other types of CA dispensary licenses include those for distributors, transport-only distributors, testing labs, and event organizers.
Determining how much it costs to open a dispensary in California will largely depend on your business type, scope, and size.
C) Develop a Business Plan and Prepare for Daily Operations, Marketing, and More
With a dispensary license in hand, you'll be ready to move on to the next stage of your business launch: planning daily operations, setting up compliance measures, developing marketing strategies, and more.
You must remember that California has implemented measures to promote social equity in dispensary ownership and employment opportunities. If you qualify for the relevant program measures, consider applying for a grant or other benefits.
How To Manage a Dispensary Business in California
Your work isn't done once you've received an approved license. At this point, your next steps can determine whether or not your dispensary succeeds. Here are some key tips for opening and operating a CA dispensary.
1. Understand State Compliance
There are strict requirements for dispensary reporting via METRC, security, advertising, and even operating hours. Violating any of these rules can put your dispensary at risk of high fines or even closure. Every aspect of your business plan should be created with compliance in mind. Additionally, all dispensary staff should be trained in existing and future regulations.
For example, some of the CA state cannabis laws your dispensary will need to follow include:
Verifying the age and IDs of all customers
Enforcing current purchase limits
Implementing cannabis taxes as appropriate
Adhering to track-and-trace reporting requirements
2. Prioritize Inventory Management
As per CA cannabis regulations, dispensaries must conduct a full inventory reconciliation every 14 days. Investing in high-quality inventory management and a cannabis POS system will simplify this task and reduce the potential for human error. Ideally, your POS system should provide a full inventory on-hand report, as well as the ability to adjust, sync, and report all data as needed.
The Cova cannabis inventory management system does just that, and also offers effortless integration with the state's CCTT-Metrc system. Because our system tags all inventory in compliance with Metrc, reporting is fully automated.
3. Use a cannabis POS system with 100% uptime
Track-and-trace reporting is among the core regulations for CA dispensaries, outlining how state regulators monitor and trace all cannabis plants, products, and consumer sales. In California, the officially-selected tracking system is Metrc. Retailers have to submit reports daily, providing exact data for the day's sales, returns, and disposals.
As such, your cannabis retail POS system must provide complete compliance functionality and Metrc integration. The best dispensary POS systems take an innovative approach to automating as many compliance-related features as possible. For example, Cova POS software provides automatic features such as:
Purchase limit calculations and enforcement alerts
Limitation of sales within legal hours of operation
ID verification
100% uptime and real-time reporting
CA compliant receipts and other printed materials
Tax reporting
4. Choose your Dispensary Hardware
Avoid limiting the potential of your selected POS system by ensuring that you select dispensary hardware that is fully compatible with the software. Your dispensary will require basic items such as displays, tablets, scales, drawers, and scanners, so invest in quality products that are up to par for performance.
5. Choose E-commerce and Delivery Software
California cannabis delivery and online ordering are allowed for both retail storefronts and delivery-only retailers. It's a smart way to keep up with competitors, but offering these services does require a certain amount of preparation. Consider all the pros and cons before deciding on how to set up an E-commerce website and choosing a delivery solution. Seamless integration with your cannabis POS system is crucial- you also must select software that is equipped with necessary data collection, documentation, and reporting features for effortless compliance.
6. Stand Out From the Crowd and Understand your Customer
Of course, prospective business owners should never underestimate the power of distinguishing themselves from the competition and getting to know their customers. The CA cannabis consumer tends to be extremely well-informed, so tailor your branding, products, and services accordingly.
Use a data-driven cannabis retail POS system like Cova to analyze key performance points, like top product sales, high traffic times, and others. With this information, you'll be empowered to make moves that put you ahead of competing dispensaries and earn you the loyalty of repeat customers.
Partner with Cova to Grow Your California Dispensary
The California cannabis market can provide ample opportunity for prospective dispensary owners, but proper preparation and a successful launch are crucial. If you're interested in starting your own dispensary in CA or launching a cannabis E-commerce and delivery business, our suite of cannabis tech software solutions can serve as an exceptional asset for your business.
For more information about how our software serves the unique needs of growth-minded dispensary owners, request your free cannabis POS software demo today.