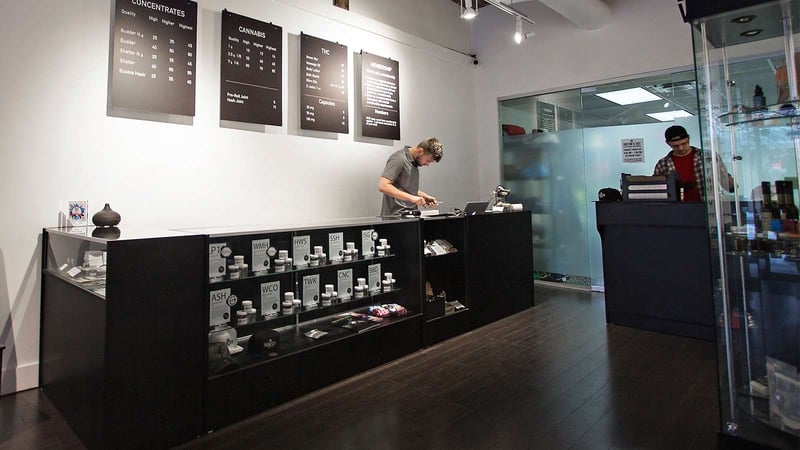 Enthusiasts and advocates worldwide will be lighting up in appreciation of marijuana on April 20, and it is certain that the celebration will be burning a little brighter in states where recreational use is legalized. 420 is a day to look forward to on an annual basis for dispensaries and consumers alike. Just as retail outlets do for the holiday seasons, dispensaries will have to prepare to ramp up all operations in a big way on the big day. Here are a few ways dispensaries selling recreational marijuana on 420 can ensure the day is a smokin' success on our favorite day of celebration:
All hands on deck
Having a successful day starts with staffing appropriately. If there is a day of the year when you need everyone to show up, it's 420. It is the day you want to ensure you have all aspects of your customer's dispensary experience covered and contingency plans built. Expect the unexpected regarding your staff; they could decide they'd rather indulge in 420 than work it or may experience delays in getting to work due to crowds. Be sure to have enough management on hand at all times to approve transactions and to help manage overflow if you draw a big crowd. Encourage your staff to have fun, and to deliver their best by setting targets and providing bonuses for strong performance.
Prepare the heck out of 420
A downfall of dispensaries that get overwhelmed on 420 is that they don't take sufficient time to plan in-store processes for the day. They'll get caught the night before with the realization that they need to replenish pre-packaged product for instance and will spend all night burning the midnight oil to get ready for the influx of customers. Print a lot more sign in sheets than normal, load receipts and label printers and have your backup rolls ready. Most of all, know what you have in stock so that you can minimize any issues with inventory management following the big day.
Market effectively
While there are limitations on how your dispensary can advertise your product, be creative in the ways you create some buzz about your dispensary before 420. Use marketing strategies that get consumers engaged in the festivities so that when the day arrives, your dispensary will be their natural destination. Use email campaigns to engage existing customers in exclusive 420 customer promotions. Go a step further and find ways in-store to provide 420 deals or discounts, or find interesting ways to market your products within the 420 theme. Stay active on social media leading up to the day and on the day, and do what you can to engage your customers through online discussions or Q&As so that all they are prepared for the day.
Stock up your stash
Based on your past 420 sales and yearly trends do your best to project your sales. When you can forecast sales on 420, you can ensure you purchase enough stock ahead of time to be able to keep up with the inevitable increased. Be sure to buy enough to see an inevitable increase in sales this year over last as marijuana advocacy becomes more widespread and politicized.
Monitor the day
As you do for all days, you'll want to ensure that you have your inventory management systems up to snuff so that your budtenders always have full stock to sell. With your projections for your sales, you can use a runner to get ahead of stocking issues. Cut down wait times by having a runner on hand to replenish stock for budtenders.
Prepare your systems and processes
Whatever your inventory management system and sales system, you'll want to ensure it's up for the task of scaled up operations that are more robust in nature. The last thing you want to have is a systems crash, so ensure your computers and server can handle the heat. Where you can, build redundancies into the systems for everyday purchases so to keep the lines as small as possible when handling multiple transactions. Be prepared for your bandwidth to be overloaded or worst case scenario, your connection to crash, so think about getting a hotspot in the event of an Internet outage.
Extend customer experience
While it's natural that all dispensaries will see an influx of sales on April 20 and the surrounding days, give your 420 customers a reason to come back throughout the year as regular customers. Offer a return visitor discount exclusive to 420 customers only. Take the time to get to know them amidst the chaos of the day and build a rapport that will have them coming back for more bud. Use 420 not only as a day to profit but to expand your client base exponentially.
As legalization catches on like wildfire through the states, more people are becoming customers of dispensaries for both medical and recreational uses. We'll likely see more people celebrating 420 this year and as years go on. When it comes to 420, dispensaries can't be prepared enough: this is the one day of the year when a dispensary can indeed show their customers, and potential future clients, what they're made of.
Engage your staff early in preparation for 420 to make it a profitable day that goes off without a hitch. Ensure everything is in stock and your customers have plenty of product at their access. Be active in the 420 discourse and celebrations by using this day