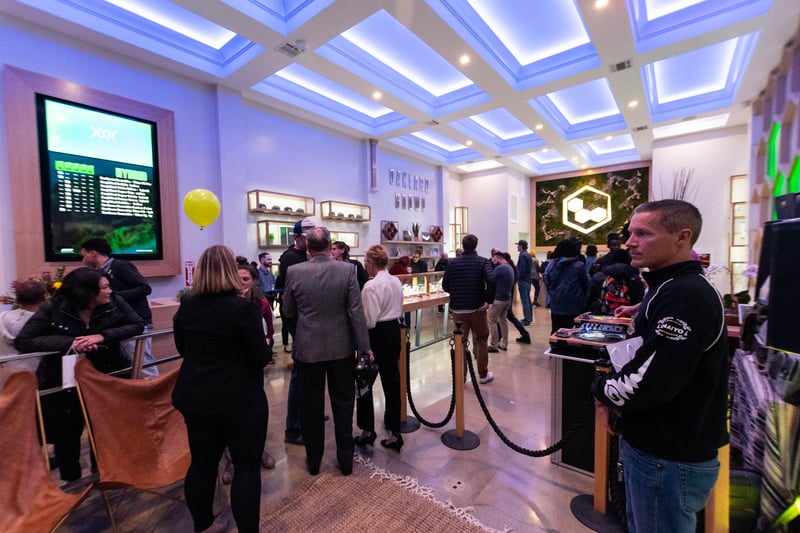 Cannabis enthusiasts and advocates worldwide will be lighting up in appreciation of marijuana on April 20, and although 420 will still be quite different in 2021 because of the pandemic, it is certain that celebrations will be burning brighter in states where recreational use is legalized, and as we expect possible federal legalization in the US on the horizon. So along with all the usual cannabis retail strategies to make 420 a success, dispensary owners must ensure that necessary precautions are being taken as well, like wearing masks and social distancing, to guarantee a safe shopping experience for consumers.
420 is a day to look forward to on an annual basis for cannabis dispensaries and consumers alike. Just as retail stores do for the holiday seasons and occasions like Black Friday, cannabis businesses must also prepare to ramp up all their operations in a big way on this big day. And since 4/20 in 2020 was supposed to be a month-long celebration but was disrupted due to Covid-19, cannabis sales in 2021 are expected to bounce back with a vengeance this 420. Here are a few ways dispensaries selling recreational cannabis on 420 can ensure the day is a smoking success:
All Hands on Deck
Having a successful day(s) starts with staffing and managing employee scheduling appropriately. If there is a day of the year when you need everyone to show up, it's 420. It is the day you want to ensure you have all aspects of your customer's dispensary experience covered and contingency plans built. Expect the unexpected regarding your staff- they could decide they'd rather indulge in 420 than work on it or may experience delays in getting to work due to crowds or personal reasons. Be sure to have enough management on hand at all times to approve transactions and to help manage overflow if you draw a big crowd. Since 420 falls on a weekday this year, be prepared to handle an inflow of customers over the preceding weekend, and keep employees in the loop. Encourage your staff to have fun and to deliver their best by setting targets and providing bonuses for strong performance.
Prepare The Heck Out of 420
One downfall of dispensaries that get overwhelmed on 420 is that they don't take sufficient time to plan in-store processes for the big day. They'd get caught the night before with the realization that they had to replenish certain pre-packaged products, for instance, and would spend all night burning the midnight oil to get ready for the influx of customers. Print a lot more sign-in sheets than normal, load receipts and label printers, and have your backup rolls ready. Most of all, know what you have in stock so that you can minimize any issues with inventory management leading up to the big day. A good cannabis-specific dispensary POS system ensures that you have all the right products in stock and alerts you much in advance to order the required products, based on historical demand.
Market Efficiently
While there are limitations on how your dispensary can advertise your product because of the stringent laws the cannabis industry operates under, be innovative in the ways you create some buzz about your marijuana dispensary before 420. Use marketing strategies that get consumers engaged in the festivities so that when the day arrives, your dispensary will be their natural destination. Use email campaigns to engage existing customers in exclusive 420 customer promotions. Go a step further and find ways in-store to provide 420 deals or discounts, or unique ways to market your products around the 420 themes, for example- engaging them with the history and traditions of 420. Stay active on social media leading up to the day and on the day, and do what you can to engage your customers through online discussions or Q&As so that you are fully prepared for the day.
Stock up Your Stash
Based on your past 420 sales data pulled from your cannabis retail POS and yearly trends, do your best to project your sales and stock up accordingly. This year, you may receive a lot of online, delivery, and pick-up orders as well, so plan accordingly. When you forecast sales accurately for 420, you can ensure that you purchase enough stock ahead of time to be able to meet the inevitable increase in demand. Be sure to buy enough to see a boost in revenue this year over last as we slowly revert to a certain sense of normal and marijuana advocacy becomes more mainstream.
Monitor The Day
As you do for all regular days, you'll want to ensure that you have your inventory management systems up to snuff so that your budtenders always have the right stock in real time to shown on your cannabis dispensary point of sale system. With the right projections for your sales, you can use a runner to get ahead of stocking issues. Make sure that you are staying compliant with all purchase limit laws and also pandemic restrictions by monitoring the number of people within the store. Use a queue management system to restrict the number of people inside the store and reduce wait times.
Prepare Your Systems and Processes
Whatever your cannabis POS and inventory management system is, you must ensure that it's up for the task of scaling up operations and handling high 420 traffic. The last thing you would want to have is a systems crash, so ensure your computers and servers can handle the heat. Ensure that you have your ID and barcode scanners in place. Your marijuana POS software must have all these features and guarantee 100% uptime and fast transactions on such big days. Where you can, build redundancies into the systems for everyday purchases so as to keep the lines as small as possible when handling multiple transactions. Be prepared for your bandwidth to be overloaded or in the worst-case scenario, your connection to crash, so think about getting a hotspot in the event of an Internet outage, if your point of sale system doesn't have an offline mode.
Enhance Customer Experience
While it's natural that all dispensaries will see an influx of consumers on April 20 and the surrounding days, give your 420 customers a reason to come back throughout the year as regular customers. Offer a return visitor discount exclusive to 420 customers in exchange for signing up for your loyalty program. Take the time to get to know them amidst the chaos of the day and build a rapport that will have them coming back for more bud. Use 420 not only as a day to profit but to expand your client base exponentially.
When it comes to 420, dispensaries can't be prepared enough- this is one day of the year when a dispensary can indeed show their customers, and potential future clients, what they're made of. Engage your staff early in preparation for 420 to make it a profitable day that goes off without a hitch. Make sure everything is in stock and your customers have plenty of products to choose from so that you are all set to stand out from the crowd.
Most of all, ensure that you have the right technology partner to help you make your 420 cannabis retail strategy a success. If your dispensary point of sale software lacks the capabilities to help you grow, switch now. Click below to learn more about Cova's 420 special offer.