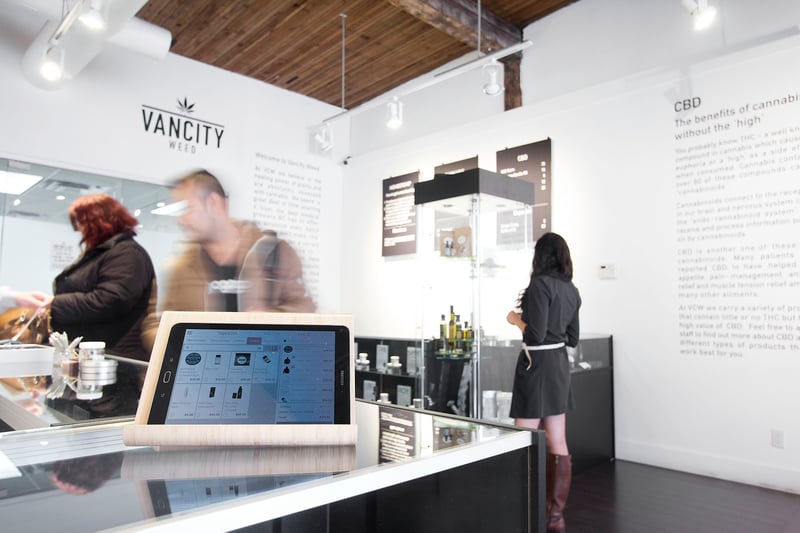 Employee turnover can cost dispensaries some serious money. In fact, while studies are a bit scattered across the board, the average company loses 6-9 months of a valued employee's salary in both productivity and profit when a good employee needs replacing.
The cost to productivity, and to your bottom line, can be like a kick in the gut; the cost and time to recruit and train new people can be exponential. Bottom line: when you have a good employee, do everything you can to retain them.
Your team is the frontline of your business and are trained to represent the brand and the service you provide. The longer employees stick around, the more invested they become in their work and remain dedicated to doing the best job they can for you. Here are few ways that you can work to keep your rockstar around.
Hire Smart
The first step is hiring the right people. For any position, the fit is everything. Do what you can in your hiring process to identify the profile of the ideal employee for your dispensary and design your recruitment process around that profile. You can't expect your hire to have life ambitions to be budtenders forever, but they may want to move up within the legal marijuana industry, thus eager to invest in a long-term relationship with your dispensary to gain access to such opportunities.
Provide Robust Training
Your training program at the start of employment can make or break your employee's relationship with your dispensary. Take significant time educating your new hire about your business, the processes involved, and the culture. Introduce them to core tasks early and have them learn through experience. A good benchmark is to be able to have your new hires making sales through your dispensary POS by the end of the first day.
You can train your employee in more in-depth processes as their responsibility increases; for instance, it may be a while into their training that you introduce them to the task of receiving new inventory, which will be a careful training process in itself.
Invite Initiative
Everyone likes to have a sense of ownership of their work and to have that feeling that they are contributing to the company. Budtenders who aspire to dedicate their careers to the legal marijuana industry will likely be looking to progress in their jobs and learn over time.
Give them opportunities to step up to take leadership or ownership over certain tasks. Where you can, give as much autonomy to your budtenders on their projects to work towards a results-driven culture.
Provide Continuous Learning & Development
With the marijuana industry becoming increasingly sophisticated, technical and medical, budtenders will need to ensure they are keeping up with the latest trends and research on marijuana. Invest in your team's professional development by allowing them to take courses, seminars or attend conferences that will enable them to improve their craft and bring new knowledge back to the entire team. You will not only invest in your knowledge capital for your company, but you will increase loyalty through this investment in education too. Break Monotony
No one likes to be in a job where they do repetitive tasks day in and day out. Repetition kills creativity, and creativity is what this industry needs.
Be intentional about the tasks you are assigning your employees. Notice the frequency of tasks, hours involved, and productivity. Where can you alter your employees' duties and schedules to break the monotony and provide variety in their days?
Understand Career Trajectories
As you seek to engage your employees through the training offered, education available, and a variety of tasks at hand take some time to understand your employees' career goals. While many love their work as budtenders, some may aspire to move up in the field or expand their involvement in the business. Nurture those dreams, and recognize talent when you have it early.
If one of your employees has a goal to open their own business someday, act as a mentor and show them some of the real challenges involved in ownership. Promote from within when you can, and make it apparent that you care about your employees' careers as much as they do.
Recognize Your Employees
When you take the time to appreciate someone's efforts, it goes a long way. Be sure to notice your employee's work, and compliment them on a job well-done regularly. Implement an employee recognition program. It can make a difference in the culture of your dispensary
Use Incentive Programs
Employee incentives programs can move off the rails if it is not in line with your business goals. They're effective only when they promote the behaviors and results that you want from your operation and employees.
As an example, retail operators want to build the long-term value of their customer, not just aim to increase the amount per transaction. In this case, incentives programs should be built on employees demonstrating the customer service and strategies needed to bring that client through the door again.
Rely on Your POS
Your POS software uses shortcuts to simplify processes so that you can spend more time serving your clients, and less time in the technical aspects of sales. We suggest using your POS software as an employee training tool.
In the onboarding process, include all the product, pricing and dispensary information within the POS to boost your new hire's confidence around product knowledge.
Contact Cova today to learn more about how our POS designed for cannabis dispensaries can help you.