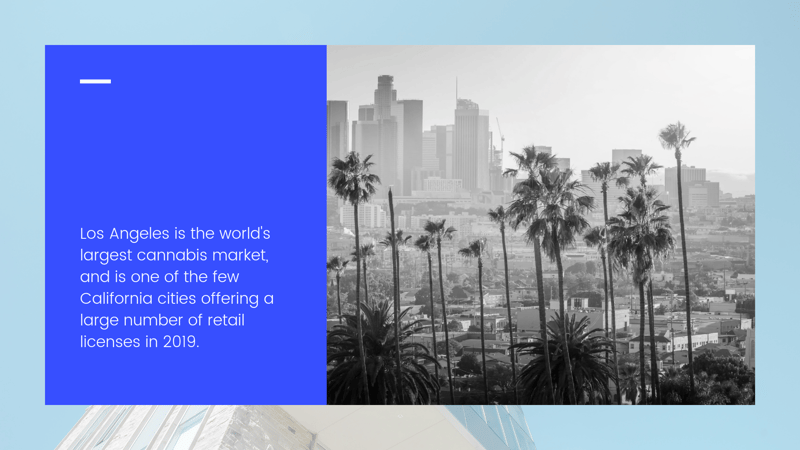 Los Angeles is a city with over 4 million people and is the world's largest cannabis market with 187 licensed retailers. In addition to being the world's largest cannabis market, the city has one of the most complex cannabis licensing systems in California, which is outlined below.
Currently, the city of Los Angeles has fixed application windows and timelines, so it is not possible to obtain a new license on a rolling basis. But soon, new businesses will have the opportunity to earn one of the coveted licenses for cannabis retail during Phase 3, which opens on September 3, 2019.
The City is scheduled to issue approvals to 437 retailers. About 42 percent of these approvals have already been issued to previously operating dispensaries who met specific requirements in Phase 1. Keep reading for an overview of California's cannabis retail market and licensing.
Los Angeles Cannabis Retail Market & Licensing Overview
Social Equity
One of the most unique aspects of retail cannabis licensing in Los Angeles is the Social Equity Program. Recognizing the harm of the war on drugs on disproportionately impacted communities, the city requires that all new retail storefront businesses have significant equity held by a qualified applicant. This means an applicant who is low income, with 5 years residency in certain zip codes or a qualifying prior cannabis arrest or conviction; or 10 years residency in a qualifying zip code.
General applicants are eligible for new retail licensing by partnering with program participants. Within the Social Equity Program, there are 2 tiers with different licensing priority levels. Tier 1 businesses will have no less than 51 percent equity held by a program participant. Tier 2 businesses will have no less than 33.33 percent equity held by a program participant.
Pre-Verification of Social Equity Individuals
The city is currently verifying the applications of approximately 1,866 social equity individuals. Some have already received verification that they qualify for Tier 1 or Tier 2. In Phase 3, all applicants who apply as storefront retailers must have completed pre-verification of the program participant. Businesses participating in Phase 3 Round 1 by partnering with a social equity individual don't need to have verification in this round, but must ensure that the qualifying individual applicant partner is.
Application Rounds Within Phase 3
Phase 3 will have three separate application rounds. Round 1 will open for applications on September 3, 2019 and will issue 100 licenses. 75 of the licenses issued during this round will go to Tier 1 Social Equity Program applicants. The remaining 25 will go to Tier 2 Social Equity Program applicants. Applications will be judged based on timestamp and must not exceed neighborhood undue concentration limits, outlined below.
Zoning for Cannabis Storefront Retail & Delivery in Los Angeles
Los Angeles allows limited commercial and industrial spaces, which are located an adequate distance from sensitive uses, to qualify for cannabis retail storefront licenses. Sensitive uses for retail storefront include schools, public parks, public libraries, permanent supportive housing, drug and alcohol treatment facilities, day cares, and licensed cannabis retailers with onsite sales.
Before signing a lease or purchasing a property you should always hire a professional mapping company to verify that the property is correctly zoned. The zoning requirements for delivery only – retail non-storefront – in L.A. are less restrictive and the only sensitive use distancing required is that the property be located 600+ feet away from any schools.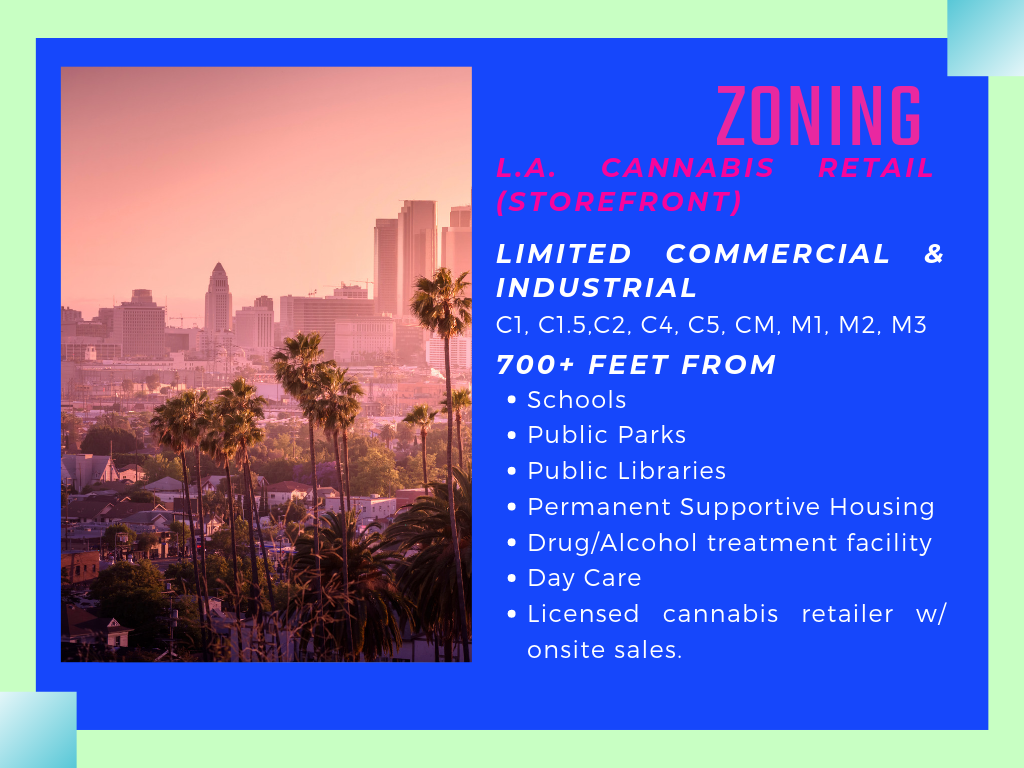 Location, Location, Location
In addition to meeting specific zoning requirements, new cannabis retailers will need to heed neighborhood limits for the number of stores within each Community Plan Area (CPA). The city has 36 CPAs and they each have different limits depending on the population within that CPA, and how many licensed retailers are already operating there.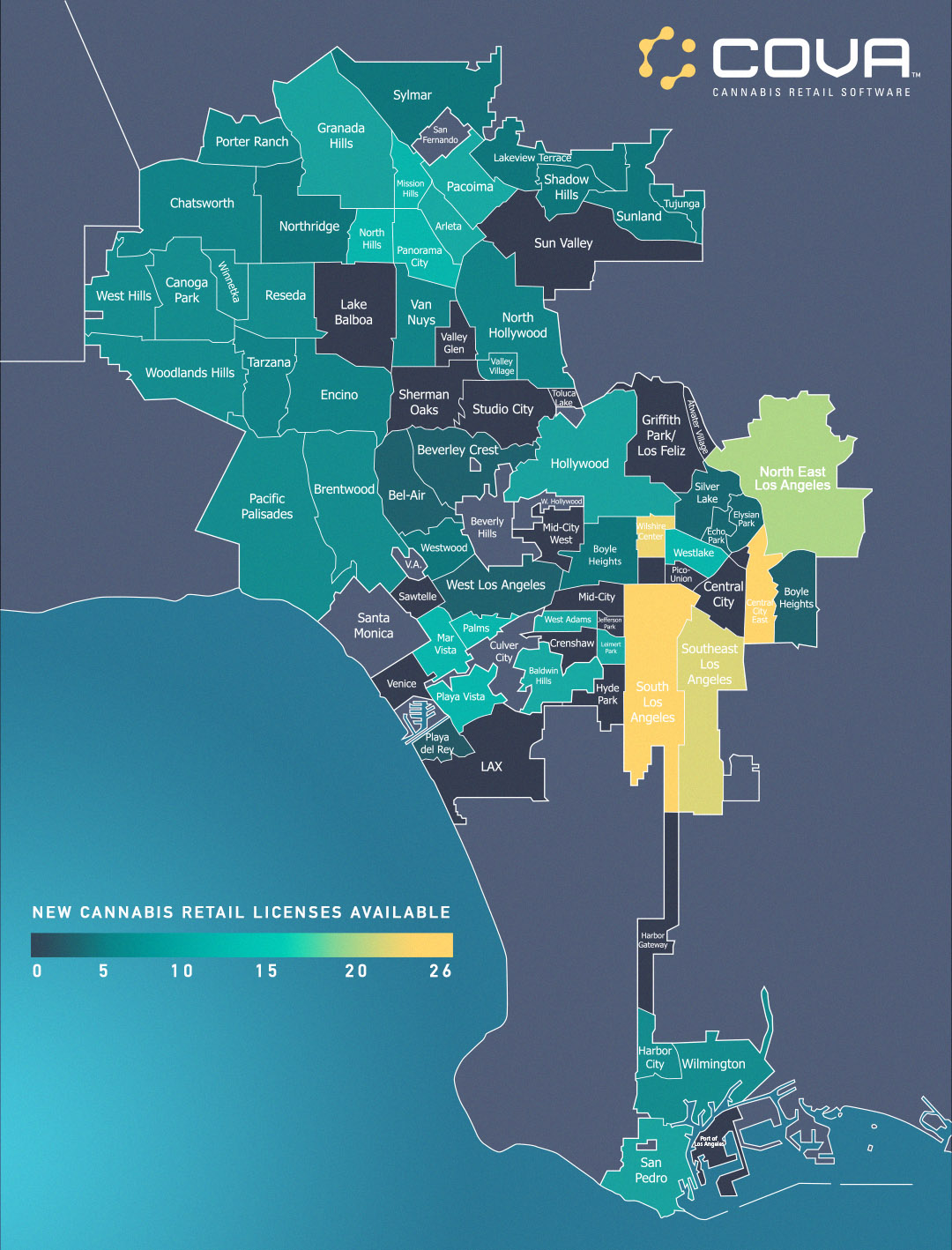 New Delivery Licenses in Los Angeles
Many of the 187 retailers operating within the City of Los Angeles have delivery licenses. During Phase 3, Rounds 1 and 2 applicants will only receive approval to operate a retail storefront. They may be able to add delivery at a later date, but this has not been decided yet. There will be a separate program during Phase 3, the Delivery Pilot Program, which will issue approval for 60 businesses to conduct delivery activities within city limits. 40 of these will go to Tier 1 or Tier 2 social equity businesses, and 20 will go to general applicants who do not participate in the Social Equity Program.
Timing
The City of LA has one of the largest cannabis programs in the country, and for retail, 58 percent of the licenses will be issued over the next year or so during Phase 3. The first round of Phase 3 will begin on September 3, and a subsequent round will begin on a to-be-determined date, likely within the next 3-6 months. The Delivery Pilot Program will also begin on a to-be-determined date.
For future developments, keep an eye on Los Angeles Department of Cannabis Regulation and the City Council for future developments on Phase 3, including timing for the start of Round 2 and the Delivery Pilot Program.
Have Questions? Contact Us.
Disclaimer: The information provided by Cova is for educational purposes only, and is not legal advice or a substitute for legal counsel. Consult with a professional to ensure your location meets the City's zoning and undue concentration requirements. The Department of Cannabis Regulation is still processing a limited number of Phase 1 licenses, so the number of new retail licenses available in CPAs can change.