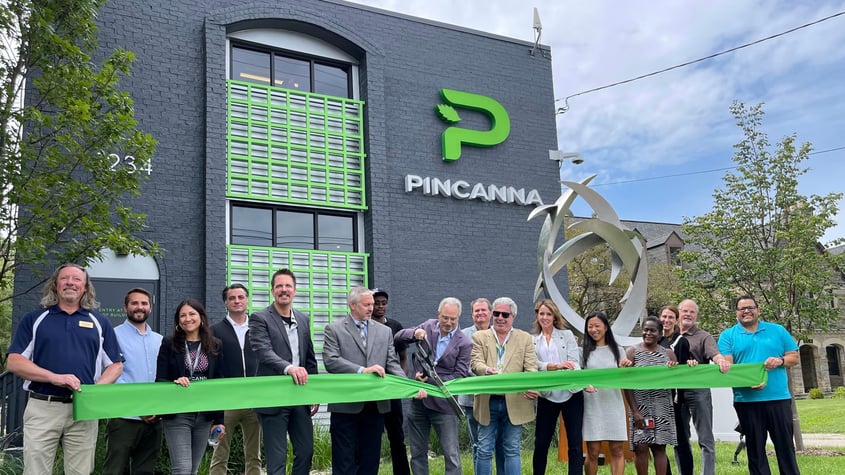 Establishing a vertically-integrated business is the goal of many cannabis entrepreneurs, but few are able to achieve it. In this highly regulated industry, a cannabis business owner must formulate a well-designed business plan to ensure the success of all verticals. Pincanna is a renowned vertically integrated cannabis company that recently expanded its retail footprint by opening a second dispensary in East Lansing, Michigan.
With a cultivation and manufacturing facility of over 135,000 sqft across 185 acres of land in Pinconning and a vision to sell high-quality cannabis products to consumers, venturing into retail was a natural step for Pincanna. Cova recently caught up with co-founder Rob Nusbaum and COO Andrew Hall to learn about their journey, and based on that conversation, we came up with the following five tips to run a successful vertically-integrated cannabis business:
1. Build a High-Performing Team with Diverse Backgrounds
With Rob's professional background in retail, he joined up with other partners at the company, who are master growers and oversee the cultivation side of Pincanna. Andrew joined the company last year and brings extensive experience on the operations side of the cannabis industry. Such diverse skill sets empower them to learn from their respective experiences and strategically grow the retail business together.
"We have a terrific blend of different skill sets, and everyone contributes in their own way, allowing us to capitalize on individual strengths and build a high-performance culture," says Rob.
For a vertically-integrated business that is highly regulated, it is essential to have the right partners who have relevant knowledge and experience to manage all aspects of the vertical they are in charge of. A high-performing team with diverse backgrounds certainly sets you up for success.
2. Maintain a Consistent Brand Image across all Verticals
Sometimes, people try to do too many things at once and spread themselves too thin. As a vertically integrated company, you must first perfect one thing before diving into other verticals so that you have a blueprint of the brand image you want to replicate. Pincanna has a world-class cannabis manufacturing facility and distributes its products to at least 3/4th of the dispensaries in Michigan. Pincanna has even tied up with Israeli-based medical and adult-use cannabis company Tikun Olam and will grow and distribute its products along with its own ten different cannabis brands.
"Our brands are sold at other dispensaries as well. Especially at our cannabis stores, we must reflect our Pincanna values and brand in the premier customer experience we deliver. Being able to track independent retail data from Cova POS allows us to serve people better and maintain a consistent brand image across all verticals.", declares Rob.

3. Manage Inventory Efficiently From Cultivation to Retail
A vertically-integrated cannabis business can be extremely successful if you study the end-consumer buying behavior properly, listen to your customers, and produce more of the cannabis products that people want to purchase. A robust cannabis retail inventory management system has efficient data analytics and customized reporting to help you generate all the data you need for creating a cannabis cultivation plan based on consumer demand.
"Cova's reporting functionalities are stellar and have helped us create an internal system that communicates across all verticals to track inventory and understand better the requirements of both our wholesale and retail customers.", says Andrew.
Since METRC is the seed-to-sale tracking software used in Michigan, it is the binding tool that syncs data for Pincanna across all its verticals. The fact that Cova POS seamlessly integrates with METRC makes compliance reporting and inventory management from cultivation to retail a breeze for Pincanna.
4. Use a Dedicated Technology System for Each Vertical
As a vertically-integrated cannabis company, you will need cultivation and processing software along with your retail platform for your business to flourish. Various seed-to-sale exclusive systems market themselves for cannabis retail operations but fail in providing expert retail-focused development and support, resulting in delayed resolutions, avoidable system downtime, and lost revenue. Seldom you'll find any seed-to-sale support personnel adept at both cultivation and retail software and the nuances involved in operating in each of these sectors. Ensure that you choose a dedicated system for your retail or cultivation business that is not an all-in-one solution so that you can benefit from their expertise, fast innovation, and regular product updates.
"Cova has allowed us to become experts in the retail vertical with its analytics, ease of training, and the ability to scale the platform alongside our retail business," says Andrew when talking about why Pincanna chose Cova for its retail operations.
5. Compliance is the Main Key to Success in Cannabis
Staying compliant with the law is the overarching narrative of the cannabis industry. And when you have to guarantee seed-to-sale compliance across a vertically integrated cannabis business, you must choose the right tech infrastructure to facilitate the same so that you can focus on growing your business. To ensure that every facet of vertical integration can stand independently, you must create that product or revenue stream within the established compliance structure and choose a strategic technology partner approved by the government.
With a third location coming up soon in Kalamazoo and a goal of opening over 10 stores in the next few years, Pincanna is setting the standards high for cannabis dispensaries in Michigan. Strong back-end APIs for seamless integration, flawless reporting, excellent customer service, regular cooperation on customized projects, and exceptional data analytics set Cova POS apart for Pincanna, and they couldn't have chosen a better technology partner for their cannabis retail vertical. If you would like to streamline your dispensary operations and ensure the success of your cannabis business, click below to start your journey with Cova.