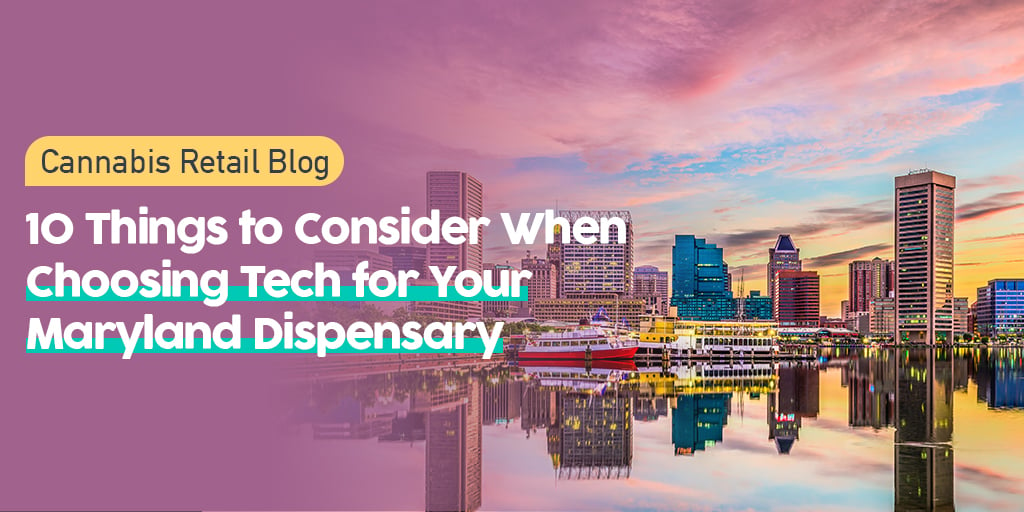 Choosing the right cannabis technology for your Maryland dispensary can be a game-changer in the complex world of cannabis retail. In our recent webinar, we shared valuable insights on what to consider when selecting the right software solutions for your dispensary. Once you have applied for a Maryland dispensary license and qualified for all requirements, it's time to start thinking about what cannabis technology you need to open and run a compliant dispensary in Maryland. The following are some key considerations:
1. Cannabis Compliance Requirements
Cannabis Compliance is paramount in our industry, especially for new dispensary businesses. It's crucial to select cannabis technology solutions that help you navigate the complexity and cost of staying compliant. Look for a cannabis POS system that automates Maryland compliance processes, reducing the potential for human errors. A compliance-focused culture within your dispensary business is essential for long-term success, so ensure that you train your dispensary staff to follow all Maryland cannabis guidelines and regulations.
2. Software Reliability and Scalability
Your cannabis POS system is the central nervous system of your Maryland dispensary. Ensure it operates reliably, even during internet outages, by offering offline capabilities. Downtime, especially on peak sales days like 420, can result in lost sales and damage to your dispensary's reputation. Also, consider your dispensary's growth potential, if you plan to expand to multiple locations. Ensure your chosen dispensary technology can scale with your Maryland dispensary business. Some systems charge additional fees as you expand, so look for providers offering cost-effective scalability.
3. Leadership Stability and Support
Stability in your tech provider's leadership team is vital. Frequent leadership changes can lead to inconsistent service and direction. Opt for a cannabis software provider like Cova with a clear vision and a track record of maintaining stable leadership. Continually evaluate the level of support and training your cannabis tech provider offers. Consider how responsive they are to your needs, whether they offer live support, chatbots, or any other communication channels. Ensure they invest in helping you understand and use their technology effectively. Having access to knowledgeable support staff can be a lifesaver when unexpected challenges arise.
4. Future-Proof Your Dispensary Tech
The cannabis industry is constantly evolving, with regulatory changes being a regular occurrence. Choose a technology provider that stays ahead of these changes and can quickly deploy compliance updates when needed. Your Maryland cannabis POS system should always be one step ahead of regulatory shifts, not a step behind. Regular product updates and customized solutions to ensure that your dispensary stays ahead of the competition are a necessity.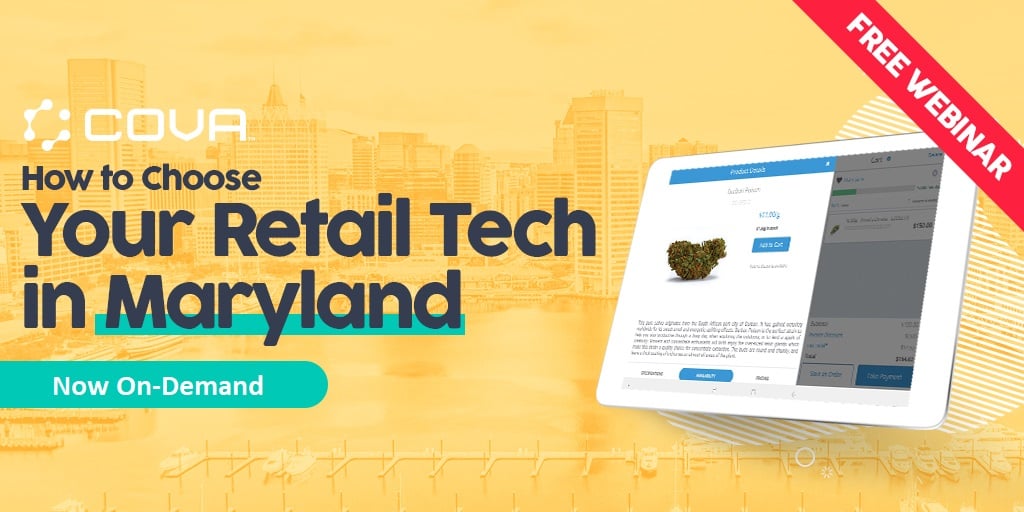 5. Cannabis eCommerce and Cashless Payments
In today's digital age, cannabis eCommerce is crucial for dispensary success. Make sure your technology supports a seamless online shopping experience and has organic SEO capabilities to attract customers. Additionally, consider cannabis cashless payment options, but choose legitimate solutions and have contingency plans in case of shutdowns. Effective cashless payments can increase your average transaction size and customer satisfaction.
6. Software Integration Capabilities
Efficient integration with other systems can greatly streamline your Maryland dispensary operations. Ensure your chosen tech solutions can seamlessly integrate with accounting software, HR management systems, security systems, and other essential tools. Integration reduces manual data entry and minimizes errors, enhancing overall dispensary efficiency. A robust cannabis CRM software will help you build and maintain strong customer relationships. Consider cannabis technology that offers loyalty program integrations that enable you to track customer preferences, purchase history, and communication preferences. Personalized marketing campaigns and loyalty programs can significantly boost customer retention and satisfaction.
7. Inventory Management and Reporting
Effective inventory management is crucial to avoid overstocking or running out of popular products. Look for tech solutions that offer real-time inventory tracking, reorder alerts, and the ability to manage multiple suppliers. Efficient inventory management ensures you can meet customer demand while minimizing waste. Comprehensive inventory reporting and data analytics are essential for data-driven decision-making. Your cannabis tech should provide detailed insights into inventory management, sales trends, and customer behavior. Look for a provider that offers customizable reporting features, allowing you to generate tailored reports for your Maryland dispensary.
8. User-friendliness and Mobile Accessibility
Ease of use is critical for staff efficiency and satisfaction. Choose a cannabis POS that has an intuitive interface and requires minimal training for your team. Complex systems can lead to errors and reduced productivity. In today's fast-paced world, having access to your dispensary's data and operations on mobile devices is invaluable. Choose dispensary technology that offers mobile tablets, apps, and browser-based interfaces for on-the-go dispensary management. This flexibility allows you to stay in control, even when you're not on-site.
9. Data Security and Backup
Cannabis dispensaries handle sensitive customer and business data. Select a cannabis technology provider that offers robust data security measures, including encryption, regular security updates, and compliance with industry standards. Protecting your data is essential for maintaining customer trust and complying with regulations. Always be prepared for the unexpected by ensuring your tech provider has robust backup and disaster recovery plans. Safeguarding your cannabis data and operations in the event of hardware failures, cyberattacks, or natural disasters is crucial for business continuity.
10. Cost of Ownership
While the initial cost of technology is important, consider the long-term cost of ownership. This includes subscription fees, maintenance, and potential scalability costs. Compare pricing models and choose a dispensary POS solution that aligns with your budget and expected growth.
By carefully considering all these factors when selecting cannabis retail tech for your Maryland dispensary, you'll be better prepared to navigate the complexities of the industry and position your business for success. Remember that technology should not only streamline your operations but also enhance the overall customer experience, contributing to the long-term success of your dispensary. If you want to learn more in detail, click below to download our comprehensive guide on "10 Things to Consider When Choosing a Cannabis POS."