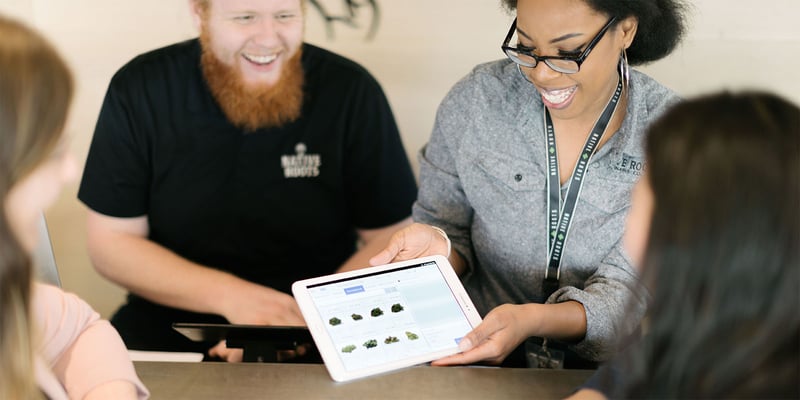 Are you opening a dispensary or cannabis retail store? Or reassessing your current store to make it more profitable? If so, now's the time to take a step back for an objective self-assessment.
It may seem like some retailers know the secret of success. But the truth is, there are only a few critical areas that make the difference between success and failure, and they're not esoteric. When you have what it takes to perform well in those areas, your chances of success skyrocket. If not, the gravitational pull of "retail fail" may prove to be too strong.
At Cova, we've worked hand-in-hand with more than 800 retailers to develop our industry-leading POS. We've seen what works and — just as importantly — what doesn't. This blog shares some of our accumulated wisdom and reveals the deadly shortcomings of those who fail and the qualities of those who succeed.
Get more real-world intel on the secrets of cannabis retail success! Check out our eBook, "Why Some Cannabis Retailers Fail...and the Secrets of Those Who Succeed."
Good Retailers Aren't Rebels
Marijuana's days as a counterculture mainstay are long gone. Now, the cannabis stakeholders need to play nice with the law rather than "fighting the power" or "resisting The Man." Compliance is the new name of the game.
Retailers must work with regulators to improve public safety — and ensure the safety of their business licenses. Cannabis retail isn't like running a clothing store, a restaurant, or even a liquor store; it's much more intense. Because cannabis was illegal until recently, the regulations are strict and the red tape is thick. Retailers cannot cut corners, and they certainly shouldn't try to circumvent the law.
You'll want systems in place to limit your exposure to compliance violations. In fact, you'll probably want a designated staff member just for compliance. He or she will organize your standard operating procedures (SOPs) and make sure employees are acting accordingly at all your locations. When statutory changes occur — and they will, no doubt — a quick change to your SOPs lets you maintain compliance with confidence. Your cannabis-specific POS system can help too. Many compliance concerns are resolved within the software via advanced reporting features and regulatory integrations.
Bad Retailers Lack Empathy
Great brands know their customers inside and out. If you can't "step into your customers' shoes," your customer experience will suffer. However, when you can empathize with your customer avatar, your brand experience becomes unforgettable.
Many retailers open a retail store to "sell top-quality cannabis," or "provide expert care." Those aspirations are excellent, but they're vague, and they may overlook the fact that the customer experience is altogether lousy. Your product or price might be great, but myriad other factors can torpedo the shopping experience, such as:
Long lines
Impossible parking
Bad product availability (when the website says otherwise)
Terrible customer service
A feeling that a store or location is unsafe
Decor with no coherent personality
And it's just as important to be consistent as it is to be excellent. Every touchpoint of your brand experience needs to have the same quality and character. If you're offering an upscale shopping experience, you don't want one touchpoint to be the weak link in the chain, like an exit area that's filthy or unsafe. The reverse is true too: if you offer a customer experience focused on value pricing, you won't want any touchpoint to be incongruently lavish, such as an uber-luxurious waiting area. It upsets the balance of the customer experience and calls your brand's personality into question.
Good Retailers are Fiscally Responsible
Keep tight books. Running a cannabis retail store can be a lot of fun, but it's still a serious business. The successful retailers we've worked with keep a constant eye on their P&L and their balance sheet. They steer the ship in anticipation of the economic and regulatory changes that are certain yet unforeseeable.
It's hard to sustain a cannabis retail store on a shoestring budget. The COVID-19 pandemic proved that by inflicting costly changes to how dispensaries operate. The stores that could respond with infrastructure modifications and new technologies weathered the storm; their cash-strapped peers, however, struggled, and many will fold in the coming year.
Whenever possible, keep two years worth of operating expenses set aside — or at least access to two years of financing. This is especially important in emerging markets. Regulators often delay the opening day of cannabis sales, and that leaves retailers sitting on expensive real estate without revenue. Renovation costs can also bust your bank account because they so often run over budget at a stage of your business where you don't have revenue.
Bad Retailers Lack Vision
The best retailers have a vision. They know who they are, where they're going, and exactly what they want to provide to their customers. Without that self-awareness — and without clear goals — they're lost without a map.
So, know exactly why you're in business and what you want to provide to your customers. Many retailers have a strong profit motivation, of course, but some simply want to live the cannabis lifestyle. Others are laser-focused on the medicinal benefits of cannabis and providing the community with quality medicines. Whatever your goals, make sure they're clearly stated.
Also check to make sure that all your equity stakeholders are on the same page. Ownership partners often have divergent goals, sometimes without even realizing it. If some of your store's stakeholders want to provide uncompromising medical care, their values may conflict with other team members who are 100% profit-driven.
Good Retailers Excel at HR and PR
Your employees are where the rubber meets the road: who you hire determines what you become. When your budtenders understand your brand and provide great customer service, you'll prosper. When they're sub-par, you're subpar.
Good retailers hire great employees. They also fire bad ones. Staffing needs to be an active process that spurs organizational excellence, not a one-and-done affair wherein you're stuck with who you've got. Don't be afraid to release employees who show up late, treat customers poorly, or steal. In turn, treat your good employees like family. Successful retailers provide employee appreciation events, discounts, and other perks. A few even use profit-sharing programs to fuel a sense of ownership.
Your stellar people skills should extend out into the community too. When you engage with cannabis skeptics, you become the "good guys." Some retailers have greatly improved their standing in the community by visiting with law enforcement, clergy, medical professionals, and regulators. Easing cannabis-related fears goes a long way in gaining acceptance.
Bad Retailers Slide Into Operational Chaos
Ultimately, how you operate and execute determines your success. The best laid plans and most innovative visions won't matter unless you have the follow through and organizational skills to bring your dream to life.
So it comes as no surprise that successful retailers are masters of business operations. They track their results. They analyze their sales reports. And they're constantly refining what works. By shaving a ¼% off of their expenses here, or slightly boosting their revenue there, they slowly improve their profitability. Moreover, they use technology to track their efforts and put tedious, error prone work on auto-pilot.
Manual work naturally creates human error and clumsy execution. Reconciling sales reports, checking IDs, managing inventory and performing audits — all of these things can cost you money, or worse, a regulatory violation. Payroll will be one of your largest expenses as a retailer. If your staff is spending time on tasks that are better left to a machine, you're wasting money. For example, if your manager is staying late every night to reconcile your sales reports, that extra hour of labor will cost you thousands of dollars over the course of a year — dollars better spent on technology
An advanced POS platform does more than process sales; it manages your inventory, syncs inventory with your website, and generates easy-to-use sales reports. Even better, it connects with other business operation services like QuickBooks, CRMs, and staffing software. And even better than that, a cannabis-specific POS handles much of your regulatory reporting and lets you jumpstart your online ordering and delivery programs. With third-party integrations, the Cova POS multiplies your sales channels all across the web to sites like Weedmaps and Dutchie. And it provides offline functionality that's perfect for mobile deliveries.
Successful Retailers are Constantly Learning
The cannabis industry moves so fast that one year of "cannabis time" equates to about three years of time in a normal industry. Regulations change rapidly, and so do consumer trends. To stay on-point, savvy retailers are constantly reading and learning.
Make sure to know your current regulations inside and out. That clarity will help you maintain compliance now, but it'll also prepare you to understand and respond to inevitable changes. Likewise, keep an eye on consumer trends through industry reports and benchmark data. Reports help successful retailers respond to shifting consumer tastes and stock a more attractive inventory. And they can also help compare results (e.g., sales volume, profit margins) to local and national competitors.
Are you ready to step up to a new level of operational excellence and profitability? Or ready to enter the market with a solid plan based on the hard-knocks experience of other retailers? If so, make sure to check out Cova's eBook. It's a wealth of hard-won information that we've collected from hundreds of retailers who either failed or succeeded over the last five years. Download your free copy now.