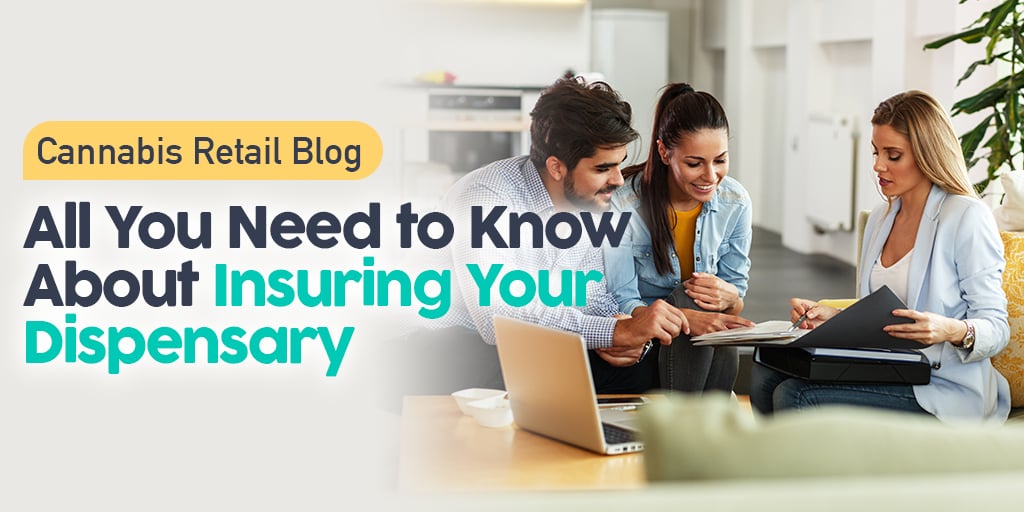 As the number of legal cannabis consumers and the cannabis industry grow, it will become increasingly challenging for dispensaries to limit their risk exposure. We all are aware of the fact that cannabis businesses face several challenges. Some top ones include remaining compliant to keep their license to operate, minimizing claims from customers who use their products, and the possible financial risk of theft or natural perils.
Recent robberies have only added to these challenges and had a significant impact on cannabis dispensaries, as these businesses are targeted due to the high value of their products and the cash they keep on hand. These robberies not only result in the loss of inventory and money but can also cause damage to the dispensary's property and equipment. For this reason, retailers must insure their dispensary business to protect themselves against potential losses. By investing in adequate insurance coverage, dispensary owners can mitigate the financial impact of robberies and other unforeseen events, ensuring the long-term viability of their business.
With all this in mind, we will discuss what dispensary insurance is, the various cannabis insurance choices available to business owners, whether you are opening a new cannabis dispensary or already operating one, and other general recommendations.
What Exactly is Cannabis Insurance?
When we use the term cannabis insurance in the cannabis industry, we are usually referring to small business cannabis insurance coverage which is tailored to address the risks that are unique to this sector.
As a business owner in the cannabis industry, it is important to learn about some major risks and how to manage them with the help of the right cannabis insurance policies. These risks include issues such as injuries sustained on the job, physical harm and property damage inflicted unintentionally on others, crop failure, and theft. It's similar to looking for major protection for any other kind of business.
To get an estimate, you'll need to provide specific information about the cannabis company and its address. The cannabis insurance company experts will also inquire about your dispensary location, ownership, employee counts, recent upgrades or renovations, and yearly revenue projections. All such details will be included in the application.
What are the Risks if You Don't Have Any Cannabis Insurance?
You could face fines and penalties if you operate your cannabis company without the required insurance in your state. For example, if you don't have mandatory insurance in California, you could face a fee, a license suspension, or even a revocation.
But always consider getting more protection than what the state mandates. This is going to be an ideal situation, even if your state does not have any requirements. The reason is, your cannabis company will have to bear some major costs associated with things like theft, fire, mechanical failure, and repairing your work vehicle after an accident; if you only have minimal general liability coverage.
Insuring a Cannabis Dispensary: What Does it Cover?
A comprehensive cannabis insurance policy will include several different kinds of business insurance to protect your company from unexpected events. Claim expenses, property loss or injury, and legal fees will all fall under this category.
1. Business Liability Insurance
If you cause harm to another person or their belongings by accident, your general liability policy will pay for it. If you are sued because of an accident, your insurance will pay for your legal fees, as well as any verdicts or settlements. This does not cover your employees though.
For instance, if a client slips and sprains their wrist in your dispensary, your general liability insurance would cover their medical bills.
2. Business Interruption Insurance
Business interruption insurance compensates for lost profits if you are forced to close your cannabis company shortly due to an insured event. Another name for this cannabis insurance is "business income insurance".
It protects against financial losses caused by incidents like fires, storms, missed wages, damaged inventory, and temporary relocation expenses.
3. Commercial Property Insurance
Commercial property protection can help protect your buildings and contents from physical damage caused by incidents like fires, storms, vandalism, and theft.
The insurance will protect your company's stock, equipment, provisions, furniture, electronics, documents, and data.
To begin, remember that cannabis retail businesses face many potential sources of loss, including accidents on the job, theft, general liability, property harm, and product liability. In addition, dispensaries are particularly vulnerable to theft and liability because, until the Secure and Fair Enforcement (SAFE) Banking Act is passed by Congress, most dispensaries can only accept cash.
Depending on the company and contract, the cost of cannabis dispensary insurance can range from $350 to $7,500 annually. Some other things that may be covered by most insurance policies are:
Workers' compensation: Accidental injuries and illnesses on the job are covered by workers' compensation insurance.
Inland marine: Loss or theft of company property while in transport falls under the umbrella of inland marine.
What is not Included in Cannabis Insurance Coverage?
Insurance for cannabis businesses typically does not extend to certain risks. Some of the major events that your cannabis insurance company will not cover are as follows:
Dangers lurking in the shadows of illicit cannabis sales and production.
Damage resulting from non-compliance with government regulations. For example, if federal agents raid your company and seize your products, you will not be reimbursed for your financial losses.
Pests and mildew can do a lot of damage. These dangers are generally not covered by crop insurance because they are seen as part of the intrinsic risk of cannabis cultivation.
What to Expect When Paying for Cannabis Dispensary Insurance?
The costs of buying dispensary insurance for your cannabis business can fluctuate greatly. It depends on factors like:
The bare minimum of coverage mandated by law in your jurisdiction
The scope of your cannabis company
Various policies you need to have
Your coverage limits
How many permits do you have to legally sell cannabis
Your history in the cannabis market
Any statements you may have made in the past
Conclusion
In conclusion, insurance coverage is critical for cannabis dispensaries as these businesses face a variety of risks and uncertainties that can result in financial losses. Robberies, theft, property damage, and product liability issues are just a few of the potential risks that cannabis dispensaries may face. With the right insurance coverage, dispensary owners can protect their businesses against these risks, mitigate financial losses, and ensure the long-term viability of their operations. By investing in adequate insurance coverage, cannabis dispensary owners can focus on growing their business and meeting the needs of their customers, with the peace of mind that they are protected against unforeseen events and risks. Sign up for our blog to stay updated with the latest tips and best practices to grow your cannabis business.