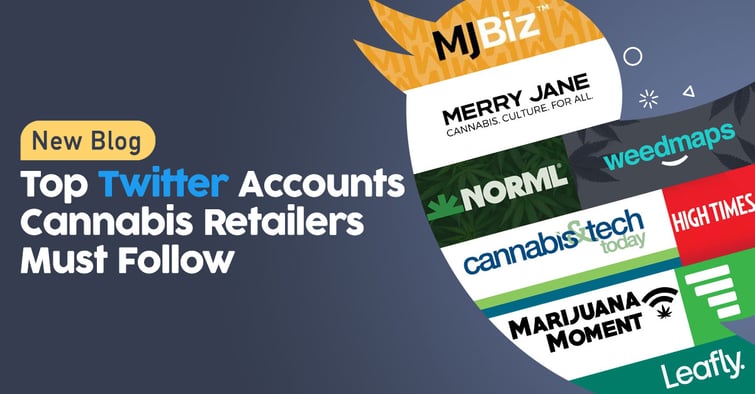 There's no doubt that the cannabis industry is booming in North America. While Canada already has a well-established legal cannabis retail market, more and more states in the US are legalizing adult-use marijuana. There are certainly opportunities galore for cannabis business owners to grow and expand in this burgeoning industry. But with so much happening and multiple sources of information out there, it's hard to keep up with everything you must know. Amongst all social media platforms, LinkedIn and Twitter are the most friendly toward cannabis. We met with the little blue bird to select the top Twitter accounts that cannabis retailers must follow to stay abreast with the latest industry happenings. We're not sure if Elon Musk has an opinion on these, but we highly encourage you to tap on that follow button.
1. @MJBizDaily
MJBizDaily is one of the most trusted sources of news and data for cannabis industry professionals. They are generally the first media company to report anything related to cannabis. Of course, you could also subscribe to their email newsletter to get your daily digest of news to your inbox. But if you follow them on Twitter, you will get all your cannabis industry news in real-time. As a business owner, you can make crucial decisions based on accurate facts, forecasts, and predictions from MJBizDaily.
2. @NORML
NORML is a non-profit organization with a mission to educate people about the responsible consumption of cannabis and serve as an advocate for consumers to ensure that they have access to safe, affordable, and high-quality marijuana. With over 315K followers on Twitter, it is one of the most influential accounts on Twitter working to bring awareness about the dark history of cannabis and push for reforms. Follow them to keep up with the latest news and how future changes will help the growth of the cannabis retail industry.
3. @Cannatechtoday
Cannabis & Tech Today is another media company that focuses on all things tech in cannabis. Along with talking about the critical role of technology, they also regularly highlight the importance of sustainability and social equity in the cannabis industry through news articles and podcasts. Follow this account to stay in the loop about the latest innovations in the cannabis industry and how science and technology can help you streamline your dispensary business.
4. @Weedmaps
Weedmaps is a community organization where businesses and consumers can search and discover cannabis products. Of course, most cannabis retailers use Weedmaps to list their dispensary and menu online so that consumers can discover them. However, Weedmaps is also educating the public about the economic and community benefits of a safe and regulated cannabis industry. Follow them for educational content, funny memes, and tips on how to grow your dispensary business online.
5. @MarijuanaMoment
Marijuana Moment is another top media source for the latest updates on marijuana. Marijuana moment's Twitter account is a great channel to follow if you want to learn more about all the new cannabis regulations in your state, province, or country. Marijuana moment has built a culture around advocating for the decriminalization of cannabis and removing the stigma surrounding its consumption. Follow them to stay abreast with the latest state, federal and international cannabis reforms.
6. @Leafly
Leafly is one of the largest cannabis online marketplaces, but they also write about cannabis research, strains, and consumption methods. As a cannabis retailer, you and your staff must have extensive knowledge about what kind of effects can different cannabis products have on people and the various medical benefits associated with each strain. Follow Leafly's Twitter account to increase your knowledge about the latest cannabis products on the market and how you can curate a phenomenal consumer experience for your customers.
7. @StratCann
StratCann is an online news publication covering the evolution of Canada's cannabis industry and provides unique insights on policies, regulations, and consumers. If you are a cannabis retailer in Canada and looking at starting, growing, or even selling your cannabis retail business, this is a great Twitter account to follow to ensure you are navigating all the latest cannabis industry developments. Whether you are a cultivator, micro-producer, farmgate store owner, multiple store owner, or a boutique retailer in Canada, StratCann is your go-to resource.
8. @HIGH_TIMES_Mag
Everyone knows about High Times Magazine- it is one of the oldest resources for cannabis news and culture. Just not news, but High Times magazine also covers cannabis entrepreneurs all over the world and their articles are undoubtedly a great read for anyone looking for some inspiration to start or grow their cannabis business. High Times covers all kinds of eventful stories and incidents in the cannabis industry, and you must follow their Twitter account to ensure that you have exciting things to talk about with your staff, customers, and friends.
9. @MERRYJANE
MerryJane may not have over 700k followers on Twitter that High Times does, but it's a superb account to remain connected with the cannabis culture. Merry Jane also advocates for inclusivity and equality in the cannabis industry, and its content is a reflection of that. Follow them to keep abreast with what celebrity advocates like Snoop Dogg and Seth Rogen are up to or how cannabis is positively impacting our society.
10. @CovaSoftware
Cova Software is North America's largest cannabis POS and retail management software company, and we regularly create educational content to help cannabis retailers expand their business, stay compliant with regulations, and deliver a great customer experience. If you are not following us already, click on the button below and follow us on Twitter now to ensure that you don't miss out on any of our webinars, seminars, or resourceful guides for retailers.
This is certainly not an exhaustive list. Go check out the 'Following' tab on our Twitter account, and you'll see many other cannabis industry accounts that you could follow as well.