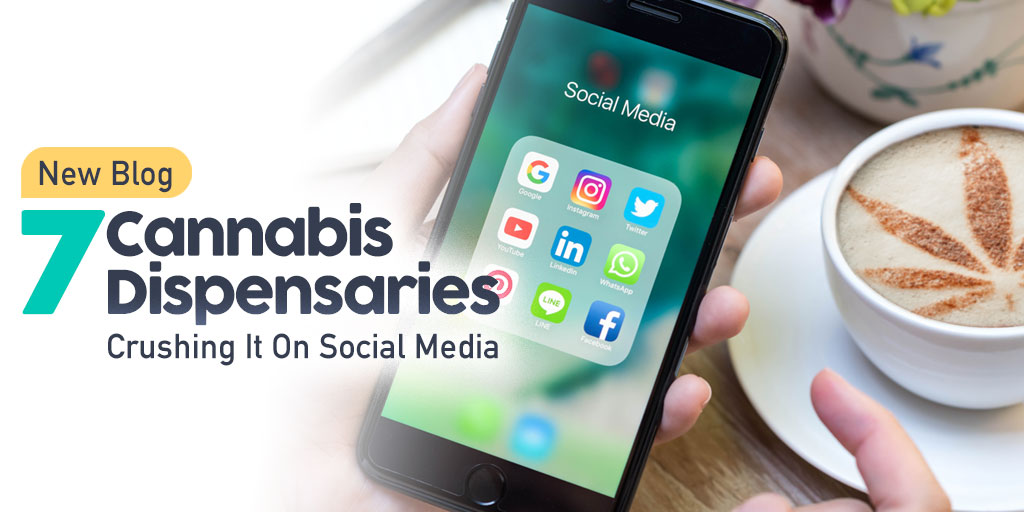 As a retailer looking at connecting directly with potential customers and building your cannabis brand, you must have a presence on social media in this digital era. And although social media platforms like Facebook and Instagram impose restrictions on cannabis promotions, and it is challenging to navigate their algorithms, times are changing as more states in the US join the legal cannabis revolution. As social media platforms are relaxing restrictions, any cannabis dispensary that's been working on creating a brand image on social media will surely benefit in the long run and maximize its organic reach.
Since cannabis is federally illegal in the US and faces strict restrictions, it is hard for dispensaries to connect with customers on social media without using relevant cannabis-related terms and hashtags. And if you do become successful in building an organic following with quality content, there is still always a risk of your account getting suspended. Hence, many cannabis retailers consider publishing content on social media a futile investment. However, if you develop the right strategy, you will not just generate buzz but also increase trust in your cannabis brand and build loyalty.
Before you see some inspiring American cannabis dispensary brands that are crushing it on social media, let us look at some advice on how you can up your social media game while working on your cannabis marketing plan:
Basic Rules to Follow While Building your Cannabis Brand on Social Media
Educate without selling: Since photos of cannabis flower and products may get flagged on social media, it's better to publish educational content like behind-the-scenes pictures of how certain products are made or what kind of packaging you are using without promoting cannabis. Canna-curious consumers are always looking to learn more about the form of cannabis they are buying and what experience they will get from it.
Customized Strategy: Instagram is a very visual platform, while the text is highlighted more on Facebook. Ensure that your colors align with the overall brand image and you are using tools like stories to build a personal connection with your target demographics. Also, create contests and giveaways occasionally around holidays to attract more followers to your platforms.
Engage Regularly: Always respond to comments timely, and address all queries of your customers. Try and post short videos about your dispensary or employees occasionally to create a buzz- video content is always more engaging. You may employ the services of a cannabis influencer, as people always connect better with people than brands but work only with influencers who genuinely use your product.
Always have a backup: Cannabis accounts get suspended regularly on social media channels. Ensure that you have a few backup accounts where you create occasional posts so that you can get quickly back up and running if your main account gets shut down. Save all your assets in a cloud drive so that all that hard work does not go to waste.
Read our blog post on how to build the best social media strategy for your cannabis dispensary for detailed insights. Now let us show you 7 cannabis retail Instagram and Facebook accounts that you must follow to learn how to make your dispensary stand out on social media.
1. Cassville Dispensary
Cassville is a medical cannabis dispensary located in Missouri. With almost 6000 followers on Facebook, they constantly keep their online community informed about their new products, promos, and services. They also organize events like bake sales that help in creating a buzz on social media channels and attracting new clients to the dispensary.
2. Crystal Carnivore
Crystal Carnivore is another medical cannabis dispensary primarily publishing video content on its Facebook page, whether it is educational stuff about different ways to consume cannabis or just showcasing some of its unique products and paraphernalia. Most of these videos are shot by the staff working at the dispensary, so such kind of organic engagement tends to create a very natural connection with customers.
3. Durango Organics
With 6 locations across Colorado, Durango Organics is an Alternative Resource and Wellness Center selling premium quality cannabis products. Their recent posts on Instagram for Pride Month highlight their values and how they connect with different market segments through community involvement. Durango Organics is good at creating a buzz around big occasions like 420 as well.
4. Easy Mountain
Easy Mountain regularly organizes contests and giveaways on its social media platforms and then features the lucky winners. The dispensary certainly has a knack for capitalizing on the long weekends by organizing shake sales and posting about these on Instagram at opportune times.
5. Emerald Elite
Emerald Elite is doing a fantastic job by highlighting some paraphernalia on their Facebook page and removing the stigmas associated with cannabis. A t-shirt with #stonermom is bound to attract a key demographic who will relate to the hashtag caption and easily find it when searching on social media channels. Such things help in building brand loyalty as well.
6. Hashtag 420
Hashtag 420 has a unique stoner theme for their published posts on Instagram and posts images and videos regularly. Perhaps choosing a name like that was no coincidence and they already had a social media strategy in mind before launching their channels, as they use relevant hashtags on their posts to increase engagement rate and drive people to their channels.
7. Cookies
Who doesn't know Cookies eh? After great success across the US, they recently opened cannabis stores in Canada as well. Cookies owns other brands as well and regularly showcases their funky dispensary design on social media. They regularly post photos of their community members enjoying their products and educate consumers about what kind of experience they may expect from a specific cannabis product. Owned by rapper, Berner, Cookies markets itself well as an authentic lifestyle brand with passionate cannabis enthusiasts as its patrons and dedicated followers.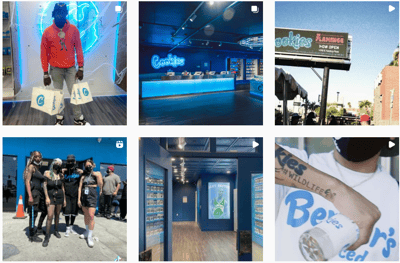 The key to building a dynamic social media presence is consistency, authenticity, and most of all, radical creativity. If you want to be the first to know whenever we've got some inspiring examples of cannabis retail done right, or valuable cannabis industry insights to help you take your business to the next level, be sure to subscribe to our blog today.