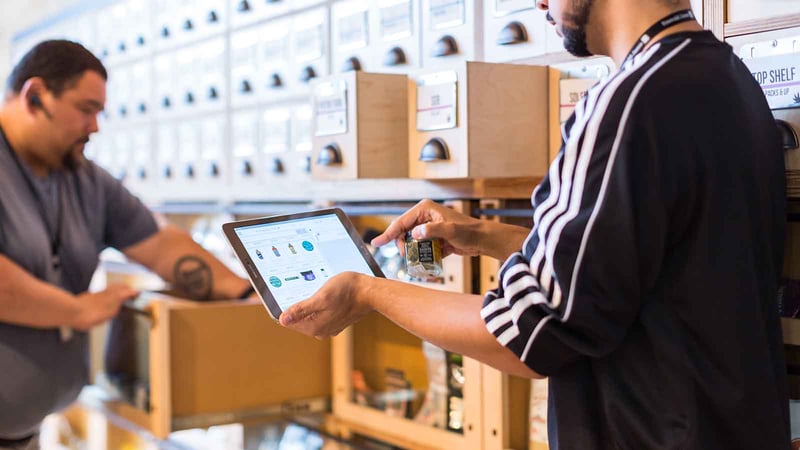 As a cannabis retail store owner, you're always looking for ways to improve your operation and provide your customers with a better experience. But have you considered how your dispensary's hardware may be affecting your store's performance?
The resources you provide your employees can greatly impact their ability to provide great customer service. Since your budtenders are on the front lines working directly with customers every day, it's important to arm them with the most effective tools to guide, inform, and ultimately sell.
The point of sale is easily the most important tool at a budtender's disposal—but not just any old point of sale system will do. The best cannabis dispensary POS system is one that utilizes tablets. But why? Here are three reasons:
1. Tablets Are Easy to Learn
Unlike large desktop computers, tablets for cannabis retail are sleek, intuitive, and easy to learn and use. This means your budtenders will spend less time learning how to use the POS and more time engaging with customers.
Moreover, the budtenders you hire will tend to be younger—typically between the ages of 21 and 29. Fifty percent of adults in this age demographic own a tablet, which means your employees are likely already familiar with the technology.
Even if your budtenders—or you yourself—don't have much experience with tablets, they're a breeze to learn. After just a few minutes, you'll be pulling up information and cashing out sales like a pro.
2. Tablets for Cannabis Retail Improve Budtender Performance
Because tablets are user-friendly and intuitive, your employees can quickly access the information they need to answer customers' questions. This information includes:
Cannabis strain descriptions
What strains are best for certain conditions
Inventory levels
Prices
With this data at their fingertips, your budtenders will be able to easily and confidently help your customers find exactly what they're looking for.
The fact is tablets improve your budtenders' ability to provide a great customer experience—which leads us to reason number three.
3. Tablets Improve Customer Experience
While it's definitely important to think about your budtenders' perspective when deciding on POS hardware, it's also critical to consider your customers' point of view.
By using a clunky desktop system, you're restricting your employees to the counter. By using tablets with pos for cannabis dispensaries, your budtenders can freely roam the sales floor and assist customers as they browse. If a customer has a question, the budtender can answer it on the spot—but with a desktop system, the budtender has to leave the customer to retrieve the information.
With a tablet, your budtenders can provide customers with one-on-one attention for an exceptional experience. Along with product information, you and your employees can quickly access customers' buying histories, preferences, and applicable loyalty rewards—all without ever leaving them unattended. This also makes for an expedited shopping process, which your customers will appreciate.
These are just a few of the great reasons to invest in a tablet-based POS system for your dispensary. Ready to learn more? Book a free demo today!