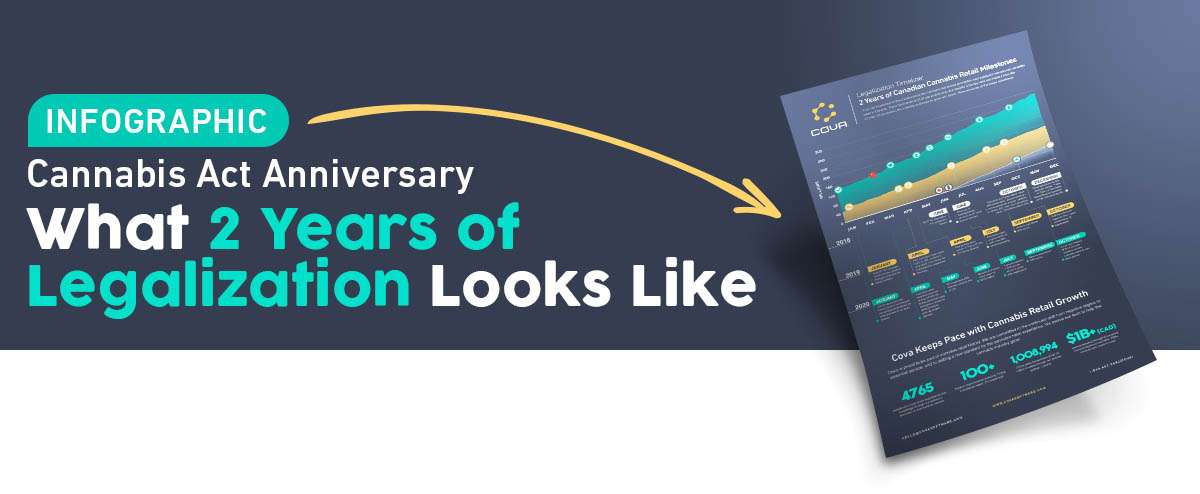 October 17th is the anniversary of a unique day in Canada - it marks exactly two years since the Cannabis Act came into effect, and ushered in a new and unprecedented era legitimizing cannabis retail on a national scale.
Since the Cannabis Act came into effect in 2018, Canada's cannabis industry has seen its fair share of triumph and turbulence, but undoubtedly the industry has seen an upward trajectory of growth highlighted by important milestones that prove the resilience of the industry at large. Since then, cannabis stores have endured extraordinary circumstances and challenges, from massive supply shortages, arduous lottery processes and controversial licensing procedures, and of course, the untimely shock of the COVID-19 pandemic.
Cannabis professionals have had to maintain an even keel and have collectively driven this industry to be extremely important and essential in these times. Below, you can find the infographic covering the key milestones of the last two years. In addition, we've picked out a few major events to reflect on, and we've examined data on the province's individual efforts to see how they compare.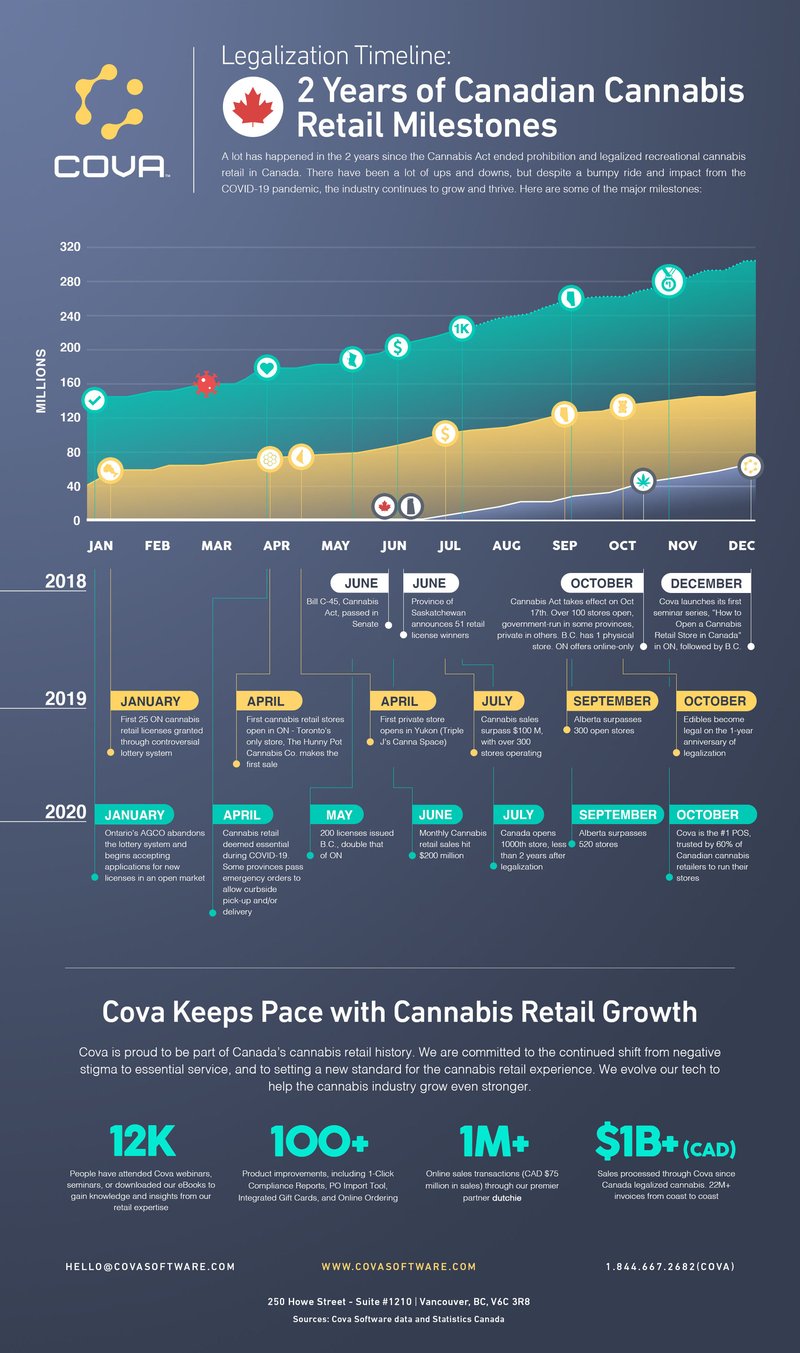 ---
October 2018 – Legalization; first 100+ cannabis stores open
After the 2017 Task Force on Cannabis Legalization and Regulation introduced Bill C-45 with the goals of keeping cannabis out of the hands of youth and profits out of the hands of criminals and organized crime, in June 2018, Bill C-45 was finally passed in the senate, and set the framework for adults to purchase, consume and possess cannabis legally.
On October 17th, the Cannabis Act took effect, and over 100 stores opened nation-wide, with exclusively government-run stores in most of the maritime provinces and Quebec, and private retailers in Alberta, Saskatchewan, and Manitoba. Shortly after cannabis was legalized in Oct. 2018, Canada's licensed retailers endured a supply shortage, resulting in a slow burn for most provinces. B.C. opened only 1 physical government-run store, in geographically central Kelowna, but far from the province's biggest cities. They additionally offered online ordering. Despite population and demand, Ontario opted to offer online-sales only until April of 2019.
April 2019 – Ontario opens its first stores, limited to 25 select lottery winners
As April swung around, product shortages continued to set back and delay the mass opening of retail stores that most had envisioned. This meant only a maximum of 25 stores across the province could open their doors on April 1. For retailers who wanted to get their piece of the first 25, the Alcohol and Gaming Commission of Ontario (AGCO) implemented the now infamous lottery system to determine exactly who is eligible.
With Ontario's new lottery system set, and only 25 allowed to open on short notice, most were rushing to the finish line and looking at steep fines if they failed to do so. Most wouldn't make opening day. The Hunny Pot Cannabis Co., the first store opened in Downtown Toronto, received their final approval with just 10 days to get things up and running.
Cova's world-class launch team played a big part in the short turnaround. They were able to set up hardware and onboard the team quickly, including training for budtenders to use their POS. Against all odds, Hunny Pot Cannabis Co would open their doors at 9am on April 1st. It was the only recreational cannabis store in the city of Toronto to meet the deadline.
July 2019 – Cannabis sales pass $100M; 300+ stores are now operating
Canadian cannabis retail sales rose to about $104 million in July 2019, according to Statistics Canada. This massive milestone marked the first time that cannabis retail sales surpassed the $100 million mark since the government legalized cannabis. According to StatsCan, the newly minted recreational cannabis industry had raked in $676.4 million worth of sales from retailers in just the first 10 months of legalization. In addition, cannabis sales spiked 14.3% in July from the month prior, making for the largest rise in month over month growth to date.
January 2020 – ON ends license lottery and opens Canada's biggest market
After several months of cannabis producers making due and getting by with a lottery system that stifled the amount of legal retail stores in the country's most populous province, the lottery system used to issue the province's first 75 retail licenses was completely scrapped in January 2020. This allowed for stores to apply for provincial approval without limits. Of course, retailers were still to be subject to criminal record checks and a government approval process, but the slow moving pre-qualification measures used with the lottery system were to be completely abolished.
While Ontario cannabis sales still amounted for the most in the country after 11 months of legalization totalling $185 million, the province was still losing out on massive profits. Cannalysts Inc., an independent cannabis research firm estimated that the province lost out on a total of $325 million in economic activity, and over $50 million in tax revenue alone.
March 2020 – COVID-19 pandemic puts the resiliency of the industry to the test
Just as things became more stable with regular store openings and adequate supply, the COVID-19 pandemic changed everything for the cannabis industry. Initially, there was a massive uptick in cannabis sales, as March and April's initial stage of paranoia and stockpiling consumer behaviour resulted in a massive surge. The Ontario Cannabis Store received between 2,500 and 3,500 orders prior to March 9, and in the weeks following the national mandate of physical distancing, those orders doubled to 5,000. Orders doubled again, topping out at 13,000 by the beginning of April.
The surge would be short-lived, and the manufacturing sector was hit hard by layoffs due to the shift in momentum. Retailers, however, thanks to emergency orders that deemed them essential and technology at their disposal, were able to pivot to online ordering and curbside pick-up and delivery. In Ontario, that almost didn't happen; a spike in COVID-19 cases prompted the government to order stores closed without a backup plan. Fortunately, a Cova-organized coalition of retailers persuaded the government to act quickly and temporarily allow delivery in the province.
July 2020 – Canada reaches 1000 stores; monthly sales now exceed $200M
As the summer hit cannabis job growth particularly hard, Canada was still hitting milestones with retailers opening over 1,000 licensed cannabis stores in Canada, as new stores in B.C. and Ontario push the store count into quadruple digits. Monthly sales in this period exceeded a new high of $200M.
Alberta continued to lead the country with nearly 500 cannabis stores in the province, although several analysts have said the market is saturated and that some stores recently had to close due to challenging conditions.
Looking Ahead
Cova is proud to be a part of this journey and alongside cannabis professionals every step of the way as we all collectively make cannabis retail history. At Cova, we are dedicated to continuing to change the narrative and negative stigma around cannabis and are gratified to contribute to the evolution cannabis has had into being a truly essential service, setting a new standard for the cannabis retail experience.
If we've learned anything from the first two years of legalization, it's that change is the only constant. To keep sales strong and keep their business running, cannabis retailers are having to adapt quickly to survive and thrive. Cova has become more than a cannabis POS company - Cova is a tech retail expert that has helped hundreds of cannabis retailers plan, set up and run their stores successfully. We share information freely, including best practices, insights, and guidelines to stay compliant and pass inspections. We're also constantly working with provincial lawmakers to stay in tune with the changing legal climate.
---
Cova POS facilitates multiple workflows, including curbside pickup, online payments (in Canada) and even call to order. Cova has been constantly evolving our tech to help the cannabis industry grow, and we're looking forward to continuing that mission for years to come.
We can help you like we have helped hundreds of cannabis retailers open their first store.