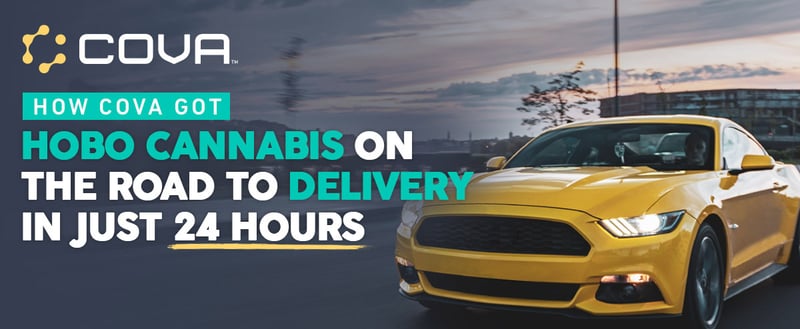 *Hobo Cannabis is now Dutch Love
COVID-19 is rapidly changing how the cannabis industry does business, sending retailers scrambling for new ways to transact sales. Fortunately, online ordering and delivery services are sustaining their operations and proving to be more manageable — and less complicated — than once thought.
Enter Dutch Love. The Ontario-based retailer was quick to implement a delivery service and even managed to do so amidst Ontario's see-saw regulatory changes. In the wake of COVID, Ontario regulators 1.) permitted cannabis retail, 2.) then prohibited it, 3.) then permitted it again (with curbside pickup only), and 4.) finally tagged on an allowance for delivery services.
Needless to say, it was a wild ride for Dutch Love, but they were prepared: last year, their flagship store had more transactions than any other cannabis retailer in Ontario. So, when delivery became an option, Jex Woods, Dutch Love's Operations Director, was quick to act. He and his team rolled out a delivery service at jaw-dropping speed — in less than 24 hours! Using the Cova POS platform, Woods scaled to hundreds of deliveries per day in a few weeks' time.
Cova provided all of the integration compatibilities needed to seamlessly manage online ordering, order fulfillment, inventory management, and delivery.
Zero-to-Cannabis Delivery in 24 Hours with the Cova Retail Platform
"When delivery opened up, we decided to go for it — immediately," says Woods. "And everything that comes with delivery starts flying through our brains like distance traveled, who's doing the delivery, are they insured, what can they bring with them or not..."
Luckily, Dutch Love has already connected their eCommerce website with the Cova platform. They only needed to integrate a delivery management service to be up and running.
That night at 9:00 pm, Woods and his partners ran a virtual simulation of a delivery management service, Onfleet. The next morning, they announced their new delivery option on social media and started accepting orders on their website. And after just a few trial runs, they went live. Their employees set out at noon to deliver the first orders using their own cars and personal cell phones.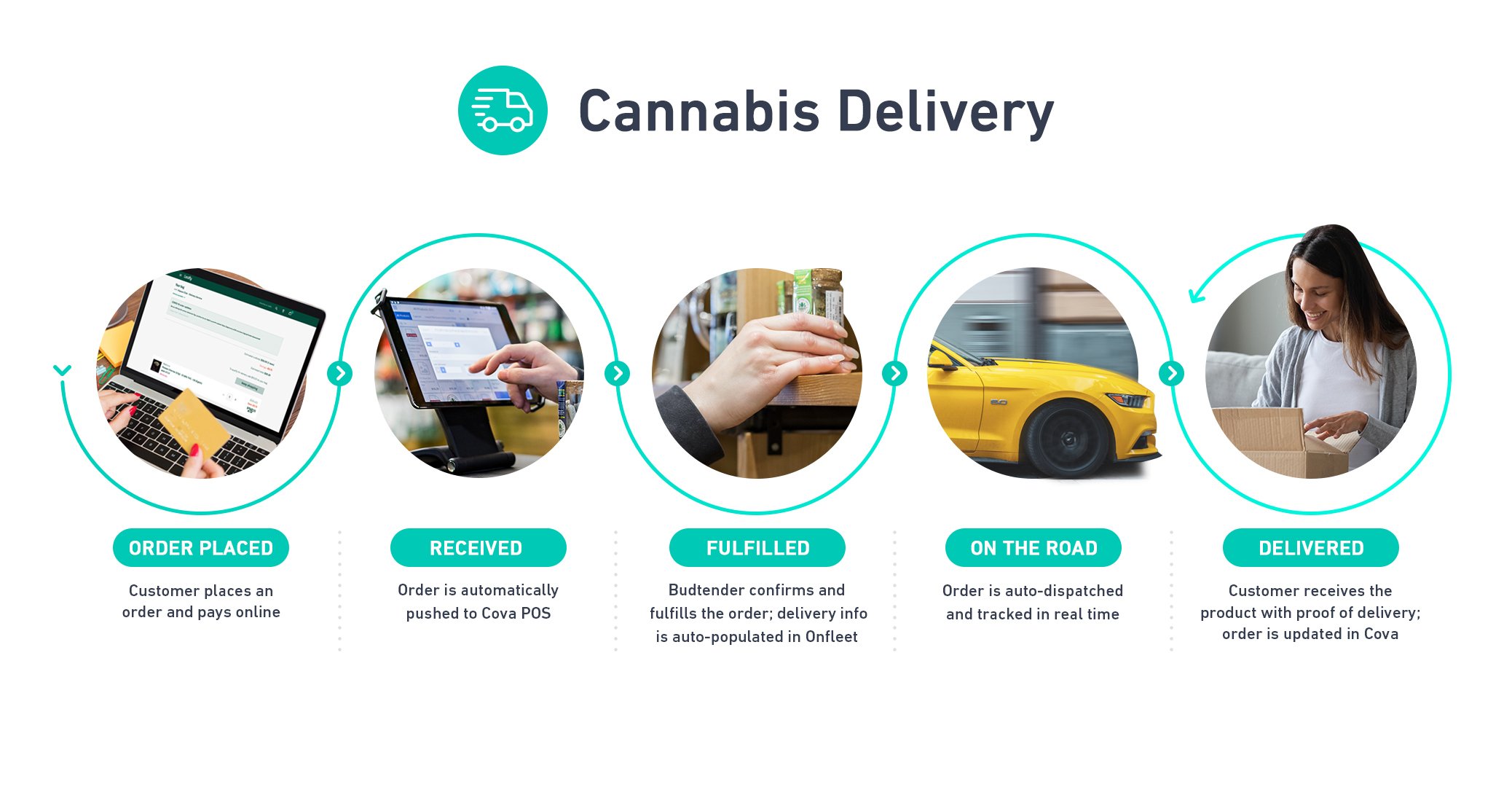 How to Set Up a Cannabis Delivery Service in 4 Steps
Step 1: Understand the Scope of Your Delivery Service
Implementing delivery services will add complexity beyond brick-and-mortar sales, so it's important to understand what you need for a cannabis delivery program and the scope of management required. Dutch Love wanted a lot of control to track drivers and manage delivery data but other retailers may not need to be so sophisticated.
Regardless, you'll want to gauge the feasibility of your area; areas with low population density — or unsafe areas — may make delivery a no-go. You'll need to balance the change in staffing against the fees you'll charge for delivery, too, otherwise delivery will cut into your margins.
You know the times of the day when you're busy, and your delivery business will likely match that peak period. Coordinate your delivery runs accordingly by staffing drivers for peak hours. And don't forget to be timely — set a target delivery time or otherwise set some expectations for when customers will receive their goods.
Step 2: Check Your Regs
As always, you'll want to keep straight with your regulators. The Alcohol and Gaming Commission of Ontario (AGCO) issued a bulletin to guide the change to delivery service which highlights key points, including:
The delivery employee needs their CannSell certification onboard, but the driver of the car does not
Third-party delivery services are not allowed, and drivers must be directly employed by the retailer and use their own cars.
Retailers must record and retain the names and addresses of their delivery customers, and the residential addresses where cannabis was delivered. (The Cova POS does this automatically.)
All products must be paid for before the delivery is made.
Deliveries are permitted every day of the week from 9:00 am to 11:00 pm. The 30-gram purchase limit remains in place.
Just because the AGCO legalized delivery doesn't mean a traffic cop would understand the situation — or why the driver was in possession of so much product. So, Woods was conservative. Dutch Love's drivers carry a letter confirming they're indeed employees and that they're in good standing. The delivery team is also required to carry their driver's licenses and certifications from their CannSell training, as required by AGCO.
Ontario requires that payments be made before the delivery arrives, either by phone or online. Dutch Love can accept credit cards and Visa debit cards. And, to help prevent fraud, the Dutch Love delivery staff goes beyond regulations to check that the recipient of the delivery has the card they used to make the purchase in hand.
Step 3: Choose the Right Technology Partners and Cannabis POS
"It was a giant gasp of relief when we realized Cova, Dutchie, and Onfleet already worked seamlessly together," says Woods. The Cova platform had already integrated the key pieces and complimentary services into one platform to make orders flow smoothly and accurately — in real-time — without manual entry.
Dutch Love's customers browse their website, place an order, and either pay online or call the store to pay. The order automatically pops up in the Cova POS for the budtender to tender the sales, and the system updates Dutch Love's inventory. The order and delivery information is populated in Onfleet for routing and delivery. Once the order is delivered, the order status is updated.
Before realizing that Cova integrated with delivery software, Woods designated a dispatch coordinator who was tasked with the tedious — and error-prone — job of data entry. "The dispatcher would come in every morning to enter the orders that had come through the night before name-by-name, number-by-number, address-by-address," says Woods. "And on our first Saturday of delivery, we did 117 deliveries between the two stores so it was getting pretty unmanageable."
"Now, Dutchie, Cova, and Onfleet work together seamlessly and auto-populate all our deliveries."
Step 4: Create Your Cannabis Delivery SOPs
Your standard operating procedures will be different from Dutch Love's based on your regulations, geography, and intentions. But here's a quick peek into exactly how Dutch Love is making their delivery service work so well.
Once the order arrives in Cova POS, employees confirm the order, tender sales and prepare the product for delivery.
Dutch Love sends out delivery cars at 12:00 pm and 5:00 pm. A driver and a co-pilot travel together, navigating to the delivery stop arranged on the delivery management app. The onboard co-pilot increases security and helps with hands-free driving.
When the delivery car arrives, the delivery person stays within the line-of-sight of the driver, who remains in the car. For security purposes, the delivery person does not enter condos or foyers. All delivery employees wear masks and gloves.
The delivery person verifies the age and ID of the recipient and also confirms they have their credit card present.
Once the delivery is complete, the delivery person clears the order in the Cova POS which automatically adds the sale to the sales summary report.
Dutch Love's Secret Weapons to Create a Unique Experience and Become A Favorite Brand
Dutch Love takes a unique approach to cannabis retail. Because of their management team's extensive experience in the hospitality industry, Woods and his partners wanted a POS that would help them operate their stores like restaurants with a distinct "kitchen" area for order fulfillment.
"When front-of-house staff enters an order into the Cova POS, it pops up in the backroom for fulfillment," says Woods. "That lets our budtenders focus on the customer in the moment rather than working to put together orders."
In Dutch Love's SOPS, the Cova POS creates an order and leaves the order open to display in the backroom — a feature that comes in handy with delivery too. The backroom employees fill the order and bring it to the front.
This "restaurant technique" has proven faster and more efficient than jewelry store-style sales where the product is kept in cases upfront. With the front-of-house/backroom model, the completed order meets the customer at the register to save time. Many Cova retailers have now adopted this feature to realize significant improvements in their efficiency, speed, and customer experience.
In fact, the restaurant-style system has enabled Dutch Love's flagship store to transact more sales per day than any retailer in Ontario, and possibly all of Canada. Woods and his team are opening stores nationally, and expect to be operating fifteen stores by year's end — in Ontario alone.
Responsive POS Services for Quick Adaptation
"The support and communication that Cova offers are just incredible," says Woods. "Cova's ability to adapt has let us stay flexible."
Cova software engineers pride themselves on offering a robust product with versatile integrations to online ordering services such as Dutchie, Shopify, Super Anytime, Buddi, I Heart Jane, Weedmaps, and Leafly Pickup, in combination with delivery platforms like Onfleet. With inventory management and a wealth of reporting features, the Cova POS enables cannabis retailers to stay compliant while they evolve and expand.
Get started with your cannabis retail & delivery business fast today.