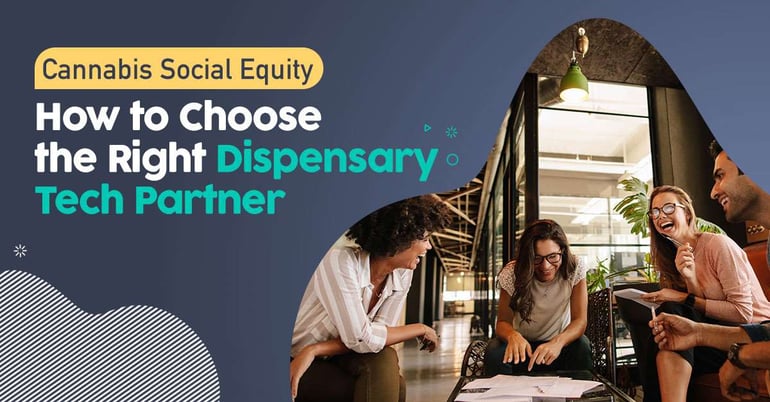 As more states across the US legalize cannabis and recognize the disproportionate impact of the war on drugs on communities of color, they are incorporating social equity provisions into cannabis laws everywhere. With so many new laws and regulations, cannabis software companies are also doling out all kinds of offers to new cannabis business owners, especially social equity applicants. However, as a dispensary owner, there are still many challenges you will have to navigate to build a successful cannabis retail business. Evaluating and choosing a dispensary technology partner that has meaningful intentions toward your business and a genuine interest in your success is crucial.
There are many cannabis technology platforms out there these days, and some companies may bait you with free or cheap solutions. But if it sounds too good to be true, it probably is. Always read the fine print before signing any contracts, lest you may regret it later. Rumor has it that certain dispensary technology providers deem you eligible for their social equity program only if you sign up on their website- otherwise, you have to pay them the regular subscription fee. In this blog post, we will dive into five ways you can evaluate a potential cannabis technology partner and how you can choose the best one for your social equity dispensary.
1. Read the Fine Print of the Complete Offer
Many dispensary software companies initially launched special deals targeting social equity dispensaries and seem to be either offering free POS or a bundle of software at reduced prices, which they started extending to other dispensary owners as well. But as they lure you with these enticing offers, the hidden costs may remain 'concealed' in the details. For example, the contract's fine print could include a much higher price after a particular duration of the services being free, and if they lock you in for multiple years, they could raise the subscription price to whatever they want. Hence, you must dive deep into the nitty-gritty of things and ask questions like:
What software integrations are included in the complete package?
How much do they charge for other cannabis ecosystem solutions?
How much do you have to pay once the free period is over?
Is software training and support included in the contract?
Does the company reflect the diversity it advocates for?
There could be many hidden costs that you may become aware of only after the first billing statement arrives, and you may end up paying more money for free dispensary software than you may have budgeted. Thus, it's better to go with a technology provider that is transparent about all the costs your dispensary will incur from day one to avoid any surprises later.
2. Learn More Through Customer Stories & Reviews
Reading customer reviews is something anyone naturally does before buying a product or service. But in the cannabis industry, multiple players are relatively new and may not necessarily have the right products or knowledge to guide you in the right direction. With compliance being the main priority in cannabis retail, you need to choose a technology partner with the experience and tools to help you set up for success. Read the customer stories on their website or other aggregated review sites, or even consider meeting with social equity clients using their dispensary software to learn more about how this software provider helped them set up their dispensary business. If they have expertise that they are sharing with clients at seminars or online webinars and ensuring that social equity applicants have the right tools to succeed while meaningfully contributing to their success, then they would be a good potential partner.
3. Gain an understanding of How They Make Money
Many cannabis technology companies have raised a lot of money but haven't been able to make money for their investors. In the long run, they are answerable and leveraged to investors who will force them to raise the prices of their products if they are not making any profits. Many companies will also eventually upsell by offering extra solutions that you may not need, or you may anyway have to pay extra for specific features to streamline your dispensary operations. If the POS software is free, the company is likely making money through higher payment processing fees, which could be a massive chunk of your dispensary profits. They could also sell your dispensary data without your knowledge- that may be mentioned in the fine print. When it comes to dispensary cashless payments or data reporting, a technology partner that is transparent with its dispensary software bundled offerings will have your back.
4. Ask Questions about their Long-Term Plan for Growth
It is equally important to know what is their long-term plan for growth and product improvements. Will they still be around when the cannabis industry starts consolidating, or will they adapt to the changing regulations? After binding you in a long-term contract, some providers may not upgrade their products to keep up with the times. While the rest of your competition may advance with innovative dispensary software and seamless integrations with other cannabis ecosystem solutions, you may get stuck with an outdated POS and lose the ability to grow your dispensary operations. Some cannabis technology companies recently laid off many employees- which is also a big red flag. A company that does not care for its people won't be genuinely committed to cannabis social equity either.
5. Evaluate the Product and Integrations Thoroughly
Undoubtedly, the most important consideration is to determine whether their product offerings, including the dispensary POS system, are a good fit for your dispensary. Ensure that the software is compliant with your state's regulations and integrates seamlessly with the seed-to-sale tracking system. Book multiple demos, if needed. Choose a provider that offers you flexibility and freedom of choice regarding cannabis ecosystem integrations and dispensary workflows. Also, ensure that they don't bypass your dispensary brand to highlight their own instead, which may impede you in building a direct relationship with your customers.
Once you have understood the hidden costs of a free POS for social equity dispensaries, you'll find that it's better to partner with a cannabis technology provider that educates you about all the real costs involved in operating a dispensary business and gives you the right tools to succeed. At Cova, we are committed to sharing our knowledge and expertise with social equity cannabis retailers and providing them with the right technical tools to grow their businesses independently. We remain transparent about our costs and put our customers at the heart of our business. With an advanced cannabis point-of-sale system and seamless integrations to e-commerce, loyalty programs, and more, you'll have a partner truly invested in your growth.