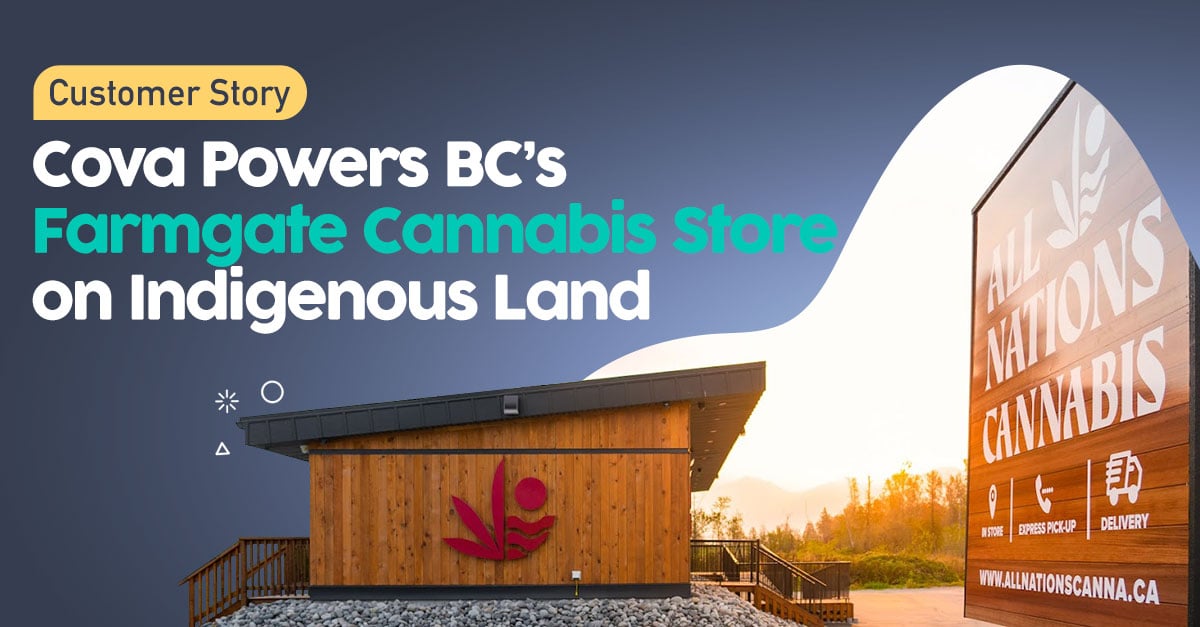 With craft cannabis taking off big in Canada last year, British Colombia launched farmgate cannabis sales in late 2022 by allowing federally-approved producers to sell retail cannabis at stores located at their cultivation sites. However, through a special agreement with the province to ensure equitable opportunities for Indigenous communities, All Nations became one of the first companies to launch a farmgate cannabis store in B.C. in November 2022. With a mission to increase representation for First Nation communities, build positive social impact and make high-quality craft cannabis accessible to all, All Nations is already making waves in Canada's cannabis retail industry. Cova met up with some members of the indigenous collective leading All Nations Canna to learn more about how they transitioned from a legacy producer to a leading Health Canada-approved cannabis cultivator with farmgate operations.
Bringing Indigenous Craft and Values to Legal Cannabis
With a deep understanding of the land, climate, and historical aspects of cannabis cultivation, All Nations Canna strives to bring the highest-quality craft cannabis to its retail customers. Their state-of-the-art cultivation facility is located at Shxwhá:y Village in BC. With the recently acquired licenses for cannabis retail, they intend to add seven more locations to supplement their newly opened farmgate cannabis store in the lower mainland, the first in the region. With an emphasis on collaborating with Indigenous communities, employing First Nations people, and facilitating economic development in the regions, All Nations hopes to be a bridge connecting legal cannabis consumers to Indigenous-grown craft cannabis.
"All Nations has forged multiple partnerships with various Indigenous communities. We're educating them about Agreement 119 and guiding them through the process of launching their cannabis retail businesses," mentions Stacey Duffy, Director of Retail at All Nations.
Facilitating Empowerment and Inclusivity in the Cannabis Industry
All Nations switched to Cova POS from another cannabis POS provider that did not meet the company's needs and requirements. While looking for alternatives, All Nations found that Cova Software resonated most with its values of community involvement and social equity. And when Cova's team helped them transition to a licensed cannabis farmgate model for its retail operations, they knew that they had made the right decision in choosing a tech partner that also believed in facilitating empowerment and inclusivity in the cannabis industry.
"Cova has always had our back at every step- from directing us in the right direction for negotiating license agreements to empowering us with the best resources for running our farmgate operations. Your support system truly stands out," declares the All Nations team.
Growing Organically with the Right Cannabis Tech Partner
In Canada's extremely fierce cannabis retail industry, All Nations enters with a fresh perspective of working collectively with everyone and not playing the dirty game of competing on pricing. All Nations wants to participate in the legal cannabis industry in a meaningful way by focusing on quality and control, educating local communities about cannabis, and addressing disparity by creating equitable opportunities for First Nation people. The demand for their craft cannabis products is growing- but the All Nations team wants to organically expand their operations and utilize the reserved indigenous shelf space at retailers in the best way to showcase their values and passion for craft cannabis. They're confident that with Cova's cannabis retail tech solutions, they will be able to differentiate their brand just like they want to.
"Cova has proven to be an adaptable and flexible technology partner for All Nations. Whether it's farmgate retail, cannabis eComm, or direct delivery, Cova's software solutions are facilitating the desired growth for us," says Stacey.
The Future of Farmgate: Making Craft Cannabis Accessible to All
Through the cannabis farmgate model, All Nations is curating an elevated customer experience by offering high-quality exclusive products to their customers. A lot of effort has gone into negotiations with the government that allowed the participation of Indigenous communities in the legal cannabis industry. The team at All Nations wants to use this opportunity to not just make the industry more inclusive but to also find common ground that allows every other cannabis retailer to prosper. With the farmgate model, they strive to continue building partnerships with First Nations and cannabis retailers all over Canada to ensure that every cannabis consumer has unparalleled access to the best high-quality flower and products.
The secret to success in cannabis lies in transparency and working collectively to destigmatize its use by educating people and offering the best solutions for sustainable growth. With Cova's suite of cannabis retail tech solutions, you can curate the best customer experience at your farmgate shop, retail dispensary, or eCommerce store. Click below to learn more.