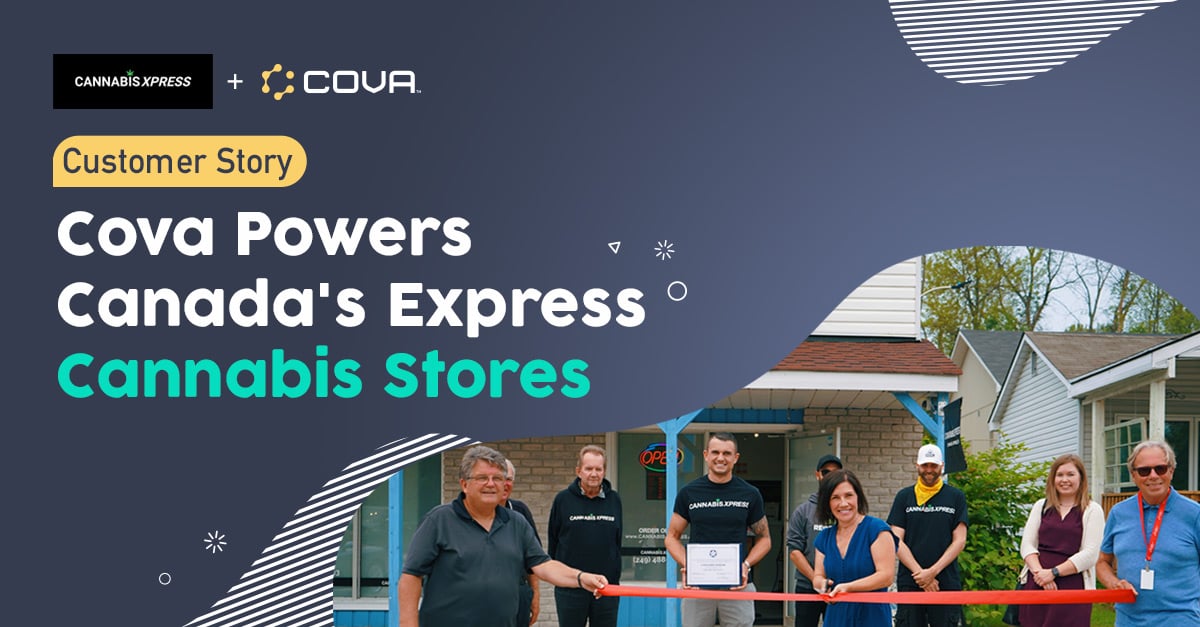 As we approach four years of cannabis legalization in Canada, there's a trend of consolidation taking over the market. In Ontario, where many cannabis brands have flooded the streets of Toronto and other major cities, not every business is making money. But amid all that chaos, a unique cannabis retail business model has proven pretty successful. CANNABIS XPRESS is a chain of quick-service stores in Ontario focusing on an easy and hassle-free cannabis shopping experience in small square footage locations. Chris Jones, the founder, and owner of CANNABIS XPRESS decided to avoid major saturated cities altogether and open stores in small to medium-sized towns across Ontario instead.
With thirteen profitable stores and more opening soon, Chris has been able to execute his vision of the 'future of cannabis retail' with flying colors. Cova recently caught up with Jones to learn more about the secrets to their success and how Cova's retail tech solutions have helped this Ontario cannabis retailer become one of the industry's most profitable businesses.
An XPRESS Cannabis Store Targeting Smaller Communities
Right from day one, Chris had a clear vision of what he wanted his cannabis business to be and what demographics it'd cater to. Before starting this business, Chris worked at a large publicly traded multi-state operator on M&A transactions in the USA, and then opened and sold an early chain of cannabis retail stores in Ontario. But while most other licensees opened cannabis stores all over Toronto, Jones decided to target smaller towns and cities with sizable populations instead. With small square-footage stores (two of them being the smallest in Canada) and relatively no competition in the locations where CANNABIS XPRESS is operating its stores, this cannabis brand has built a good reputation and loyalty with its customers. By working with the right contractors and suppliers, hiring and retaining talented retail staff, keeping cannabis inventory low with a limited selection of products, and sticking to the express business model, CANNABIS XPRESS has achieved unprecedented economies of scale.
"We're in the top 1% of profitable cannabis retailers. We know our markets well, and we're delivering the right products at exceptional prices combined with a customer experience that people seek.", says Chris.
From 1 to 13 Locations in less than Two Years: The Secrets to Success
Although Chris resides in Toronto, Canada's largest city was never a part of his business plan. With a strategic growth plan, CANNABIS XPRESS has grown from 1 to 13 stores in less than two years by selecting suitable locations and keeping operational costs low. Choosing Cova as their cannabis POS and retail management solution was a no-brainer as it was the preferred cannabis retail tech solution amongst most cannabis retailers. Cova's simplicity and ease of use have made it easy to train staff on how to use the platform and curate a seamless cannabis customer experience.
"We're a lean team of approximately 40 people across 13 stores, where we average 3 employees per store. No other cannabis retailer has achieved such operational efficiency.", mentions Jones.
Building Brand Value and Credibility with the Right Tech Partners
Cova's credibility as a cannabis software provider and first to market won over Chris initially, and the team has incorporated the same ethos into their brand as well. As the cannabis consumer market has grown over time and the cannabis tech ecosystem has expanded, CANNABIS XPRESS has benefited from the multiple seamless cannabis software integrations available with Cova POS. Whether it's customer loyalty services or staff management, with the right cannabis ecosystem partners via Cova, CANNABIS XPRESS has grown its business and built a solid brand value. With the upcoming seamless compliance reporting for the AGCO by Cova, they will certainly be able to submit express reports to the regulators in no time.
"Cova is fast, easy to use, and reliable. It's certainly the right technology partner for us to facilitate express service at CANNABIS XPRESS stores.", declares Chris.
Reliable and Easy-to-Use Cannabis POS for Strategic Growth
A reliable and easy-to-use cannabis POS and inventory management system certainly makes life easier for cannabis retailers, case in point. But growing your business in the dynamic cannabis retail industry requires strategic planning and a far-sighted vision. Not everyone can have a unique business model like CANNABIS XPRESS' to succeed in this competitive industry. But, if you keep operational costs low, implement an omnichannel sales and promotions strategy, use data to make the right decisions, and partner with the best cannabis software provider like Cova to help facilitate retail operations, you'll certainly have your infused cake and eat it too. Click below to read more success stories of Cova clients.