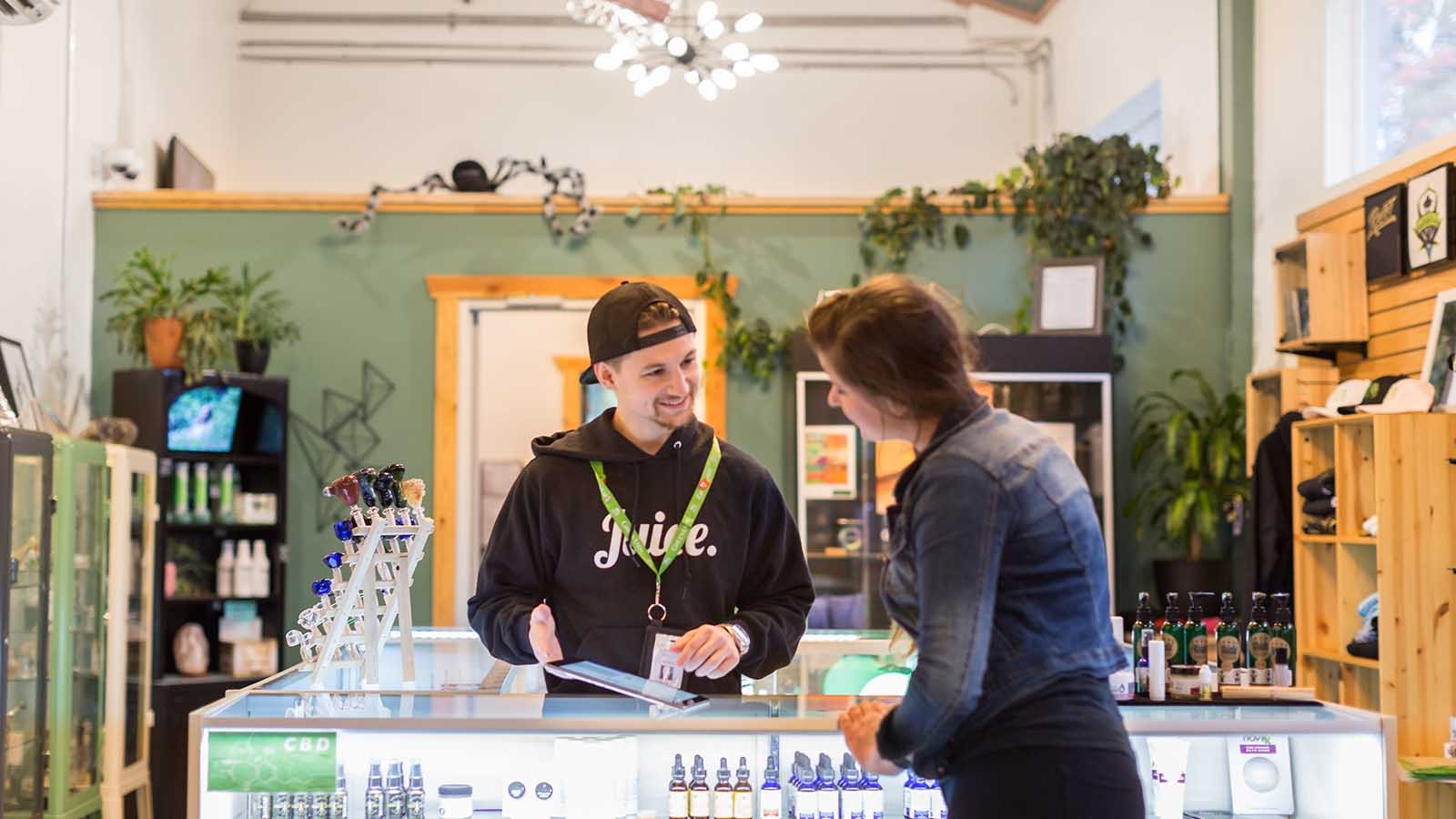 Providing impeccable customer service is an art unto itself. Basic psychology and people skills can go a long way, but humanity and compassion are critical when dealing with difficult situations.
Here are 4 customer service scenarios and how to handle them with class and compassion, so that your customers love and trust your cannabis retail A-Team.
Scenario 1: When the client is impatient or they feel they are being neglected
Your team should make it their daily practice to greet ALL clients within the first few moments of arriving. Even if they are with another client, your budtenders should take the time to acknowledge the customer's presence and let them know that a team member will be with them shortly. Make every client feel special.
Smile and incorporate humor into your conversation.
A smile and a little bit of kind humor can warm up any challenging client. A pleasant greeting can help shift the mood of the interaction and help both the budtender and customer to empathize with each other. The more empathy your budtenders are able to share with your client, the more trust your team will be able to establish.
Listen carefully and patiently.
Often if someone is frustrated or anxious, they just need to be heard. By giving clients the space to voice their concerns and ask questions, you are also taking the opportunity to consider your client's comfort level and prior experience with cannabis so you can address their needs appropriately. Don't assume anything, make sure your budtenders ask questions for clarity and don't interrupt.
Respectfully repeat what you think they are saying.
When you actively hear a client's concern, it is good practice to repeat back to them what they are telling you. This shows you are actively listening and gives the customer an opportunity to make a correction if your team accidentally misinterpreted them.
Scenario 2: When the client has complaints about the product or price
React to all complaints or concerns by first acknowledging that you heard their concerns. Then try to provide a resolution to the matter in a compassionate and proactive way.
Remind them that cannabis works differently for every individual.
Due to genetics, allergies, medication interactions, medical history, and many other factors, every single person reacts uniquely to cannabis products. Make sure your budtenders know to remind the client that if they are taking any other medications, they should consult with their doctor and/or pharmacist.
If price is the problem, give them options.
If a client is complaining that they love your product and are afraid of not being able to afford it, share information about your customer rewards program or offer them solutions to adjust their tolerance level so they can manage the cost. A micro-dosing schedule or a "tolerance break" can help them maintain a lower tolerance for a more impactful effect.
Providing personalized recommendations that are considerate of the clients' needs and emotional state will always create a better experience for the customer. Handling complaints professionally is an opportunity to make a negative experience into a loyal client.
Scenario 3: When the client is visibly intoxicated
Engage all customers with a smile and positivity. Don't allow your team to get sucked into someone else's negative attitude; your budtenders must be the agent of calm.
Treat them like a friend.
The key to dealing with intoxicated customers who wish to be served is to treat them as though they are close family members or friends. What would you do if your uncle had one too many drinks? You would take care of him and make sure he's safe.
Be honest and firm.
Engage with compassion, but be honest and firm about why you can't serve them right now and if necessary, mention the store policy.
Invite them to come back when they are not intoxicated.
Be sincere and let them know that you really want to help. If someone is being relentless, call for reinforcement from a fellow colleague. A gentle, calm united front can often de-escalate an issue before it even becomes a problem.
Scenario 4: When a client is misinformed
Staying up to date on the latest regulations is key to the success of your retail operation, but how should your team handle misinformed clients? By staying abreast of the new trends and having the ability to determine the weight of publications outlining new scientific evidence, you team will be able to build trust and fully serve your client.
Don't make the client feel like a fool,

even if they are wrong.
Validate the correct points in the client's statement, don't make the client feel like a fool, even if they are wrong. Arm your team with research but also understand how to discern the truth through critical thinking. Understand that correlation doesn't mean causation, and be sure to properly assess scientific research.
When your team shares knowledge with someone in a kind, and passionate way, their enthusiasm can be infectious. It is really important that your budtender is thorough yet clear that they are not going to diagnose anything or prescribe anything to the client. Budtenders should guide the client through the products in your dispensary, with the knowledge, and experience, to help them make the best, informed decisions about what may be best.
To update, improve, or test your teams' skills, check out the CannaReps Cannabis Sommelier Course in a city near you. Learn the new regulations, roles and responsibilities for ethical and compliant cannabis careers in Vancouver, Victoria, Calgary, or Toronto this 2018.
As they say, "Experience sells more responsibly".