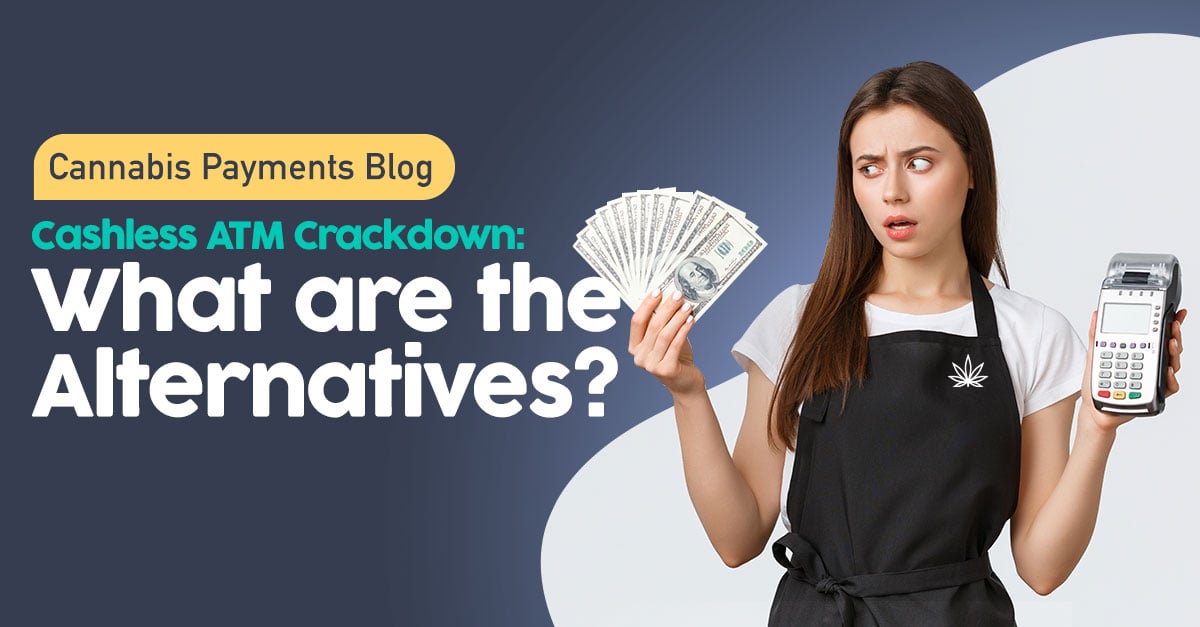 Cannabis has always primarily been a cash-based business due to its federal status. However, cashless ATMs have proven to be an excellent alternative for dispensaries to accept and process electronic payments over the past few years. But with the recent crackdown on cashless ATMs for cannabis payments by some of the largest payment processing networks, cannabis dispensaries all over the US have been left in the lurch and scrambling to find alternatives to this extremely popular workaround to the banking system.
The End of Cashless ATMs for Dispensaries
Cashless ATMs, aka "point of banking" systems, allowed dispensaries to accept cannabis payments via bank cards instead of cash. People purchasing cannabis at dispensaries could pay with debit or credit cards. But such purchases got reported as ATM withdrawals processed through POS systems or payment terminals at dispensaries. With almost a quarter of all US cannabis retail sales processed via cashless ATMs, this method allowed cannabis retailers and dispensaries to get around the fact that traditional banks don't want to be involved in cannabis transactions due to federal restrictions.
In 2021, Visa and Mastercard raised concerns about cashless ATMs as transactions disguised as cash withdrawals were actually purchases for cannabis products at dispensaries. Attempting to disguise transactions is a violation of credit card companies' terms and conditions and can lead to cannabis compliance problems for dispensaries. With Visa and Mastercard leading the crackdown, other ATM transaction processing companies followed suit in 2022, effectively shutting down the ability of cashless ATM transaction processors to use their services.
Cashless ATMs have been extremely beneficial for cannabis dispensaries but are also one of the most controversial and dangerous cannabis payment options. Using cashless ATMs at your dispensary is not a viable and compliant option anymore, and continuing with them could result in the shutdown of your business. Cannabis customers are generally not pleased with the experience either as there is no clear and transparent purchase process with cashless ATMs. Also, cashless ATM transactions are rounded up to the nearest $ 5 or $10 increment- which further dampens the customer experience if you don't have any cash to pay back the balance.
But all is not lost! Dispensaries can still accept electronic payments with other cannabis payment alternatives to cashless ATMs, which are convenient and do not pose any cannabis payment compliance risks. Let us explore these alternatives and their benefits.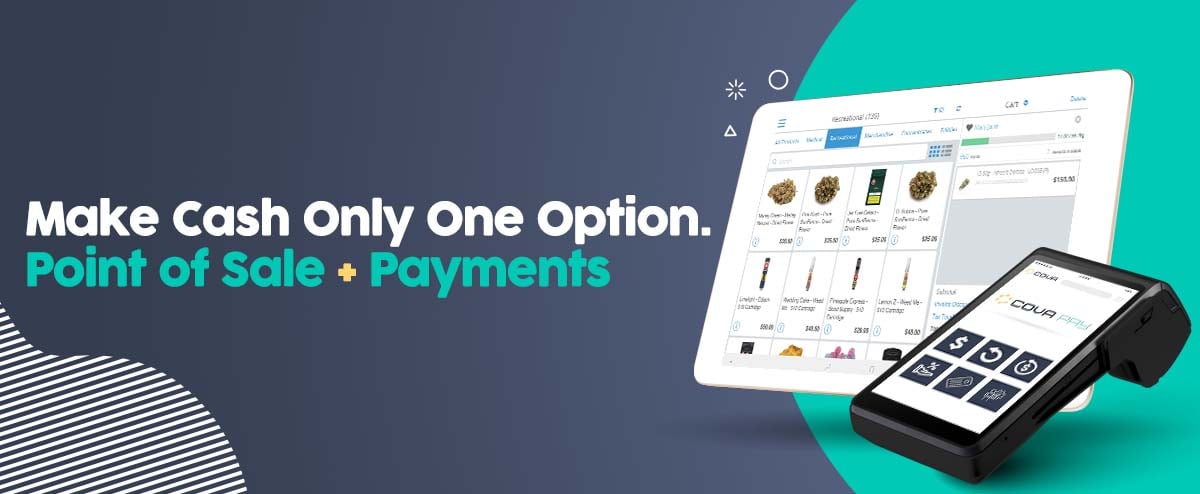 Cashless ATM Alternatives for Cannabis Payments
While cash is still king in the cannabis industry, it comes with many risks. Cash also limits your ability to resell to customers, and you can't necessarily collect cash when someone is purchasing products online from your cannabis eCommerce store. Thus, a cashless dispensary payment solution like Cova Pay, which includes PIN debit and ACH payments, is ideal for you to meet customer expectations better.
1. PIN Debit Payment Solution for Dispensaries
With a PIN debit system, a cannabis consumer can complete a purchase with a debit card by entering the PIN just like in a traditional retail environment. Once their purchase is rung up, they can simply insert or tap their card on the payment terminal, enter their PIN number, and approve the purchase. With PIN Debit, unlike Cashless ATM, the cardholder's debit card is charged the exact dollar amount without any intermediate cash-holding partners or tokenized transactions, and there are no out-of-network fees for the customer either.
This cannabis payment system processes transactions through a more traditional payment processor by charging merchants a small fee. PIN debit solution is beneficial for cannabis dispensaries because it is an easy payment method that customers are already familiar with. With Cova's safe and reliable PIN Debit cannabis payment solution, you can increase basket size, make higher profits and facilitate an elevated cannabis shopping experience. The following are some benefits of PIN Debit solution for cannabis retail:
Sales are processed for the exact dollar amount of the transaction.
It enables a seamless customer experience with no round-up or cashback required.
The customer does not pay any convenience or off-network banking fee.
Direct bank-to-bank transfers are processed via approved debit card networks.
100% transparency: Clearly states "Merchant of Record" on receipts & bank statements.
Bank-approved cannabis payment program removes any compliance risks.
Funds are deposited into the dispensary's account generally on the next business day.
Faster checkout and minimum 25% increase in average transaction value.
2. ACH Electronic Transfer Solution for Dispensaries
ACH or Automated Clearing House network is a direct deposit cannabis payment system. ACH (Automated Clearing House) refers to the process of transferring money between banks without the use of checks, wire transfers, or cards. This cannabis payment system helps with compliance by facilitating payments directly from the customer's bank account to the dispensary's account. But ACH payments are processed only via third-party solutions- and your cannabis POS must be seamlessly integrated with the ACH payment solution.
With Cova Pay, you can use ACH payments through our compliant robust integrations. After the initial account setup, the seamless ACH integration lets customers easily link their bank account to make cannabis payments. Cova Pay's ACH solution is a compliant and secure electronic bank-to-bank transfer that allows customers to pay directly from their bank account via a text message or QR code in-store or an embedded payment page for cannabis e-commerce orders. Here are some benefits of ACH cannabis payments:
No fees for customers.
Contactless mobile-device payments.
No hardware, app, or card is required.
Customers can pay online at home before delivery or pickup.
100% secure and approved by state regulators.
Over 25% increase in average order value.
3. Cannabis Gift Card Program for Dispensaries
An evergreen but often overlooked alternative to cashless ATMs is a gift card program, which is a very secure and compliant cannabis payment solution. In fact, branded cannabis gift cards are a great way to increase profits and revenue at your cannabis dispensary year-round, but especially during the holiday season. Cova cannabis gift cards are fully integrated with Cova POS, so you don't require an additional 3rd party app or terminal to process payments. Some of the benefits of having an integrated gift card program at your dispensary are:
Upfront revenue with an average 40% increase.
New customers at zero acquisition cost.
Convenient and easy to manage, activate, and track.
Customized themed gift cards facilitate free marketing.
To learn more, read our detailed blog post on setting up a gift card program at your dispensary.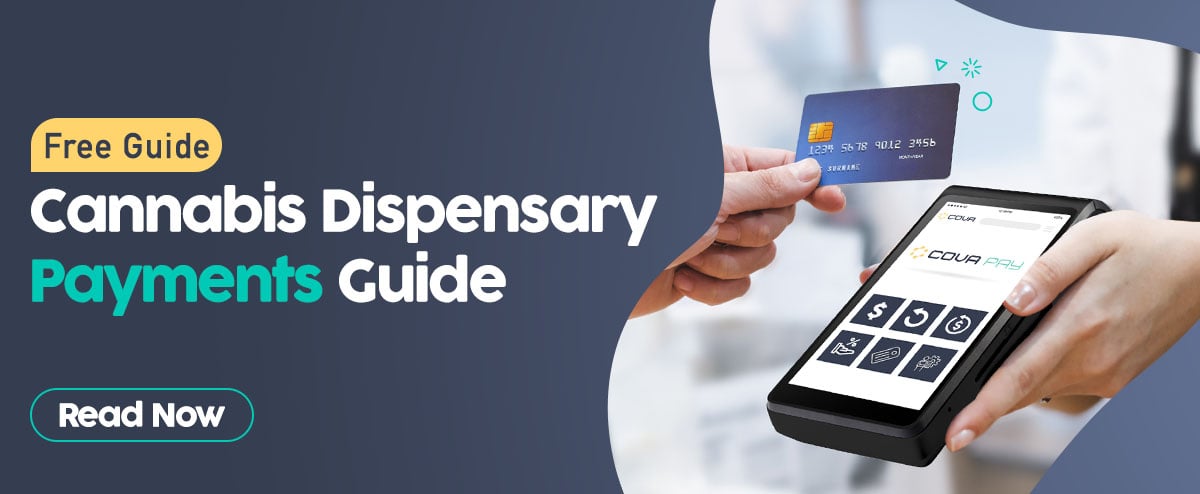 Cova Pay: The Best Cannabis Payment Solution
With Cova Pay fully integrated into your Cova POS system, you can process cashless cannabis payments through PIN Debit and more. Cova's PIN Debit solution, powered by Bankcard International Group, is a direct bank-to-bank transaction that charges the debit cardholder immediately in the exact dollar amount without any intermediate cash-holding partners. With Cova Pay, you get:
Minimum 25% increase in average transaction value.
More upselling opportunities for budtenders.
Secure and trusted payment network authorization.
Funds are deposited in your account the next business day.
A variety of US debit cards are accepted for more convenient payment.
Cova's truly transparent PIN Debit merchant account is the most compliant and legitimate cashless cannabis payment solution. With simple, frictionless, and secure cannabis payments, you can accept cashless payments at your dispensary like the rest of the world and focus on what you do best – growing your business. Click below to learn more about Cova Pay for dispensaries.