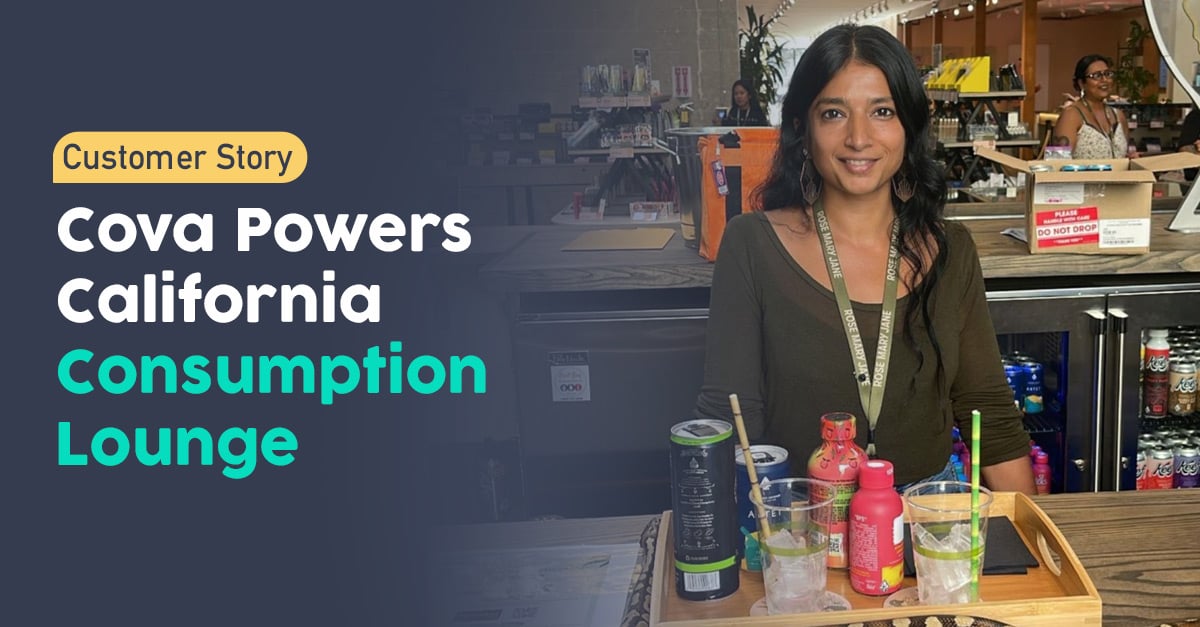 Cannabis consumption lounges have been quite the rave recently. Some weed lounges in California and Illinois have been around for a while, but people could only smoke there while consuming regular food or coffee. However, many municipalities in California recently approved licenses for cannabis consumption lounges that will serve beverages and edibles. Over a dozen of these lounges will be opening doors by the end of 2022. Origin Cannabis (Rose Mary Jane) is an equity-owned cannabis company with two dispensaries in Maine and California and one of the first few companies to open a cannabis consumption lounge.
Powered by Cova cannabis POS, Rose Mary Jane's dispensary in Oakland launched operations in March earlier this year. Their team has recently added a consumption lounge to the location, and a grand opening is slated for September 24. Cova met with Asha Manaktala, Rose Mary Jane's Store Manager, and Ryan Courtney, their Product Director of CA to learn more about their journey to opening a cannabis consumption lounge.
Consumption Lounge with an Emphasis on Cannabis Beverages and Edibles
An indoor bar with a lounge-like atmosphere and a beautiful garden outdoors where you can relax under the sun while drinking some infused beverages with your friends is stuff that dreams are made of. Rose Mary Jane's team has created a unique space to attract all kinds of demographics. Their dispensary will continue to serve clients who want to buy local cannabis products, the bar will have happy hours for people to come in and grab a few drinks while absorbing the vibe, and the patio will cater to customers who want to spend more time on the premises, consume edibles, and socialize with the cannabis community. They aim to normalize the public consumption of cannabis products while offering a comfortable and inclusive space for people to do so.
"Beverages and edibles are becoming a popular way to consume cannabis. At Rose Mary Jane's uniquely-curated consumption lounge, we want our customers to have an elevated experience while consuming cannabis publicly.", says Asha.
Equity Cannabis Brand Focused on Building Awareness and Community
In California, cannabis social equity programs are regulated by cities and not the state. The city of Oakland has designed a comprehensive equity program by awarding grants and facilitating funding opportunities for applicants. Cannabis justice and social equity are at the heart of Rose Mary Jane's business values, and the team continues to work with city authorities to organize equity-focused events and build awareness around diversity, inclusion, and social justice. They primarily sell local cannabis brands owned by women, veterans, and LGBTQ+ people to ensure that minority communities get equal representation. Although their space has been divided into different sections, it can also be seamlessly combined for hosting community events. Rose Mary Jane's team intends to do that often to educate, engage, and grow Oakland's cannabis community.
"A unique thing about our dispensary is that products are not in glass cases, and people can pick up stuff just as they'd do at a pharmacy or liquor store. This creates a more authentic shopping experience and is another step closer to normalizing cannabis consumption.", mentions Ryan.
The Best Cannabis Tech to Power Both Dispensary and Consumption Lounge
Origins Cannabis chose Cova POS as its dispensary technology solution because it's one of the few cannabis point-of-sale systems that are compliant with regulations in multiple states, and Cova reviews were outstanding. The seamless Metrc integration and connectivity with other software solutions save the team countless hours. With Cova's simplified registers, easy inventory reconciliation, and cash management reporting, Rose Mary Jane's team stays reassured about compliance and streamlined dispensary management. They will be using Cova POS for transactions at the consumption lounge too. With advanced analytics and other unique features, the insights gained from Cova's reporting will certainly help them make better decisions while growing the customer base at their cannabis consumption lounge.
"Although we have an app that we encourage people to download, Cova's mobile tablets will help enhance the customer experience at the consumption lounge. People will undoubtedly shop more when they are relaxed and consuming something, and can easily build a cart on the Cova tablet. Sounds like a win-win situation.", muses Asha.
Cannabis Retail Industry Partners Growing Together
Rose Mary Jane's cannabis consumption lounge will be one of the first of its kind to open in Oakland, but certainly not the last. From engaging with the city council for consumption lounge license approval to reassuring and educating people in the neighborhood about what this new addition to their business would entail, the team's communication strategy has been top-notch.
Cova is excited about the upcoming grand launch of Rose Mary Jane's consumption lounge, with strong hopes that this is only the beginning. The rise of consumption lounges and cannabis-infused experiences is a giant leap for the cannabis industry, and Cova looks forward to facilitating these journeys with our cannabis technology solutions. No matter what cannabis retail model you are operating, Cova POS is your best bet.