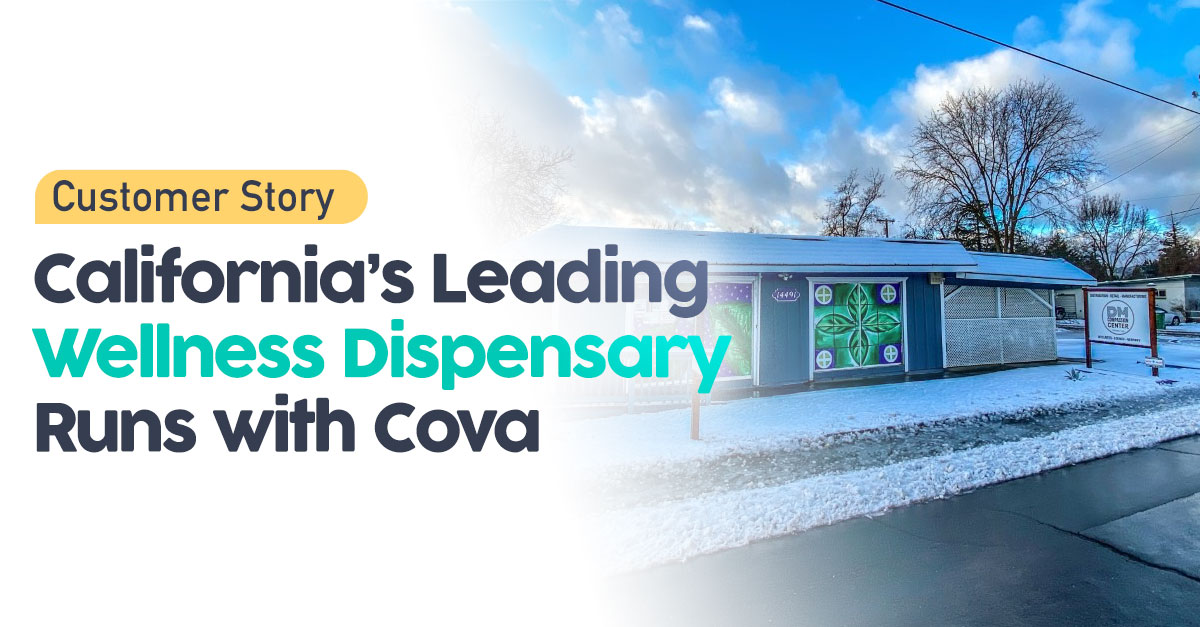 DM Compassion Center in California is a vertically integrated cannabis company that has garnered a loyal clientele over the past 3 years with its craft cannabis products and exceptional customer service. When California legalized marijuana for recreational use and started awarding licenses in 2018, most entrepreneurs venturing into the cannabis retail space found it challenging to navigate the regulations. However, with the right guidance, resources, and help from Cova, DM Compassion Center was able to establish its store quite quickly, while implementing best retail practices. Cova caught up with COO Natasha Sokoloski to learn about the cannabis dispensary brand and why DM Compassion Center has been one of Cova's most loyal clients since the early days of legalization.
Simplicity and Sustainability
Natasha's first chance encounter with Cova Software over 3 years ago at a cannabis business conference was very organic. She got enlightened about how technology can help her simplify dispensary operations while making them safe, secure, and environmental-friendly, which resonated with her passion for sustainability. A lot has changed for DM Compassion Center since then, as it has grown into a well-established cannabis microbusiness, but one thing has remained constant- Cova as a technology partner. Cova's POS has just not facilitated dispensary management but also elevated the customer experience, which has always been the main priority for DM Compassion Center.
"Cova is an online oracle that can help you turn your business vision into reality," says Natasha, when recalling how Cova has been there with the company since the beginning.
Ease of Use and Customer Experience
Natasha has been managing the company's cannabis dispensary since its inception in 2018. Her main goal to ensure the smooth running of operations is accomplished via Cova's excellent reporting and inventory management features that help her in better analysis and forecasting. DM Compassion Center's budtenders abide by its mission of helping people help themselves. The fact that Cova's cannabis POS system is so easy to use empowers them to focus all their efforts on customer service, which their clients love and rave about all the time. Cova's simple and user-friendly dashboard makes product descriptions and relevant information easily accessible, allowing the staff to provide a customized experience and improve their customers' wellness journey. Natasha points out that the rewards program integrated into Cova POS is something their customers adore and also enhances loyalty.
"Cova helps bridge the gap between humans and tech, and has helped me manage my workload and time efficiently."
Customized Reporting and Metrc Integration
With historical data stored in Cova's cloud-based system and reports on the KPIs that matter to her, Natasha can gain strategic insights and make the right decisions. Whether it comes to inventory ordering and adjustment as per consumer shopping trends or keeping a consistent supply of their most popular products among regular customers, Natasha and her team can always count on Cova. The seamless integration with Metrc saves them a lot of time, and they are confident that they can rely on Cova to help them always stay compliant.
"I don't even want to imagine navigating two different platforms and doubling my workload. The automated compliance reporting via Cova's integration with Metrc helps me stay functional and have a stress-free workday," declares Natasha, when talking about regulatory challenges in the cannabis retail industry.
A Technolgy Partner That Grows with the Dispensary
DM Compassion Center has been approached by multiple cannabis POS companies to switch. But Natasha knows that she made the right choice because Cova has always been there at every step of their journey, and they have never had any complaints.
"Whether it's a simple request or something complicated, Cova's support team is always instantly available and makes things happen."
Cova's cannabis POS system continues to amaze Natasha as she keeps discovering new product features that help her streamline dispensary operations further. And although DM Compassion Center is a vertically integrated cannabis business, the team understands that one size does not fit all. A cannabis-specific retail POS system is the best solution for running a profitable dispensary business and staying compliant with cannabis regulations.
"For me, Cova is the Amazon of cannabis retail and keeps our business thriving." With plans to grow more organic cannabis, incorporate sustainable packaging, and hopefully have an on-premises consumption lounge, Natasha is excited about the future possibilities and forthcoming changes, but she has resolved that Cova will remain the constant technology partner in this journey.
Cova has the resources and industry knowledge to help you make your dispensary business successful. Discover how we can help you take your cannabis retail operations to the next level — start your success journey with Cova!