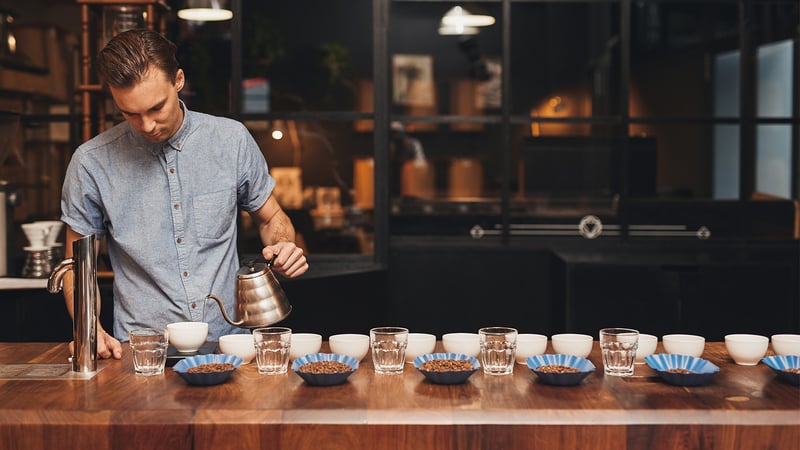 Cannabusiness is getting a lot of attention. In fact, with Canada's largest pharmacy chain formally applied to distribute medical marijuana, it's only a matter of time before other big box companies follow suit. If you are a smaller dispensary owner, this probably sounds like your worst nightmare.
Although you may not always be able to compete on price, you have one advantage the big players will never have: you. You are unique, you have personality and you can build a distinctive brand and a memorable experience. This will be the reason people choose you, again and again.
A few weeks ago we posted an article on why and how you should brand your dispensary. The next step is to get tactical. Here are five areas to consider:
1. Your physical space
How do you want your dispensary to look and feel? Whether you go for 'warm and cozy' or 'clean and modern' - like the gorgeous local Vancouver Aura Health Dispensary, create a strong and lasting impression. A big box pharmacy will never be able to emulate a cozy farm-to-table vibe like you can – if that's your jam.
But remember it's also not all about you. Once you've done your brand-soul searching, move your focus to who your target audience is and who you hope to attract. How much do you know about these people and their communities? Where are their favourite places to hang out and why?
TIP: Draw inspiration from other industries. Look beyond the dispensary down the block and take notes from restaurants, spas, and retailers where your target market feel at home and inspired.
Don't underestimate the use of sound and music to extend your brand voice. A person's mixtape tells you a lot about their personality. Loop a playlist that sets a tone and vibe you want your patients and customers to experience.
2. Your dispensary family
Your budtenders do not need to be mini-me clones of you, but they should be ambassadors of your brand. Tell your staff the story of what motivated you to get into this business in the first place. If your staff feels it too, your entire team will show customers why you're different and what you stand for.
Your staff is your most significant investment, so set them up for success. Set incentives to ensure they know as much information as possible about every flower, topical and tincture you carry. Offer staff samples and discounts, and provide valuable team training.
An excellent example is The Village Dispensary in Vancouver. People don't just work there; The Village staff are clearly knowledgeable and embody the role of educated brand ambassadors to create a genuine family atmosphere.
3. Build relationships with events
Be more than a place where people buy cannabis and leave. Make your dispensary a gathering place for likeminded individuals. If your members are having fun and feel appreciated, you're well on your way to being memorable. Some ideas for events to get people's attention:
Invite your distributors to showcase cool new products and interact with your patients and customers. People love to know the story and face behind a product. Then build on the event by asking loyal customers to give direct feedback on which strains they enjoyed.
Throw a cannabis tasting and pairing event: think food and cannabis, coffee and cannabis, tea and cannabis. Why should wine and beer have all the fun?
Encourage regulars to bring in a newbie. Offer your regulars a discount, and hold an educational session to tap into the newbie's curiosity.
4. Bring your online presence in-store
Engaging people within your dispensary is part one. All the effort you put into creating your dispensary experience should also extend online. How your website looks and the content you post on social channels should align with your physical dispensary.
Take it one step further and blend your online presence into your physical dispensary experience. If you have a well-followed, badass Instagram feed then why not compliment your dispensary décor by displaying your feed images on a screen? Show off your online community.
Use your online social traffic to drive more visits into your dispensary. Have your customers tag their friends on Facebook or Instagram in promo posts, and offer a discount as a reward in your physical location. See last month's post on how to effectively use social media for your dispensary.
5. Get creative with merchandising and product mixing
The products and brands that are lucky enough to be showcased on your shelves should also align with your overall brand. Something as superficial as packaging of cannabis-infused coconut oil can dramatically alter the look and feel of your physical space.
Join forces with local companies and make creative partnerships. An example is Apothecary Labs, who offer unique cannabinoid-infused products and have their own brand story to tell. Those stories will ultimately be the reason people buy from you. Small local companies may even repackage or white label their products with your branding.
Just imagine if your wine merchant arranged their shelves by red, white and rose. Get creative with how you merchandize your strains and infused products. Instead of putting all the topicals on one shelf and edibles on another, bundle an assortment of goodies together by occasion: "Great for a cozy night in" or "Goes well with rustic beachside camping". Rather than grouping strains by the predictable Indica/Sativa/Hybrid categories, try grouping them by mood or ailment: strains for sleeping, focusing, or alleviating pain.
Competing on price against the big box companies may be a challenge, but price is not everything (or we'd all just eat at Subway and shop only on Amazon). The quality of the experience, interaction with staff, and product mix all play a significant role in where people buy their cannabis and why they come back. Consider the points here to help bring your brand story into your dispensary experience, and prove that bigger is not always better.