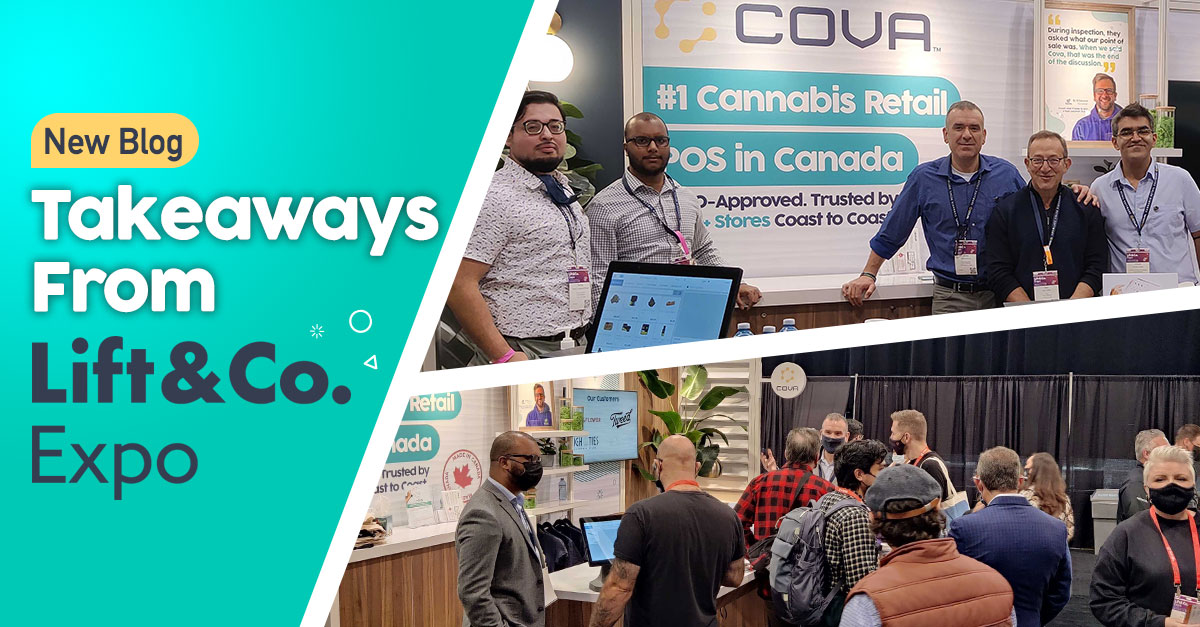 After over two years, Toronto Convention Center welcomed back the cannabis community with great pomp and splendor at Lift & Co. Expo, Canada's largest cannabis business conference and tradeshow. Cannabis business leaders from all over North America congregated in Toronto for three days in November 2021 to discuss 3 years of cannabis legalization in Canada, the constant innovation that the industry is undergoing, and the possibilities that the future holds for us.
Cova's team was happy to be back at Lift & Co. and showcase our new cannabis retail management software features that are helping retailers in Canada and the US stay ahead of the competition. Undoubtedly, industry professionals were excited to meet people in person and analyze the immense growth that the cannabis industry has witnessed during these past couple of years, despite the pandemic. Such events are vital for building relationships in the industry, and we learned a lot from Lift & Co. Expo. Following are our most valuable takeaways.
1. Canada's Cannabis Industry Still Has Untapped Potential
The past economic opportunities and revenue forecasts after legalization in 2018 pointed to a prosperous regulated cannabis industry that would deliver positive public health outcomes and economic dividends. But 3 years down the line and a pandemic later, the reality is way different than anticipated. Navigating the red tape is one of the most challenging issues that was pointed out by cannabis business leaders and panelists at some of the conference sessions. Organizations like the Retail Cannabis Council of Ontario (RCCO) are making significant efforts to highlight problems that the cannabis industry is facing and encourage regulatory authorities to take into account industry professionals' inputs and feedback while designing policies.
With more friendly albeit safer regulations and wider access to cannabis, including over-the-counter products for medical use, the untapped potential can be unlocked. It will just not help in the growth of the legal cannabis industry but also open doors to collaboration, innovation, research, and product development. If marketing and advertising restrictions are lifted, various platforms can be used to educate consumers about cannabis and remove the stigma surrounding its consumption. All these measures will also help counter the illicit market, which is still thriving in Canada, as per the latest data.
2. Canada Must Establish Better Cannabis Regulatory SOP
While regulatory authorities must streamline marketing regulations to support the industry's growth, cannabis regulations also need to promote public health and safety, and sustainability. Regulators' narrow focus on health and safety is proving to be counter-productive as it is limiting the ability of cannabis businesses to communicate to consumers about the merits of safer and legally-produced cannabis.
And although cannabis businesses can use banking services freely in Canada, banks are still reluctant in providing their full suite of services due to the uncertain regulations and lack of concrete information. This allows people to bend the rules and evade compliance. Standard and consistent regulations, once designed and enforced properly, will empower licensed cannabis businesses to make strategic decisions within the legal cannabis framework and also establish sustainable practices for a thriving industry.
3. The Realities of Cannabis Retail and Industry Consolidation
Canada's largest province, Ontario, has been leading the way in cannabis retail with over 1000 operational stores. Critics say that the industry is growing too fast and there's not enough demand, which may eventually lead to consolidation. However, leading cannabis retailers on one of the panel discussions were of a different view and would rather have healthy competition between private retailers than the current status quo, which indirectly gives the OCS, a crown corporation and sole distributor in Ontario, a monopoly in the cannabis retail industry. Of course, streamlining regulations and allowing cannabis retailers to influence policy was the consistent ongoing theme throughout the conference.
Representatives from Spiritleaf and Cannabis Xpress didn't mince words while exclaiming frustration at how cannabis retailers don't have much flexibility at differentiating themselves from the competition. But these retailers have established different business models and are using data and trends from Cova POS to make more informed business decisions and enhance the cannabis consumer experience. As the cannabis retail industry keeps pace with changing trends and buying behavior and grows its digital presence, retailers agreed that the realities on the ground are different and there's a massive untapped canna-curious demographic that is looking for a unique in-store retail experience that can only be facilitated with advanced retail management technology tools and industry-specific experience.
4. What the US Can Learn From Canada About Legalization
With a population less than that of California, Canada by many is considered as the 51st state that is light years ahead of most states in the US. Granted, California may have more progressive cannabis laws but in 2018, Canada was only the second country in the world to legalize cannabis federally across the nation. 3 years down the line, a lot has changed and although there's significant scope for improvement, the US can learn a lot from its neighbor up North. The MORE Act and SAFE Banking Act can draw inspiration from Canada's cannabis regulations and move forward with laying a strong foundation for the industry, which will also help establish safer practices and aid cannabis business growth across the border.
The US and Canada have always had excellent business and trade relations, and the cannabis industry should be no different, as it has the potential to generate massive employment and contribute significantly to both countries' economies. But with the uncertainly surrounding federal legalization in the US, cross-border trade and investments will demand razor-sharp business intelligence and leadership. And as Canada has the advantage of over 3 years of legalization, it will have to lead the way in creating the necessary infrastructure to sustain industry-leading research and innovation in North America.
5. There is NO Replacement for Displacement in Cannabis
As more states in the US legalize cannabis and businesses are attracting investors, many American companies are looking North to expand to Canada, where regulations are relatively more standard and the industry is witnessing stable growth. But we need to recognize and promote the cannabis industry in a way that offers equal opportunities to all and helps in long-term sustainable growth. With advanced cannabis technology tools, data analytics, and Canada-specific experience, retailers and other businesses alike can thrive in this ever-changing industry in Canada. Funding and promotional deals do not necessarily translate into the learning and experience that Canadian-grown companies can offer to cannabis businesses.
As American businesses enter Canada and bring lower-priced products to the market, beware of misleading communications. A free cannabis POS system may save you some money in the short term but will not be the best choice for your cannabis retail store's growth and future. Some cannabis marketplaces intend to bypass retailers altogether and build a direct relationship with the consumer, which would make your cannabis brand redundant. Educate yourself about what partnering with a certain technology company may entail for your business, and always choose a Canadian POS company approved by regulatory authorities. Cova is a made in Canada cannabis technology platform that has the experience and agility to ensure retailers from coast to coast stay compliant with changing regulations. With a market share of over 65% across Canada, we enable our clients to provide a great customer experience. Click below to learn how you can start your cannabis retail success story with Cova.