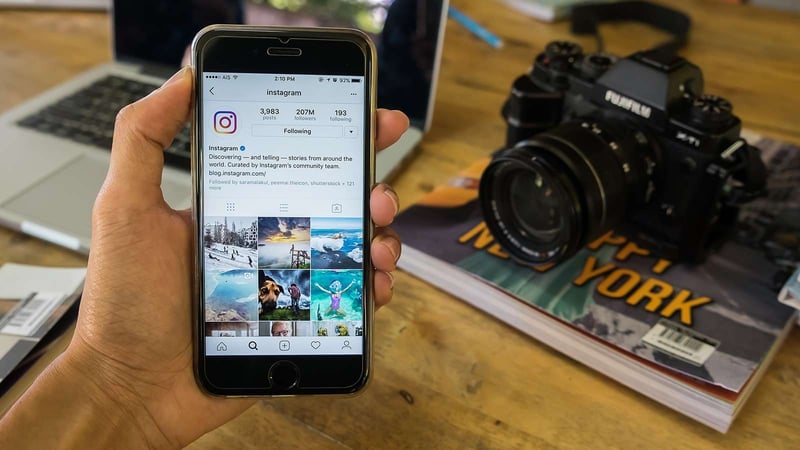 Although laws within the states restrict the ways that marijuana dispensaries can advertise their product, Instagram has proven to be an important hub for those who have appreciation for the cannabis plant to gather.
Before legalization of medical and recreational cannabis became more widespread, social media platforms like Instagram would red flag cannabis and marijuana content, often making it difficult for potrepreneurs to share their business practices and most importantly their product. Now, as legalization is becoming more widespread across the nation, Instagram is allowing more pot-related content to make it onto its platform.
Being an entrepreneur in the marijuana industry means that you have to wear a number of different hats that extend beyond marijuana expertise and into marketing, sales and effective business practices. As such, we have curated a list of helpful Instagram feeds that appeal to both marijuana and business culture so to be helpful to any pot entrepreneur.
Here are 10 Marijuana and Business-Inspired Instagram accounts for entrepreneurs and cannabis users alike to follow:
1. @weedhumor
Just as its handle suggests, @weedhumor is all about making light and making laughter of the plant we all know and love. Content ranges from funny memes poking fun of various stereotypes associated with weed to enticing photos featuring different strains. From the funny to the absolute absurd, @weedhumor keeps fresh with regular content guaranteed to make you laugh a little.
2. @grey
Grey Advertising is a perfect example of a defined brand. Flipping through their Instagram account, you'll see that Grey has defined its signature look in grey photography, which can serve as a powerful example for any dispensary looking to create that signature look and feel for their social media feeds. Grey has defined its signature look in grey photography, which can serve as a powerful example for any dispensary looking to create that signature look and feel for their social media feeds.
3. @headyhawaii
For many, the appreciation of the marijuana lies in the methods used to smoke it. @headyhawaii is wholly dedicated to the beauty of different glassware, including pipes and artfully created glass blown bongs. The page is a feast for the eyes with its use of color and artful way of displaying the pieces to make them pop through their photos.
4. @mailchimp
In addition to being one of the most useful platforms for email and digital marketing, Mail Chimp has a curated Instagram account that is representative of its personality. Each and every photo on their account not only contains helpful information within their captions, but they also reflect the light, funny and colorful brand that Mail Chimp is. What is great about this account is that it sets the tone for users on the experience they will have with their product before using it, adding to a comfortable customer experience.
For a dispensary to follow that has true style, check out Vancouver's @thevillagedispensary. The shop is so artful, using classic pieces of art to display its product, and its Instagram account is curated to resemble a book of art. This account is great for giving new dispensaries ideas on how to decorate their dispensary and find innovative ways to display their products.
Entrepreneur Magazine's Instagram feed is an essential motivating tool for any entrepreneur. @entrepreneur provides timely and informative profiles on different entrepreneurs through history and who are currently blazing trails in their industry of choice. The captions that accompany the photos give perspectives on certain industries, the triumphs and challenges of entrepreneurship, and sometimes that little bit of inspiration that an entrepreneur may need on a particular day.
7. @better.tm
This is an Instagram account out of Israel that is dedicated to the art and science of marijuana growing for medial purposes. The account produces regular photos of different kinds of medical marijuana strains and some of the affects to be expected through them. It is a visual library for anyone who is interested in getting to learn more about the look and feel of different strains.
Bud & Bloom Club makes marijuana look incredibly sexy. They take photography that incorporates fashion and sexiness to the next level through their artful representation of how hot smoking marijuana can actually be. This dispensary in California is blazing trails in terms of being one of the leading dispensaries in the state, with its owners Aaron Hertzberg and Chris Francy being some of the leading voices in the discourse surrounding the legalization of marijuana.
9. @cannabismarketinginstitute
This is a fantastic site not only to get some great ideas on how to market cannabis products, but to gain access to an educational program designed to help cannabis entrepreneurs market what they have to offer. Stay tuned to the posts that present quotes, helpful tips, and anecdotes about the ways people have marketed their cannabis products and consider visiting their website for various certifications that you can earn to step up your cannabis marketing game.
10. @queensofcannabisdispensary
This account features the products and personality of an all-women owned medical cannabis dispensary in Toronto, and is a great example of curating an Instagram account to be both playful and informative about products available. The sites combines both professionalism and humor to engage the audience and to show the dispensary as a light and non-intimidating place to be.
What is interesting about these accounts is that although they may exist now, and have been able to operate without having to go private or be red flagged by Instagram, there is no telling how the rules may change as changes at the federal level of government threaten the freedom of the marijuana industry. Check out these interesting bud-related sites while they are available, and enjoy being part of marijuana culture through the artful expression of Instagram.