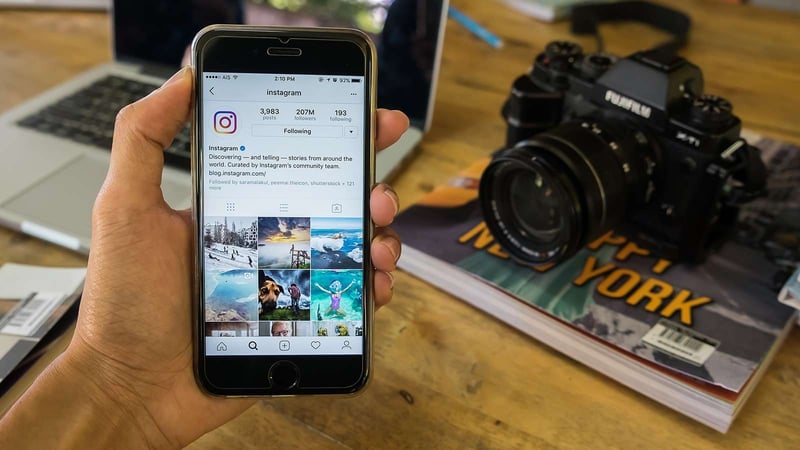 Instagram has exploded as an essential social media tool that can help you promote your brand and keep you connected to companies that offer the latest tech trends and industry insights your business needs to stay fresh.
We already showed you some of the top publications and platforms to watch in our blog , 10 Awesome Instagram Accounts for Cannabis Retailers to Follow Right Now. This time we focus on the cannabis retailers who are doing some serious justice to their brand with top-notch Instagram accounts. We've found some examples that should inspire you, and have some advice on how to up your own Instagram game.
4 Tips to Create an Elite Instagram Account
Authenticity is Everything.

It's easy to dismiss Instagram as a fluff social media tool, but the depth that can be achieved through the platform can connect audiences directly to your organizations' mission, core values, and brand strategy.

Infuse Your Page With Life.

High-impact contact will send a strong brand message and provide valuable and relevant information that evokes change, reflection, and action in your audience.

Seek to Amaze.

Adhering to a specific style guide is vital and be sure to use consistent styles, color palettes, and fonts that are part of your overall brand. If you really want to wow your audience, try the

Instagram layout app or Canva and create stunning collages and photo grids that will take your account to the next level.
Strategic Planning Matters.

Developing an Instagram activity calendar is an excellent way to plan campaigns that feature specific themes, products, or services. These types of activities could easily coincide with broader trending hashtags or global topics such as holidays, Mother's

Day

, 420, and beyond.
Inspired Instagram Accounts by Creative Cannabis Retailers
Native Roots Cannabis Company posts a beautiful array of greenery, plant-life, and stunning nature scenes that create an emotional reaction and connection to all things green. They are also actively engaged in current events and have created a narrative around COVID-19, Giving Tuesday, and much more.
OnePlant beautifully merges a modern look with their representation of cannabis products, and also tickles the taste buds with food photos. Their photos of their brick and mortar locations blend seamlessly with their greenery, food, and overall color palette.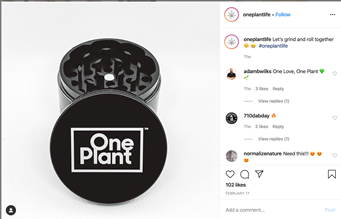 Eco Cannabis knows that words matter, and they integrate high-impact statements and quotes onto content cards. They also have a stunning video of their storefront with a moving sky background that is sure to pull in buyers.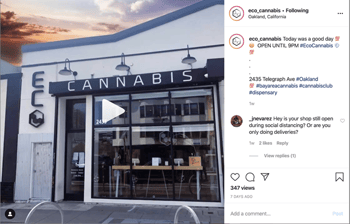 The Leaf quickly differentiates itself as a leader in the new era of cannabis. Its page is infused with southwestern charm, which is to be expected from the El Paso based company. They have snapshots of their team of consultants that adds a very personal feel to their page, and they use holiday-themed content as well to take advantage of holiday celebrations and gift-giving.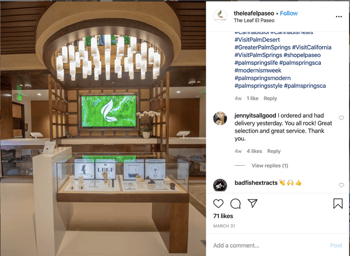 Seed Cannabis Co. utilizes their page to announce their curbside pickup service and promote their 4/20 promotions. Pictures of happy buyers, storefronts, and pups strike a wholesome vibe, and the photos of their beautiful array of colors that make up the gorgeous mural in their Tulsa store is featured in many posts (as it should be).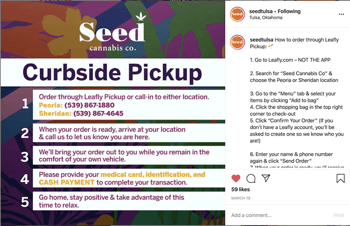 Urban Leaf, LLC. Captures the Oklahoma spirit with a twist of lime that resonates throughout their stunning photos. Their signature vintage green truck is a memorable icon of their brand that sticks with audiences.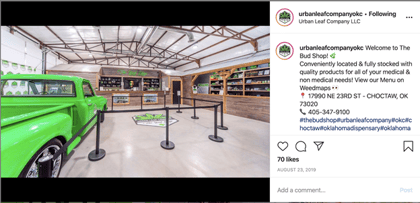 Canna Cabana used their account to announce their store opening in an unforgettable way by utilizing a breathtaking photo of Edmonton to announce their arrival. They also have great educational posts that provide origin stories of their most popular cannabis lines.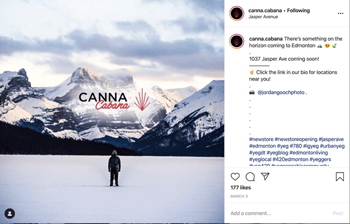 Hobo is far more than a cannabis company. They are an active lifestyle brand that appeals to city dwellers, and they also showcase art, music, and fashion with their Hobo branded gear.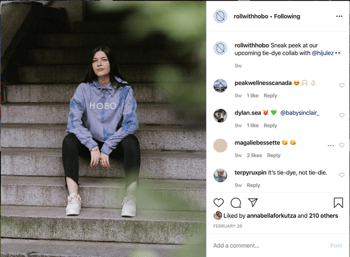 The Hunny Pot Cannabis Co. proudly presents itself as Toronto's first legal cannabis store and uses a striking black and white color palette to pop greenery and other yellow brand accent colors.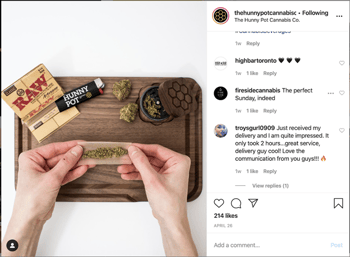 The Spiritleaf franchise spans across Canada with its four locations and demonstrates a vibrant spirit of freedom through each photo and video. One unique part about their Instagram page is that they tastefully showcase a product review by layering a quote onto a visually stunning photo of greenery and an open road.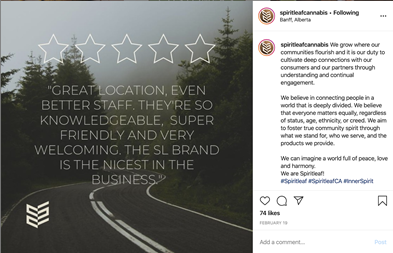 Skunkmasters used their account to creatively promote their contest and even featured the contest winners on video. They have a mixture of professional photos, videos, snapshots, and even news that are highly relevant to their brand.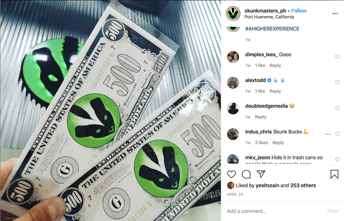 Compassionate Care By Design has created a specific style that uses collages and phrases such as ESCAPE, FOCUS, and FREEING in a catchy design that is consistent throughout every photo. They also demonstrate thought leadership by spearheading special days such as Wellness Wednesday or Feel Your Best Friday.

The key to building a dynamic Instagram presence is consistency, authenticity, and most of all, radical creativity. It's also important to remember to like, comment, and interact with your audience and demonstrate two-way communication.
If you want to be the first to know whenever we've got some inspiring examples of cannabis retail done right, or valuable industry insights to help you take your business to the next level, be sure to subscribe to our blog today!