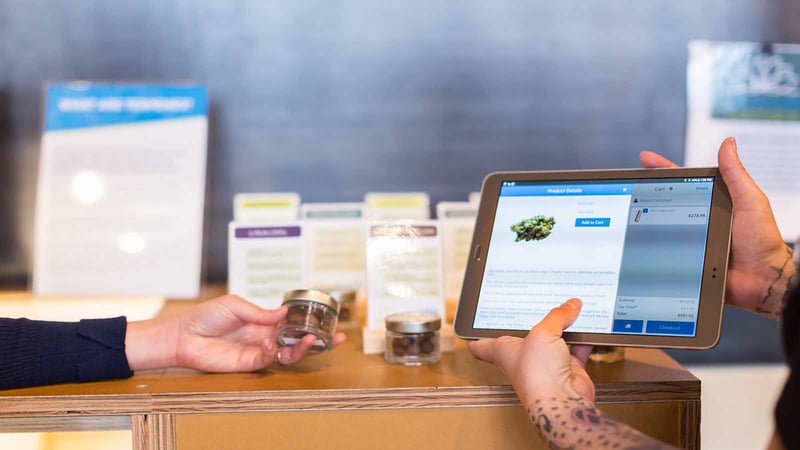 Despite what you may have heard, online retailers will not eradicate brick-and-mortar businesses anytime soon. In fact, according to a report by the National Retail Federation, online sales account for less than 10 percent of all retail sales.
The fact is that physical retail is alive and thriving. And while retail cannabis is still in its relative infancy, it's already exceeding annual revenues of other retail industry giants.
While these statistics are encouraging for cannabis retail owners, they shouldn't be taken for granted. Store owners still need to provide the best possible customer experience – and one major factor in customer experience is dispensary design. Here are a few ways to optimize your merchandising and layout plan to make the most of your space.
Incorporate Digital Technology
Consumers are definitely still shopping in brick-and-mortar stores. But they're also blending the digital shopping experience with the physical. One study revealed that 83 percent of shoppers use their smartphones while in a physical retail store, mainly for the following tasks:
Comparing prices - 42 percent
Texting, checking email, talking and using other apps - 40 percent
Checking for promotions - 31 percent
These customers are craving the robust product information they can find online while in your store. As a retailer, you can capitalize on this by incorporating digital technologies that provide the same convenience and depth of information that your customers are accustomed to getting online.
Dispensary digital signage and interactive menus are just a couple of the ways you can blend the physical and digital worlds and take your cannabis retail design to the next level.
Digitally Extend Your Store's Shelf Capacity
We've discussed strategically merchandising your dispensary before, including the fact that overcrowding the sales floor is not a good idea. One way to help reduce the amount of physical product on display and streamline your sales floor is by using digital shelf space.
Interactive touchscreen menu kiosks, for example, are a perfect way to offer your customers a look at your entire inventory – including items that may not be in stock at your location but are at one just a few miles away.
Use Data to Optimize Your Merchandising Strategy
If you have cannabis point-of-sale software that generates sales reports, use this data to your advantage. Strategically group items that are frequently purchased together and create product bundles and promotions based on what your customers like the most.
Free E-book
If you're thinking of opening a cannabis retail store but aren't sure what's involved, download our e-book "How to Open a Cannabis Dispensary." This comprehensive guide will clearly outline everything you need to know to launch a successful venture. Get your copy for free today!