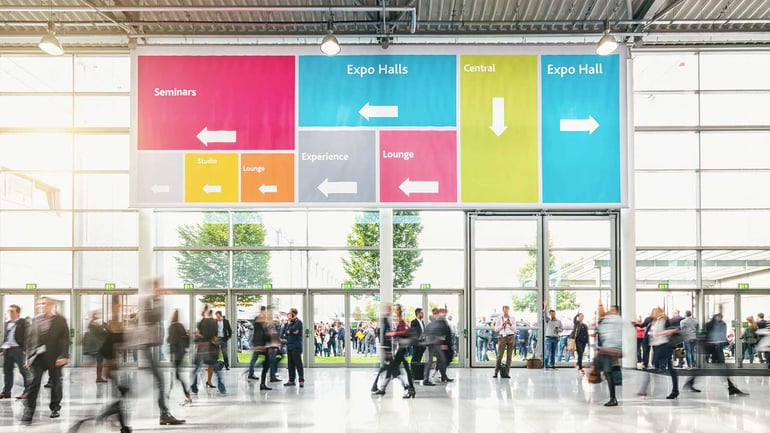 The cannabis industry's most awaited event is finally here, and it is happening in the sin city from October 20th to 22nd at the Las Vegas Convention Center. After almost two years of no trade shows and conferences, MJBizCon 2021 will be a fantastic opportunity for cannabis professionals from all over the world to connect with companies, build relationships and witness the tremendous innovation and progress happening in our industry.
However, with just two weeks to go and little time at your disposal, you must ensure that you benefit from the world's biggest cannabis expo as much as possible- and that is why Cova has compiled a 'Best of MJBizCon 2021 Exhibitors' list for you. Dispensary owners looking to learn more about how the best cannabis tech ecosystem is transforming cannabis retail should look no further and schedule visits at some or all of the following MJBizCon exhibitors:
1. KayaPush
KayaPush is an integrated HR, payroll, and workforce management software solution for cannabis retail stores that can help you automate dispensary payroll and make staff management easy. Having a smooth, efficient payroll system is an essential component of running a successful cannabis dispensary, especially when wages contribute significantly to the cost of your dispensary operations. Instead of choosing costly outsourcing or time-consuming manual payroll options, consider using a cloud-based HR software like KayaPush, that integrates seamlessly with your cannabis retail POS system. Meet their team at MJBizCon Booth C3225.
2. Headset
Headset provides leading insights into cannabis consumer trends for today's world, where decisions are made based on real-time data and market intelligence and not outdated information. As cannabis consumer trends change, you must stay abreast with what your target market's preferences are and adapt quickly to their needs and demands. Headset, when integrated seamlessly with your cannabis POS system, can generate excellent data analytics for your dispensary that can help you streamline operations, manage inventory efficiently and stay compliant in the highly regulated cannabis industry. Meet Headset's team at MJBizCon Booth C1826.
3. SpringBig
Springbig is a marketing engine built exclusively for cannabis dispensaries. It is one of the easiest and smartest cannabis technology solutions that allows you to connect with customers and build loyalty. Springbig's advanced loyalty programs and communication platforms allow cannabis retail stores to understand consumers better, support their needs and enhance the customer experience. Various loyalty programs can be easily integrated with your cannabis dispensary point of sale system- meet Springbig's team at MJBizCon booth C5619 to learn more.
4. Acrelec
Acrelec is a global technology company focused on reinventing the customer experience at retail stores and is helping dispensaries elevate the cannabis experience. With decades of experience in software, hardware, and services, it develops and integrates new platforms that increase customer loyalty, optimize efficiency and improve dispensary operations. With a passion to deliver advancements that drive business results, they aim to design and build the world's leading smart cannabis retail stores. Meet Acrelec's team at MJBizCon booth C8517 to learn more about their digital solutions for cannabis dispensaries.
5. Cova Software
From eCommerce & delivery, ERP, digital signage, and online marketplaces—including Leafly and Weedmaps—to accounting, HR, security, cultivation, and more, Cova POS connects you to the most robust cannabis retail tech ecosystem out there. With seamless integrations with all the above companies and many other cannabis technology partners, Cova is the most trusted cannabis POS system in North America used by over 1800 cannabis retail stores. Our robust inventory & multi-location management, dashboards & analytics, and automated compliance can save you time and money and set you up for success. Come meet us at booth C2612, and let us show you why we are the best dispensary technology provider at MjBizCon 2021. Click below to learn more.