As we approach the final quarter of this turbulent year, many dispensaries have been able to weather and endure the changes through a variety of different tactics and strategies. However, dispensary owners are still looking more now than ever before for the quick wins and immediate steps that can boost revenue.
That's why we've taken the time to examine 7 tactics you can deploy right now that are proven to have a positive effect on revenue opportunities for your dispensary.
Tip #1: Update & Refresh Your Third-Party Listings
This is a simple yet extremely important place to start for your business. Chances are, there's some missed opportunities or untapped potential in how your customers are actually finding you through search and third-party directories.
First, Google's My Business platform is a free and quite frankly, the bare minimum standard to connect and engage with customers, collect and manage reviews, as well as get suggestions for optimizing your business and monthly analytics. This is a great baseline and finger on the pulse of your digital search volume, associated keywords, and traffic metrics.
Next, make sure you're listed on the popular listing platforms in your area. This is important to note as some different locales have their own different platforms, but most of them are dominated by the select few - WeedMaps, Leafly, PotGuide etc. You can accumulate reviews and offer incentives for new customers to leave reviews, or pay for sponsorships that push you to the front of the queue for customers to find you easier.
Tip #2: Host More Events & Workshops
Now, given the circumstances and rules in the last few months, in-person events might feel like a pipe dream from long ago. However, that doesn't mean virtual events, streams and webinars aren't great options to bolster your brand awareness and push live, educational content to your customer base.
The things you'd typically think to do in your dispensary's space can still hold up in a digital one - panels on different types of cannabis or doctor days for patients and seniors to learn more about the medical be can still be effective in digital webinar formats, as well as community events and vendor showcases.
We've seen this done recently using formats like LinkedIn's livestreaming tool or even Instagram live to connect vendors and dispensaries that are miles apart, keeping your recurring customers engaged with your content and promotions and new customers engaging with your store and website.
Tip #3: Offer the Right Promo at the Right Time
Promotions are truly effective when they are bringing sales in during downtimes, leveraging popular or new and exclusive products, or when the promotions itself are recurring and eventful in their own right (think: happy hours or dice rolling at a certain time to get free products). With Cova's POS reporting data, you can pinpoint exactly when your slowest hours are, what your most popular products are, and what is new in the shop and ready to be advertised and merchandised through the promos you've been waiting to launch.
However, not all of your customers are behaviourally the same. Some of your more professional, working and on-the-go base would benefit from offers conducive to online ordering and curbside pickup. Other segments like senior customers would likely prefer daytime slots during the week.
The nice part is, you don't have to guess - all of this segment data is located in your CRM of choice and can be organized to email and SMS those who opt-in (SMS tends to work best for immediate results, if your state/province allows it). A pro-tip: promotions scheduled around pay-day is a sure-shot for just about all segments.
Tip #4: Expand Sales Channels
If there's anything this odd time in history has taught us about consumerism, it's that convenience and not leaving the house has tremendous value. Food delivery, grocery delivery, you name it - they've all been thriving and essential for those distancing and isolating at home.
This is why expanding your sales channels to include delivery and online ordering is crucial for the longevity and rigidity of your business. While not every dispensary is structured to have efficient deliveries running, there are ways to schedule delivery options for non-peak time and also offer curbside pickup as viable options to get your products to your customers with less of an in-store hassle. By expanding these channels and developing them thoughtfully, you open yourself up to more volume of orders, and increased basket sizes for new customers and online promotions.
Places like Dutchie, Leafly and Leafbuyer all sport some kind of menu functionality which can be updated with prices, offers, and new promotions at your own discretion. This can be a much more viable way to update your customers, as they are more likely to be on these popular directory and menu sites than your own site individually.

Tip #5: Increase Product Visibility
For those who do come to your store, it's important to still invest just as much time and energy in organizing your products' visibility and merchandising. If there's promotions going on with specific products or SKUs, that should be made obvious within the first 5 steps into your store.
You should also be encouraging impulse buys by placing more small items close to checkout. Make sure that high-margin items are also in close proximity to your till, or ensure that the recommendation/promotion of the week is close by and handy for budtenders to display and show off to your customers.
Holidays and events are still massive spending days for dispensaries across North America, and utilizing gift cards and seasonal promotions are crucial to maximize your profits during these once-a-year events. To learn more about gift card strategies, click here.
Tip #6: Expand with More Payment Options
If you've ever had a credit machine down, or some issues with your card/tap payments, you know what it's like to lose customers as a result of your payment options, or lack thereof. It's important to provide multiple payment options to fit the intent and needs of your customer, and to make sure each payment portal is reliable and seamless.
Debit and Credit transactions for Canadians should be integral to your payment options, as it accounts for 15% more revenue than cash transactions. This can add up in a huge way, and offering tap options under $100 as well as new-school options like Apple Pay can not only encourage this extra boost in revenue, but also a more streamlined and quick customer experience.
Cashless ATM Debit for Americans has similar benefits - it amounts in $2-$4 in extra tips for budtenders, and also typically amounts in extra revenue as opposed to cash transactions. Online payments can be facilitated depending on your platform as well, which has its own bonuses like reducing abandoned orders and opening your potential sales to more of your locale.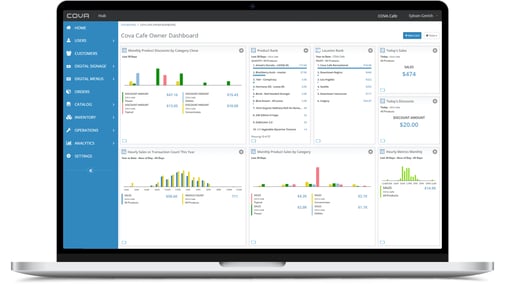 Tip #7: Utilize Data to be a Better Buyer
Finally, one of the simplest things you can do to boost revenue in your dispensary is buying better. Lazy buyers who order the same SKUs and don't venture outside of the tried and true are missing out on huge opportunities to recommend and optimize your customer's needs. With that said, you can use your POS system to accurately understand what product/brand do people actually want to buy, and what is popular at your store compared to others.
You can also gain insight into having less options in store, as too many options can be detrimental to your customer experience, and ultimately, result in a surplus of stock which can be disastrous.
The goal here is to be as lean and essential as possible, but leverage your data in your POS to regularly review product performance and continue to update your product assortment. With Cova, you can review data and valuable metrics at a glance to help you evaluate exactly how each product is performing. It's also important to look specifically at your sell-through rate to restock products that are moving fast, and avoid those gaps where your popular products are sold out. To learn more about inventory metrics and making better buyer decisions, click here.
Ready to get started making more informed buying decisions and using seamless integrations to expand your sales channels in a few clicks? Get started with Cova today.