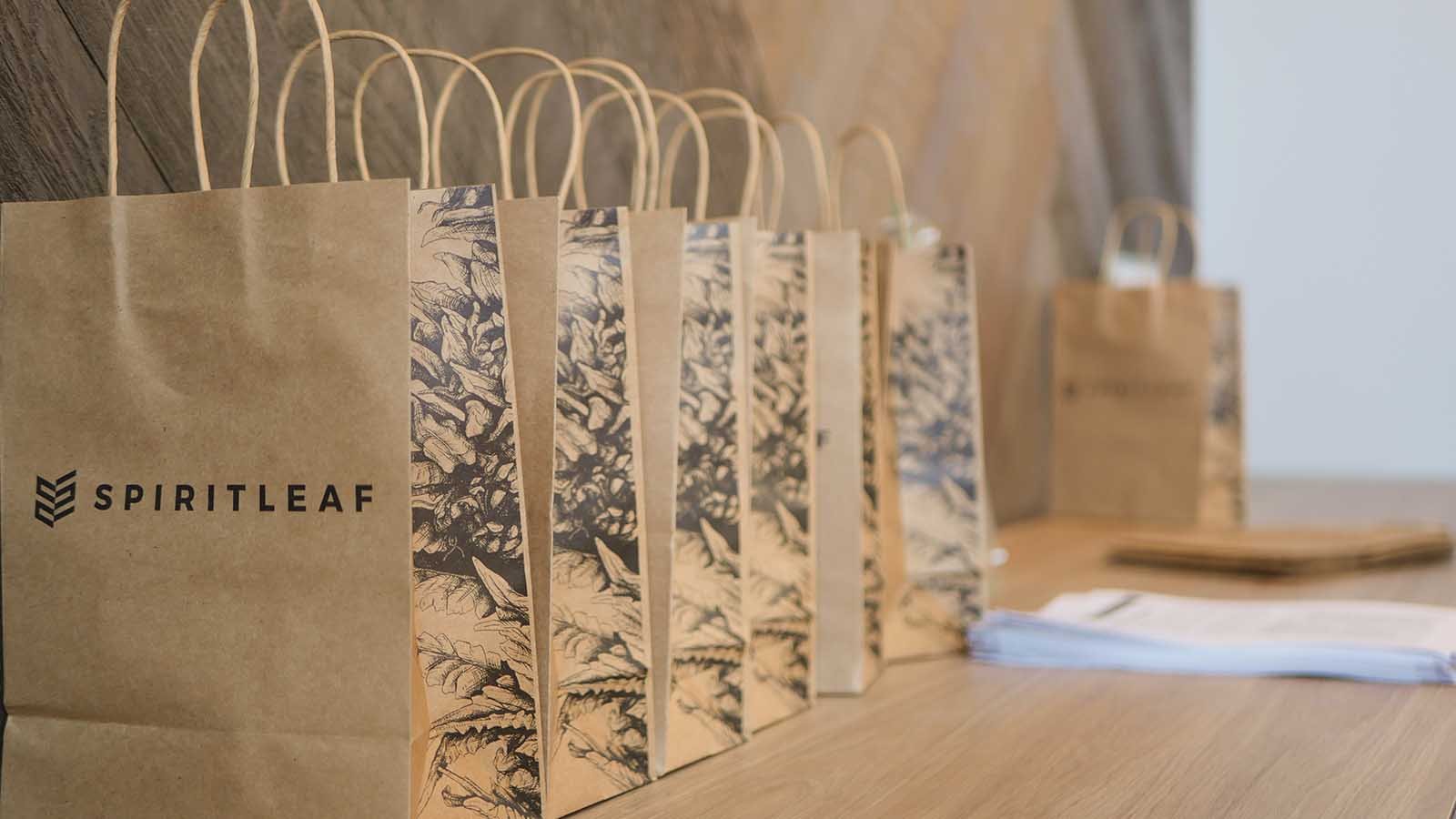 Ontario is set to get 50 more stores this fall. Of the 50 new stores, 42 will be allocated by lottery and eight will be available for stores on First Nations reserves. Lucky winners of Ontario's last cannabis license lottery are beginning to open up shop. We're happy to see 20 out of 25 stores in Ontario utilizing our top-rated cannabis POS and express checkout to simplify compliance and power memorable and pleasant customer experiences.
Ready to meet stand out retailers in Ontario? We've compiled a list of must see cannabis retail stores in the province, each one doing its part to set the bar for customer experience and cannabis store design.
1. The Hunny Pot Cannabis Co.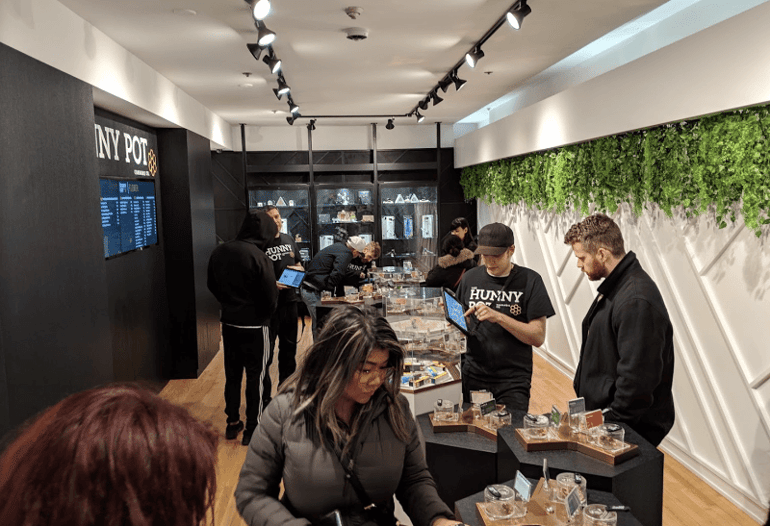 The Hunny Pot Cannabis Co. was the first to open and is one of very few wholly independent cannabis retailers in Ontario, and they're located right in the middle of downtown! Their two-floor store boasts modern interior design, white and black walls, and a well thought out floor plan.
Customers are encouraged to freely roam the sales floor, sniffing and viewing different cannabis strains conveniently displayed. Hunny Pot employees walk the floor with a digital menu on tablets, offering each customer additional education on the product of their choice, and advanced ordering for express checkout. These small details come together to make it a very friendly, accessible experience for all.
2. Tokyo Smoke Yonge St.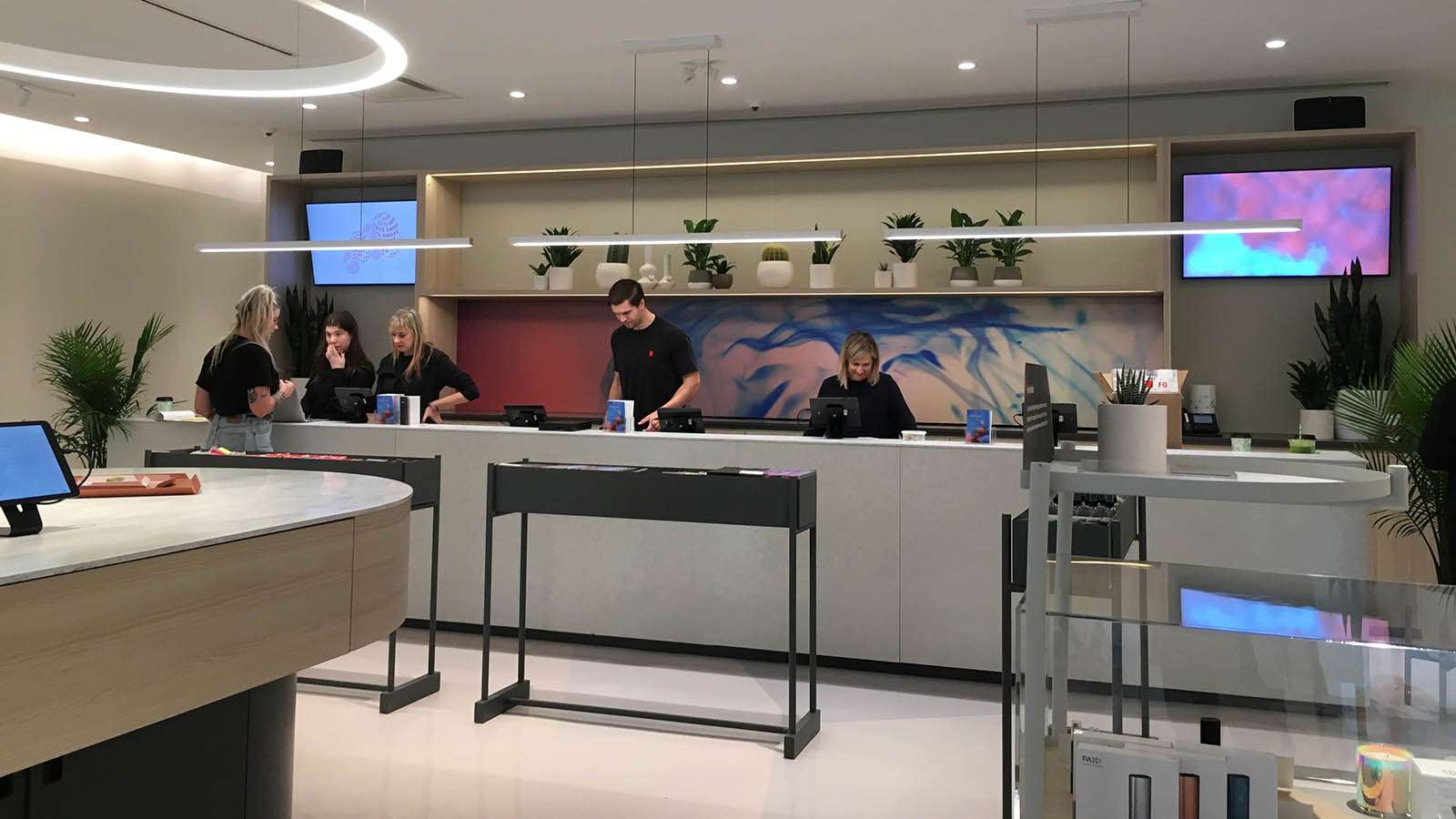 Tokyo Smoke is perhaps one of the most well-known legal cannabis retailers in Canada and they recently opened a location in Toronto at Yonge and Dundas. The store's uber modern aesthetic is perfectly trendy, creating a shopping experience more like an Apple store than a dispensary.
Beyond design, two things make Tokyo Smoke's customer experience excellent: communication and technology. As customers browse the curated displays, Tokyo Smoke provides the perfect amount of information on each product. For strains and cannabis products, they explain what type of activities it would enhance, cannabinoid content, terpene notes, and more. And if a customer needs additional help or is ready to check out, sales attendants on the floor with tablets are there to help.
3. Superette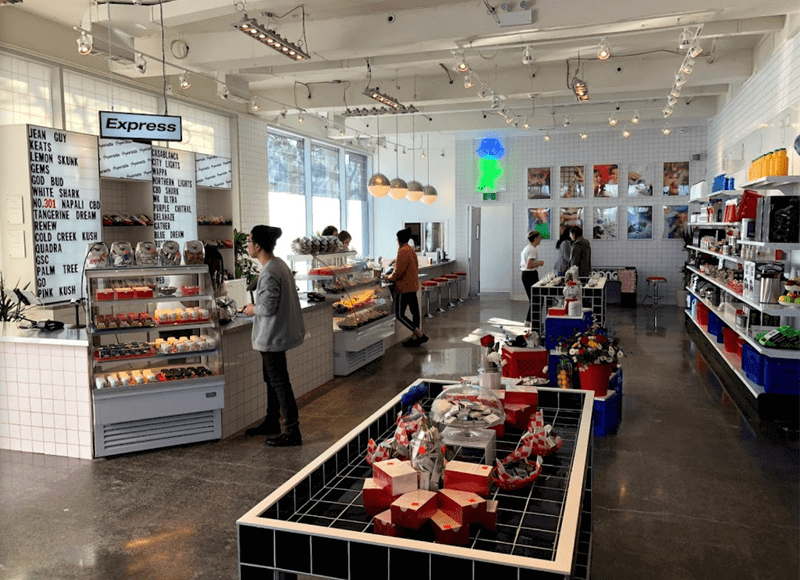 When it comes to unique cannabis store design, Superette takes the first place trophy. This store feels like a retro malt shop and a trendy pop-up shop had a baby.
You can take a seat at their red leather banquette while perusing the store menu (which is literally printed as a menu), take a sniff and closer look at their cannabis flower selection, or shop around the accessory shelves that are perfectly curated for the modern day cannabis consumer. Or grab a friend and play the old school arcade game, Pong! Superette definitely brings home the prize for one of the most unique cannabis store in Ontario.
4. Hobo Recreational Cannabis Store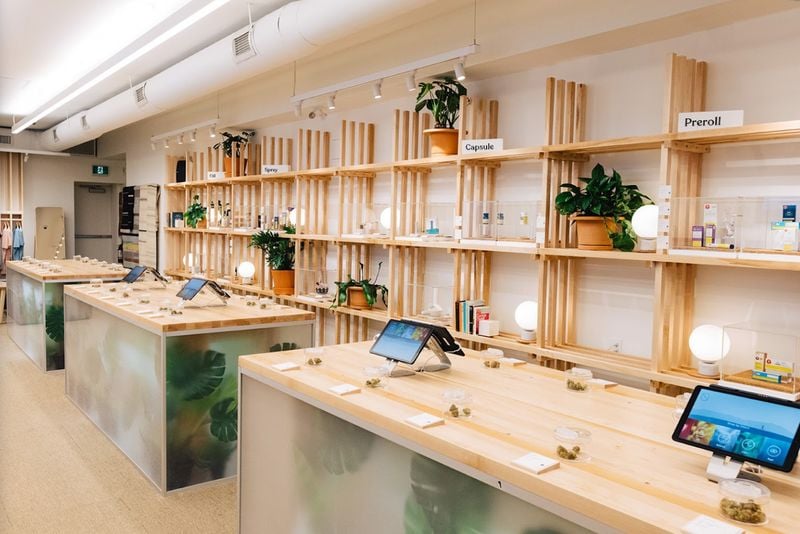 It's hard to feel anything but bliss and relaxation when shopping at Hobo's bright, minimalistic, Scandinavian-inspired store in Ontario. When it comes to dispensary design, less is more at this location and it definitely works in their favor.
Hobo Recreational Cannabis Store makes it easy for customers to shop at their own pace and in their own way. Large islands are topped with birch wood. Monstera leaves peak through the frosted panels below. On top, different cannabis strains are displayed for easy perusal and include four tablets that guide customers through the decision making process, letting them filter by intended effects, product details, and more. This eye for customer experience really makes Hobo a pleasant place to shop.
5. Fire & Flower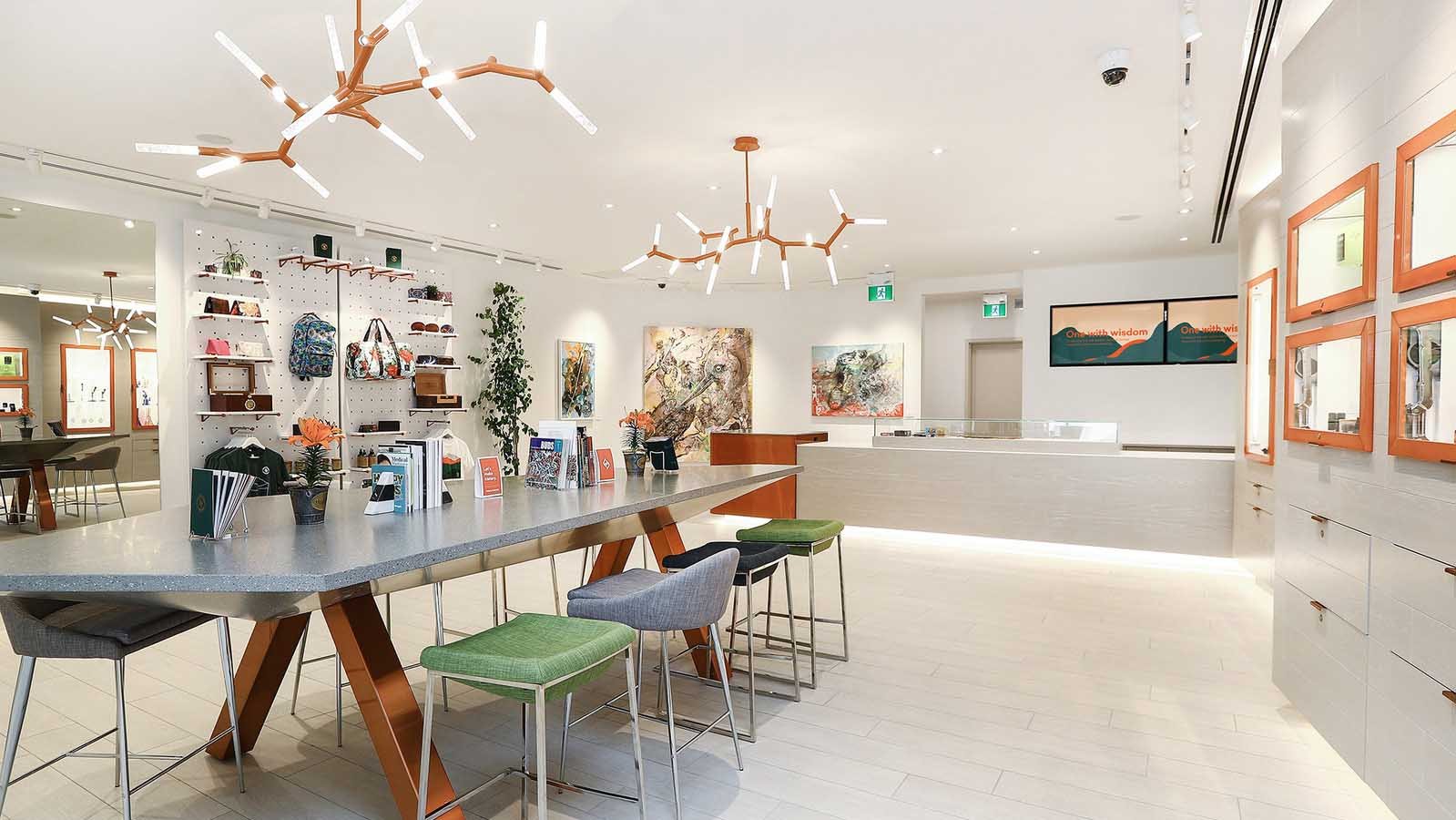 Fire & Flower is a well-established licensed producer chain in Canada, so it's no surprise their Ottawa location is beautifully designed. Large, recessed glass display cases line the walls, it feels like you're entering an art gallery. Beyond the store design, customer experience is where Fire & Flower really shines.
Reminiscent of the store's art gallery aesthetic, Fire & Flower curates different product collections to make shopping easier. Customers can choose from categories like engage, mellow, boost, rest, spark, and arouse. If they need additional guidance, they can take a seat and peruse product descriptions and details on a tablet.
6. Spiritleaf, Kingston
Spiritleaf is another popular retail cannabis chain in Canada that opened its latest location in Kingston. Their building is endlessly cool with large arched windows and exposed brick, matching the rest of their industrial interior design perfectly.
The sales floor is open, allowing customers to browse a few glass display cases full of product. Large tables lined with different cannabis strains are available for visual and smell inspection; tablets are available for customers to read through product descriptions.
7. Canna Cabana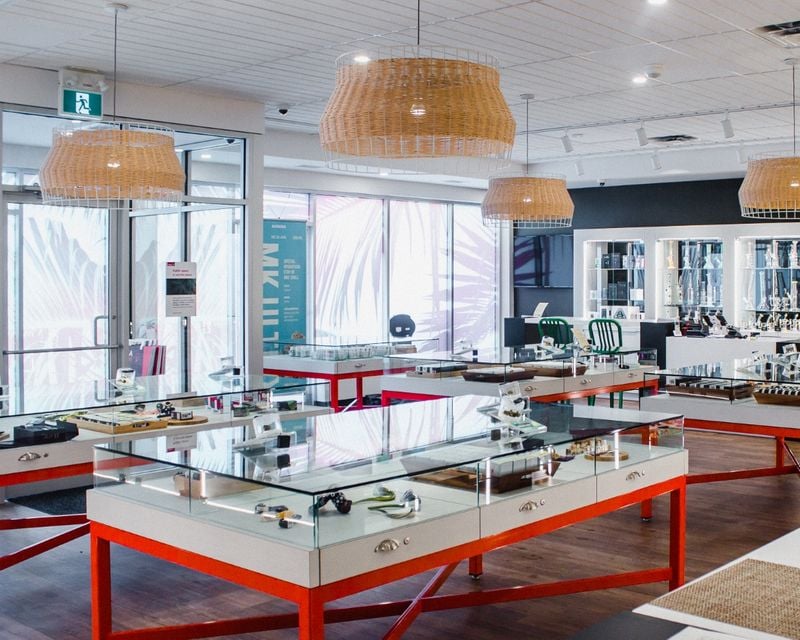 Canna Cabana is a multi-location chain and their Sudbury location was the first legal cannabis retailer to open in town. They provide a true one-stop-shop for cannabis customers, offering a huge selection of glass and other 420 accessories as well as a variety of cannabis strains, topicals, and concentrates. The frosted glass windows maintain privacy for shoppers, allowing them to shop in peace. Large display tables filled with product allow the budtender to get out from behind the sales counter and roam the floor, interacting directly with customers.
8. J.London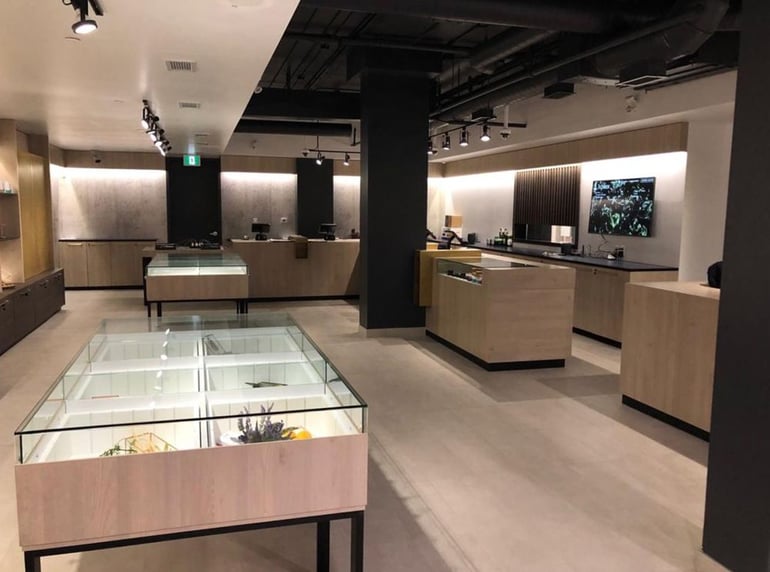 At first glance, J.London's storefront looks like a high profile jewelry store and it's interior design matches the same upper crest aesthetic. Beautiful display tables and shelves make this minimalistic store feel very unique. Large digital menus on the wall make it easy for customers to see what's in stock and how much it costs. It's the opposite of overwhelming; it feels like an expertly curated shopping experience.
9. RELM Cannabis
Ontario cannabis lottery winners faced an April 1 deadline to open their doors and RELM Cannabis was the only store in the area to meet the requirement.
Their store feels like a friendly and modern pharmacy, with a long white counter spanning the entire width of the store. Customers walk up to the counter, review the menu of available product options, and place their order with a budtender. Because so many shoppers are new to legal cannabis and have a ton of questions, RELM's extensive employee training program really shines. Their depth of knowledge puts each customer at ease, making for a very satisfying customer experience.
10. Hello Cannabis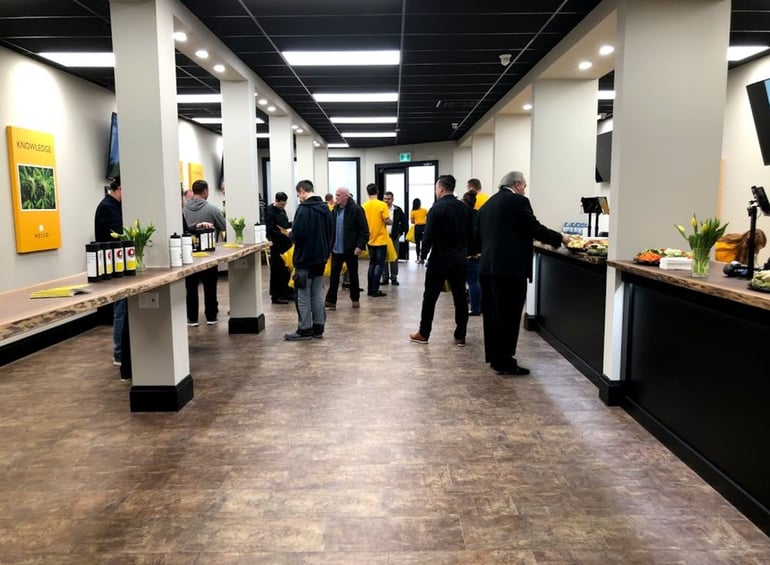 Hello Cannabis started as a center for physicians and educators to teach about cannabis and its uses. While the educational center lives on, Hello Cannabis recently opened a retail cannabis store in Dundas! The bright yellow banner on the outside of the building makes the storefront look very friendly, and the professional-yet-warm interior makes for a nice entrance.
Customers can walk up to one of multiple sales counters to converse with a friendly and highly knowledgeable sales associate to decide what product is best for them. By utilizing reliable technology, Hello Cannabis has a smooth and easy check-out process.
11. Clarity Cannabis
Meet Clarity Cannabis. This beautiful and modern retail cannabis store is a delight to shop in. Decorated with neutral colors, from the dark, stained concrete floor to the gray, large display shelves that highlight the breadth of cannabis products they have in stock. The sales counter is equipped with three check out stations, which work to keep lines short for the customer -- a must if you want an A+ in customer experience!
12. Ameri
Ameri was the second cannabis retailer in Ontario to open. Set in what looks like an old brownstone walk up, the shop inside is anything but dated. Not only does Ameri have an incredibly friendly staff ready to answer any questions, the shop itself is designed for efficiency.
While customers are shopping on the sales floor, Ameri's hospitable staff will help them choose the right product for them. Once the customer makes a decision, the budtender enters their order using a tablet. From there, the customer picks up their order from the express check out line, expediting the entire experience.
For more cannabis retailer tips, industry updates, and resources, subscribe to our blog.