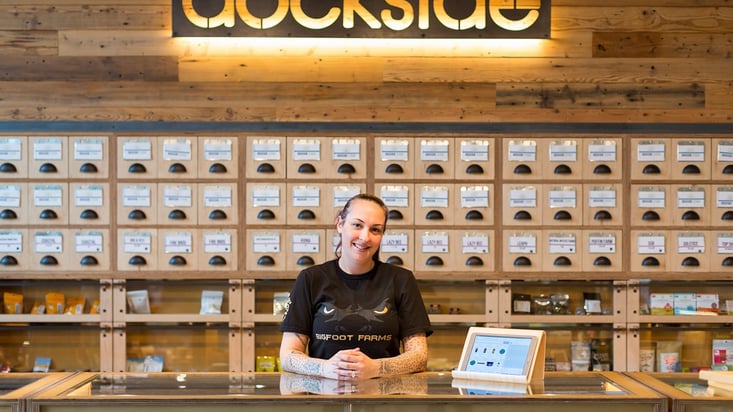 Cannabis retailer operations have grown and changed dramatically in the last years, and the strategies once used by business owners may not be as applicable as they once were. Gone are the days of being the only cannabis retailer in town; now, the next evolution of cannabis retail requires you to stay three steps ahead of the competition.
With a plethora of tricks and tools that any owner could put to good use, how do you know what direction to take your business? It starts with uncovering what's important to cannabis enthusiasts and appealing to their preferences. Shifts in how you market yourself, design your physical space, and day to day operations can all play an instrumental part in becoming the ideal cannabis consumer destination.
Thinking About Your Shop
Decades ago the only way to get cannabis flower was to "know a guy" that had access to a supply and to make sure you didn't get caught. Fast forward some years, and in many cases, a cannabis retail operation could thrive for merely opening its doors. It didn't take a sophisticated marketing plan to find success when you're the only operation in town.
Today, cannabis shop owners are under pressure when it comes to staying successful and competitive. Retail operations that offer online pre-ordering and delivery services are making it even more complex to remain relevant, so a careful reevaluation of your physical space is crucial.
Rather than simply designing a space that contains display cases and shelving, think about how your location communicates its value. Utilizing a specific floor plan is often step one, as it dictates the flow of customers, presentation of product, and sets up an expectation for how budtenders will interact with patrons. A complete remodel can be a big project, yet many cannabis shop owners find that smaller changes can go a long way toward creating a destination worth visiting.
Communicating Value To Customers
It's one thing to educate customers about the benefits of strain properly or to offer textbook customer service on any given day, but there's only so much a budtender can do to make someone feel valued. That's why many cannabis retail operations are turning more and more to customer loyalty programs, not only to engage new shoppers but to maintain and expand their current customer base.
Think about your recent experiences either shopping or dining out; how likely are you to revisit a particular location if their staff attempted to customize your experience? That level of customer care is what solidifies loyalty, so it only seems natural to thank them for coming back.
There are several types of customer loyalty programs that work well in the world of cannabis retail, including referral rewards, points for purchases, and discount cards.
Using Technology To Your Advantage
Even if you're not the most tech-savvy person, the cannabis industry is rich with easy-to-use tools that can entirely reshape the customer experience. Staying up-to-date with cannabis retail requires breaking through traditional boundaries when it comes to education and transactions.
When customers have questions about a particular cannabis flower or pre-roll, how do your budtenders answer them? Utilizing mobile tools equipped with an intuitive point of sale system not only provides information with just a few touches of the screen, but it allows budtenders to develop a rapport that doesn't include a counter. Chill on the couch or sit at a table while offering information or ringing up their purchases, as this creates a more personal shopping experience.
If you're attending MJBizCon and want to learn about how to engage in the next evolution of cannabis retail, pre-book a personalized demo with Cova while spots are still available.