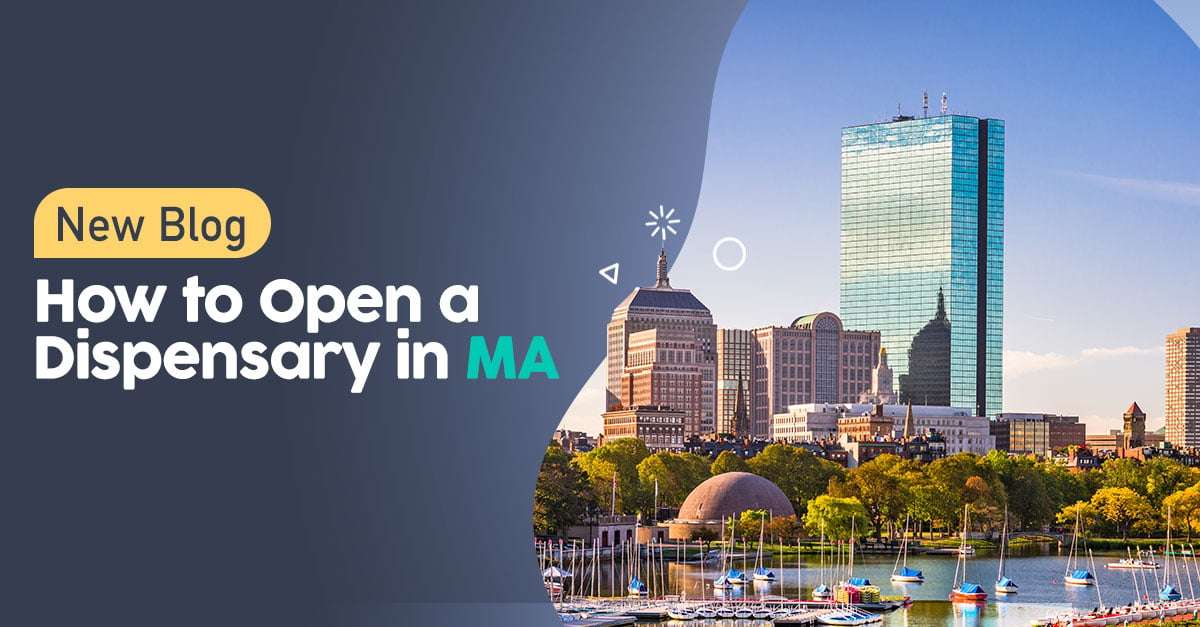 Massachusetts was one of the first states on the east coast to legalize cannabis for recreational use in 2016, and adult-use marijuana establishments in Massachusetts recently surpassed $3 billion in gross retail sales. With social equity measures introduced to make the marijuana industry more inclusive, the Massachusetts Cannabis Control Commission started awarding more dispensary licenses earlier this year. As per their website, 417 marijuana retailer licenses are approved so far, but only 387 dispensaries are operational. As more entrepreneurs jump into the fray and the marijuana retail industry in Massachusetts matures, it is important to incorporate cannabis retail best practices in opening and managing your dispensary, so that you can thrive in this growing and competitive industry.
If you are interested in applying for a marijuana retailer or delivery license in Massachusetts, you must first understand the laws and regulations. The cannabis industry is highly regulated, and you must be well-equipped with a detailed understanding of how to manage a dispensary or a marijuana delivery business in Massachusetts and set it up for success. Applications for dispensary licenses, including marijuana delivery licenses, are being accepted on a rolling basis, and social equity applicants receive priority. Every step in the process is crucial, from finding the right location and understanding the costs of opening a dispensary to operating efficiently and using compliant dispensary technology.
How to Run a Successful Marijuana Establishment in Massachusetts
Getting your dispensary up and running can take up to 12 months, but you'll surely reap the rewarding benefits if you do everything correctly. While starting a business is challenging, opening and managing a marijuana dispensary involves many specific tasks that require significant time and effort. When applying for a legal dispensary license, the first and most important step in the process, ensure that you have filled up the application completely and provided all necessary information to avoid delays.
1. Marijuana Retailer License Application or Renewal
After registering for an account on the Massachusetts Cannabis Industry Portal, you can submit your marijuana establishment license application. You will be notified once your application is deemed complete, and applicants for provisional licenses must pay the required fees within 90 days. The application fee for a recreational marijuana dispensary in Massachusetts is $1500, and the annual license fee costs $50,000. Priority status in the application process is being given to social equity applicants or Economic Empowerment applicants, and your application may take time if you don't qualify for these categories. If you already have a provisional or final adult-use marijuana license, even if you may not have started operations, ensure that you renew it annually at least 60 days before expiry.
2. Dispensary Business Plan and Future Vision
Apart from the application and license fees, the initial cost of opening a dispensary can range between $250k and $1M in Massachusetts. Thus, it's essential to have a solid business plan for your dispensary to minimize initial and operational costs and run a profitable dispensary business. All marijuana retail licensees in Massachusetts must plan how their businesses will have a positive impact on the community and promote diversity in the industry. To ensure that you're ready for the future in this dynamic industry, you must also have a solid growth plan. Be meticulous and avoid any mistakes that could ruin your dispensary business.
3. Reliable Marijuana POS System and Technology
A reliable cannabis retail POS system eases compliance and increases operational efficiency. Cova's dispensary POS follows all Massachusetts regulations and reporting requirements and has a unique 2-way integration with Metrc. Cova Software's system includes purchase limit enforcement, an ID scanner for age/card verification, integrated tracking and reporting, product equivalency conversions, and other features that don't just make a budtender's job easy but also elevate the customer experience. A dispensary POS system is one of the most significant investments that you will make. The right technology partner will provide your dispensary with the tools necessary to build a flourishing business.
4. Dispensary SOPs and METRC Compliance
Establishing detailed dispensary SOPs for your marijuana retail establishment related to opening and closing your store, sales transactions, security protocols, quality assurance, delivery procedures, etc. will just not simplify compliance but also increase operational efficiency. Invest in an inventory management system that complies with all regulations and seamlessly integrates with Metrc, the state marijuana tracking system. Automated compliance and reporting with your cannabis POS system will help you avoid any infractions and always keep you a step ahead of the law and changing regulations.
5. Cannabis E-commerce and Delivery Services
In today's age, you must have a plan for online ordering and marijuana delivery, regardless of whether you own a medical or recreational dispensary. A cannabis e-commerce website won't only add more revenue to your business but also enhance your online presence and will serve as a great digital marketing platform. A well-designed POS system with seamless integration to native E-commerce tools will help in required data collection, documentation, reporting, SEO visibility, etc., facilitating revenue growth from your cannabis e-commerce and delivery services. Cova POS seamlessly integrates with the best cannabis e-commerce solutions like Dispense and Tymber, which allow you to highlight your brand strategically to online customers.
Tips to Succeed in Massachusetts' Marijuana Retail Industry
1. Differentiate Your Dispensary Business
The recreational cannabis market is already thriving in Massachusetts with intense competition. Thus, determining how you will differentiate your brand is crucial. Ask yourself: what does your dispensary offer that others in your area do not? You may target a niche market or have a unique selection of products, or create a unique dispensary shopping experience- you can also just apply for a delivery-only license and focus on marijuana home delivery.
2. Create an Omnichannel Retail Strategy
Having an Omnichannel retail strategy means syncing your online and offline marijuana retail experience. With seamless integrations across your e-commerce platform, website, marketing, promotions, and inventory, a consistent brand experience can be offered across all touchpoints. A robust website and an online SEO plan can help grow your dispensary to elevated heights.
3. Choose the Right Technology Partner
A reliable marijuana software system with an enhanced cannabis tracking and reporting system will always provide valuable data about your dispensary traffic, demand for certain products, and other details to help you increase operational efficiency, streamline inventory management and understand your target market better. With an expanding cannabis tech ecosystem, you must choose a technology partner whose POS integrates seamlessly with other cannabis technology solutions that you may need for your dispensary business to grow.
Cova has built trusted relationships with dispensaries from coast to coast, supporting the launch and continued operation of multiple marijuana establishments. We also have the largest cannabis technology partner network in the industry, thus providing you the flexibility to choose from various options based on your budget and needs. Cova POS and inventory management system is now available for dispensaries in Massachusetts. Whether you are just launching your dispensary or looking for a better software solution at an existing marijuana retail store, book a demo with us now to learn more.