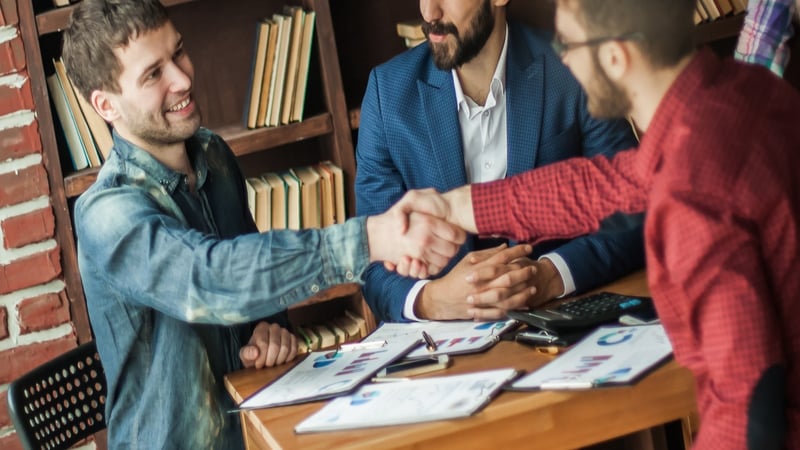 Since its inception, funding and banking have been the biggest logistical problems surrounding the legal marijuana industry in the U.S. In a nutshell, for marijuana entrepreneurs, gaining business funding for their endeavors is painstakingly difficult compared to those in other sectors, and there are many reasons.
Despite medical marijuana being legal in 28 states, and recreational in eight, it is still illegal at the federal level for banks to lend or take money from the legal marijuana industry. Also, due to the volatile nature of marijuana laws, the threat of federal raids, and a risk of insolvency in marijuana businesses, banks do not lend to marijuana dispensaries.
Even with a rock-solid business plan and a more than eager market that will prove their businesses successful, many entrepreneurs find that funding options are lacking. At Cova, we want you to know that if you're a cannabis entrepreneur, you don't have to feel stuck without financial options. All you have to do is get creative! Consider these innovative ideas when seeking to fund for your marijuana dispensary.
Cannabis Business Financing Solutions
1. Marijuana-Specific Investors
In the private market, there are investors eagerly looking to support marijuana-specific businesses and operations. This group is only expected to grow as legalization takes hold across the states. While these types of investors make finding funding more feasible, understand that these financiers often lend at higher interest rates, for short-term periods, and sometimes come under the condition of "convertible debt," where the lender can convert a loan into an equity stake in the company.
2. Special Pitch Forum Events
Cannabis investors are getting innovative in the way they serve entrepreneurs. Groups like The ArcView Group host pitch webinars and forums where marijuana businesses show potential investors what they've got in exchange for financial backing. At these events, companies that are beyond the idea stage and have reliable financial projections meet with potential investors to share their product/service, economic viability, and a chance to be awarded some serious funding to get their businesses to the next level.
3. Specialized Financial Networks
As legalization spreads, large groups are working together to find innovative funding solutions for cannabis dispensaries. Across the country, specialized financial networks are cropping up regionally with the aim of connecting businesses to marijuana-specific investors. Serving the Pacific Northwest is the newly formed Cannabis Investment Network. It seeks not to raise capital itself, but help small businesses find investors for up to $3 million dollars in funding.
4. Cannabis Funding Consultants
The cannabis industry is becoming more sophisticated, as a result, marijuana funding is growing in complexity. To help businesses with the legal and financial battles ahead, organizations like California's CalCann Holdings have materialized. CalCann employs lawyers and investment specialists to find and execute investment deals for cannabis business owners. By offering their legal and financial services, business deals are undertaken with the utmost detail so that all stakeholders are thoroughly aware of their obligations under funding agreements. These operations are more hands-on than the aforementioned financial networks, as they are often closely involved in the direct raising of funds for their clients.
5. Selling Ownership Stakes
Since early 2016, we've seen more shares of ownership in cannabis businesses publicly traded on the stock market. These shares are emerging as penny stocks and are becoming more prevalent as people catch on to the potential profitability of marijuana. Before you go penny stock crazy, be aware that these stocks have a history of dropping as fast as they grow. Their volatility is due to the array of companies and products represented in these stocks as well as shifting patterns with legislation. While marijuana penny stocks have yet to gain a strong foothold on the stock market, these funding options may be worth checking out.
6. Crowdfunding
Since taking the world by storm, crowdfunding sites like Kickstarter, GoFundMe, and Indiegogo have become viable methods for ordinary, everyday people to make their business dreams come true. Last year, federal laws allowed individuals to place up to $2,000 into crowdfunded projects in exchange for ownership of the company. These rules also permit businesses and dispensaries to raise up to $1 million annually through the sites. While this is perfect for dispensaries, experts warn that crowdfunding should only be undertaken by businesses with demonstrated viability and a team of qualified experts to administer funds and shares.
Holding Out Hope for Banks
Despite the headaches and a long road ahead, significant strides are underway. Earlier this year, Illinois State Treasurer Michael Frerich, a staunch supporter for federal rules to change regarding banking and the marijuana industry, wrote a letter to President Donald Trump calling for more clarity when it comes to the relationship between the industry and banking.

In addition to the legal front, some credit unions are now opening up to the idea of allowing dispensaries to get checking accounts. Other banks are providing services that will allow the cash flow from dispensaries to be deposited securely through safe kiosks. Perhaps with these small steps, and some movement from Trump's administration, bank lending, and the cannabis industry may have a brighter future.

Cannabis industry representatives have to remain hopeful that with the spread of legalization on both the medical and recreational fronts, there will be some movement towards untangling the confusing aspects of marijuana funding. Until then, cannabis entrepreneurs are to do what they do best: stay creative, persistent and vocal about the needs for reform in the laws around marijuana funding.