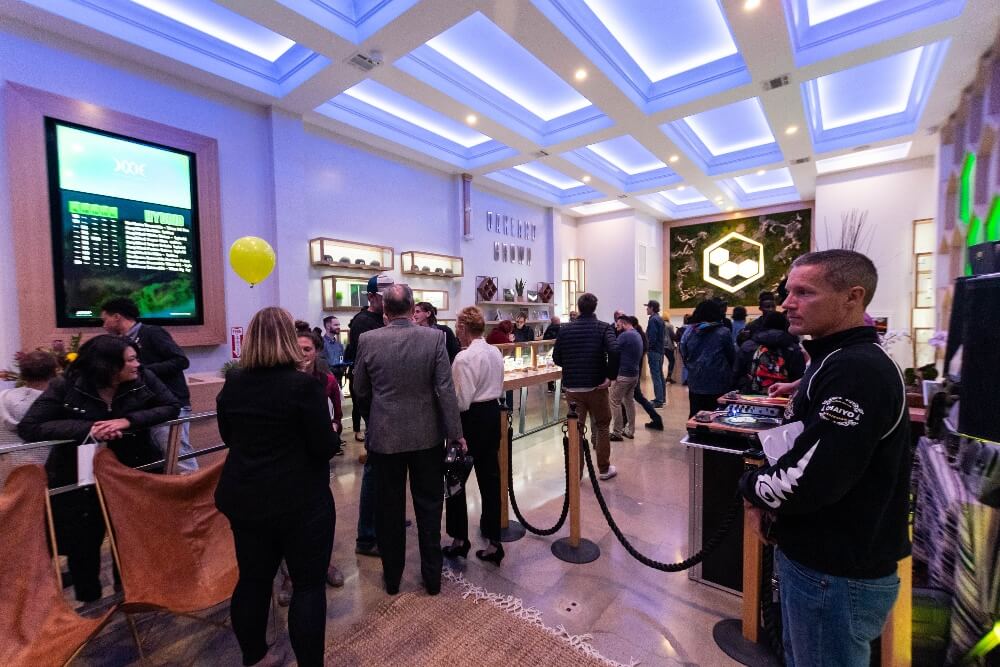 When ECO Cannabis officially opened its doors on January 10, 2019, it was more than just the launch of another California dispensary — it was the realization of Kevin Ahaesy's vision for what a modern-day cannabis retail store should be.
Unsatisfied with the typical Oakland dispensary experience, Ahaesy was also frustrated with the standard cannabis retail operating procedure: taking a number and sitting in a waiting room, only to be called to the sales floor to wait some more until a budtender finally freed up.
On top of that, he found that budtenders — the people customers rely on to guide them to the best solution for their needs — often didn't know basic product information or fundamental differences between types of cannabis products.
Needless to say, when the opportunity to open his own dispensary came along, Ahaesy knew exactly what to do with it.
The Vision
Informed by these experiences and inspired by high-end retail brands, Ahaesy sought to differentiate ECO Cannabis in three key ways: customer experience, customer service, and dispensary flow.
The first aspect was all about updating the look, feel, and ambience of the physical dispensary space while integrating modern technology to enhance the customer experience. Ahaesy's vision for his contemporary cannabis retail shop resembled that of a luxury boutique, complete with beautiful wood-topped bud bars; warm, colorful lighting; and a user-friendly, customer-centric software solution.
When it came to customer service, he would arm his retail staff with the best training and technological tools to help them confidently and effectively serve customers. ECO employs Experience Guides rather than budtenders, and these polished professionals do just that: guide customers through their entire dispensary experience, from check-in to checkout.
With ECO's customer service and experience paradigm firmly in place, Ahaesy looked to address the third element of his dispensary vision: logistical flow.
He understood that cannabis retail software needed one key functionality to address the typical dispensary's checkout bottleneck: an ability to queue customers and park their orders until they're ready to be fulfilled. This would mean reduced wait times and reduced stress, since customers wouldn't feel pressured to rush through the ordering process with a long line of people behind them.
Ahaesy knew exactly what he needed. Now he just had to find it.
ECO Meets Cova
As simple as shopping for the right technological solution sounds, the fact is the functionality that Ahaesy saw so clearly in his mind just didn't exist in reality. And after explaining his need to every major cannabis point-of-sale provider only to hear the same "Sorry, we don't have that," he finally found one that shared his vision for a better retail experience.
"I talked to six or seven of the leading companies," Ahaesy says. "When I first sat down with Cova, they didn't have the function I was describing, either. But they took my idea back to their team, then came back to me with a commitment to building it."
"The other guys I talked to didn't even listen or try. Cova was the only one with the foresight and shared vision to make this capability come to life."
Indeed, Cova staff and leadership saw the value a unique customer-queueing function could bring to dispensaries everywhere. Knowing the effort spent building this feature would benefit the entire cannabis retail industry, the Cova development team rolled up their sleeves.
Making the Vision a Reality
Walk through the doors of ECO Cannabis and experience modern cannabis retail at its finest: Upon check-in, your name is entered into the queue, and you're invited to have a seat in the cozy waiting area until you're called by an Experience Guide. Your guide — a knowledgeable cannabis customer service professional — is equipped with a tablet to easily see your preferences, purchase history, and any medical ailments you're treating. This allows your guide to make more educated and personalized recommendations.
As you peruse the sales floor, inspecting different flower strains and learning about the latest cannabis consumption innovations, your guide answers all your questions and inputs your order into the tablet as you decide at your leisure. When it's complete, your order is electronically sent to the back; once fulfilled, it's delivered to the point-of-sale counter, your name is called by the cashier, and you're ready to checkout.
"Between Cova's customer queueing function and express checkout feature, ECO has cut customer wait times to a third of traditional dispensaries," Ahaesy estimates.
The Modern Cannabis Retail POS Solution
In partnership with Cova, Kevin Ahaesy fulfilled his modern cannabis retail vision. We'd love to help you achieve yours, too. Learn more about what Cova can do for your dispensary by scheduling a free demo today.