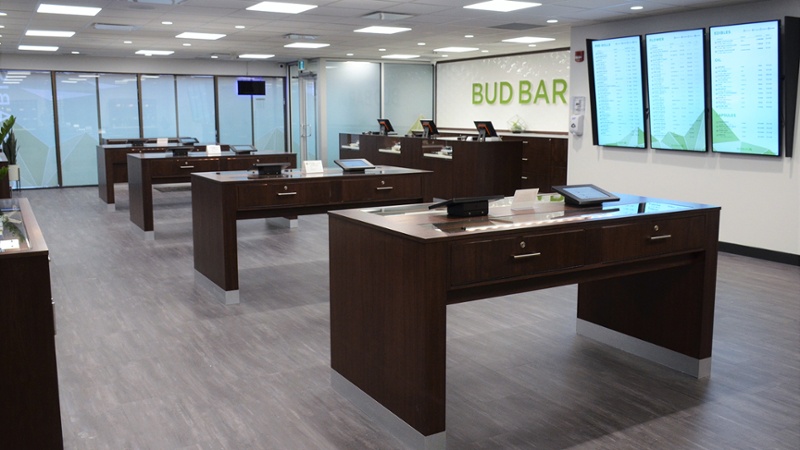 Justin Woo, the Founder of Bud Bar, has come a long way since he sat on a camping chair outside of City Hall, waiting to get one of the very first Development Permits for a legal cannabis dispensary in Calgary. He sold that first retail location to a large cannabis franchise and used the profit from the sale to open up two new locations in the city, with even more opening soon.
This local, family-owned business is on the rise, fueled by a scientific curiosity and a relentless pursuit of improvement.
Understanding the Science of Cannabis Retail
Woo doesn't come from a business background, and he didn't have any cannabis experience either. In fact, he studied Geology. Whatever he lacked in on-the-job experience, he more than made up for in persistence and diligence. Woo describes the process of opening up a cannabis retail store as "almost like a video game." He had to move through all the unique challenges and puzzles, step-by-step, level-by-level.
According to him, one of the most difficult steps in the process was finding a retail cannabis location. With legalization and licensing came a commercial real estate frenzy. The vast majority of landlords wouldn't allow cannabis retailers, so the competition for 420-friendly locations was stiff. And those more obliging landlords knew they could charge a premium for their flexibility. The cost of retail leases skyrocketed. Even with the constraints of the real estate market, Woo didn't settle. When making the final decisions on location, he focused on the future. Even with such a limited selection, he passed on multiple locations because he knew they wouldn't hold up in two to six years.
Because Woo didn't have any direct experience running a retail store in a newly legal industry, he had to get creative about gathering information. "The internet is your best friend," he says when recalling this stage of business development. Woo also has a wealth of information at his disposal via the people he surrounds himself with, like his business-partner father, and his advisory board. He considers other people in the cannabis industry as friends and collaborators, not competition. This attitude allows information to flow more freely, which will hopefully lead to a better industry overall.
Inefficiencies in Process and System
The Bud Bar team learned a lot from setting up their first location. So when the time came to expand, they really wanted to implement these lessons. In the beginning, they chose a mass-market POS system and eventually grew to regret the decision. According to Woo, there were so many inefficiencies born out of the fact that the tool they were using wasn't built for cannabis, which is a very specific industry with very specific needs.
When they were shopping for a POS to use at their new locations, the goal was to find a partner that would reduce inefficiencies as much as possible. After extensive research in the field and evaluating multiple cannabis POS solutions, Justin found that Cova checked all of the boxes.
Partnered with a Reliable POS Solution
Ultimately, Cova came out on top because of several key reasons.
Cova's POS is built for the cannabis industry. Not only are their tools specifically designed to fit easily into the day-to-day business of a retail cannabis store, but Cova also keeps up with local regulations to make sure their tools can help keep retailers compliant.
Woo is also impressed with Cova's fast transaction times; he was confident that the system would be able to keep up with even the busiest days. The Cova POS system is intuitive and easy for his team to learn, which results in less training time.
Woo understands that a business is only as strong as the tools they use, so Cova's reliability and uptime were major factors in his decision. If a customer can't purchase something because the POS system is down, the customer walks away with a bad taste in their mouth for Bud Bar, not the POS company. Cova has a reputation for reliability and uptime, and transactions can still take place if the system goes offline (which isn't often).
What ultimately made Cova stand out is their willingness to listen and act upon customer feedback. "It doesn't feel like you're talking to a wall. With Cova, it feels like you're being heard."
Are you looking for a reliable technology partner for your retail cannabis business? Book a free demo today!