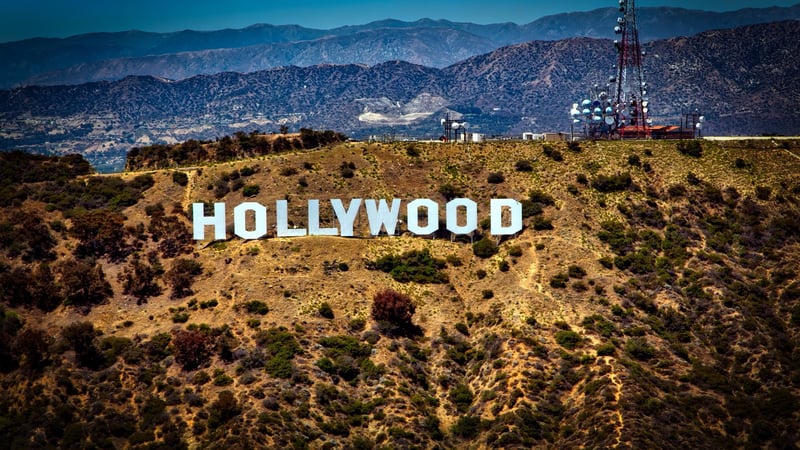 It only makes sense that one of the largest cities in the world would have amazing cannabis retail shops, right? Los Angeles is a hub of the industry, with a vast selection of stores to choose from, each offering their own twist on dispensary design and service.
Today we're going to showcase

5 cannabis dispensaries in California

, the Los Angeles edition

. Each one takes their own unique spin on how to best serve cannabis aficionados, and they all do it very well. Let's check them out!
1. TLC Collective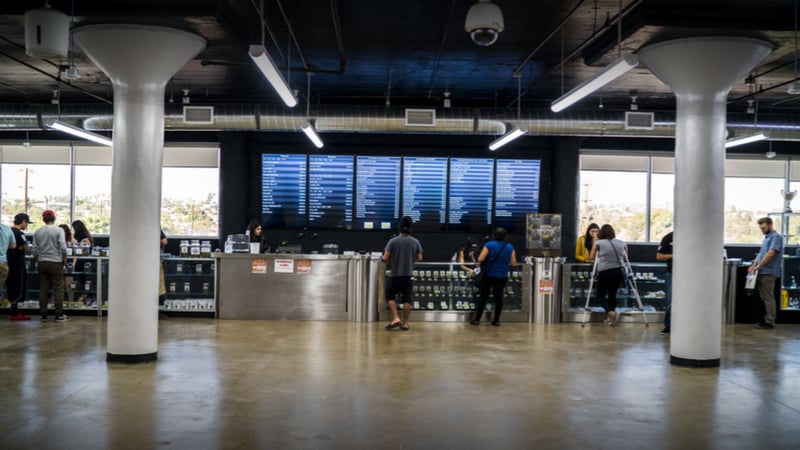 So often we see cannabis retail locations designed with a lot of warm wood to give an elegant and upscale feel, but TLC Collective proves that these vibes can be created in other ways. Using more of an industrial aesthetic, they feature polished stainless steel and open ductwork above. Taking advantage of giant digital signage on their walls, they boast some of the most sought-after flower and concentrates in the LA area.
2. New Amsterdam Naturals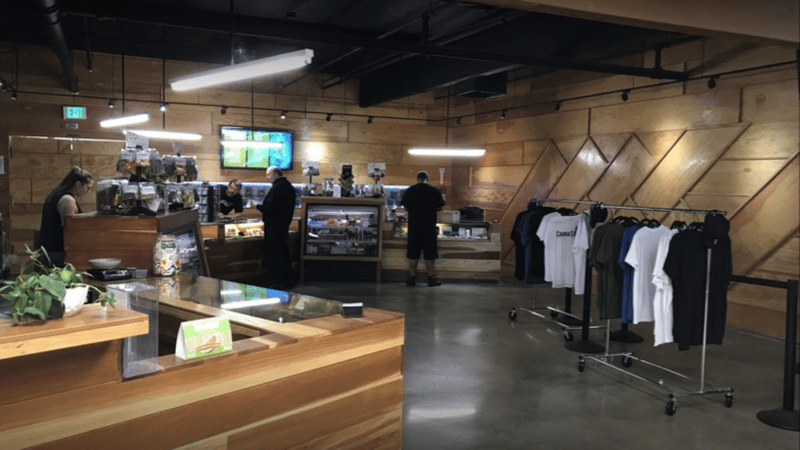 Possessing more than just a pretty face, New Amsterdam Naturals integrates great shop design with customer service that's second to none. Anyone wanting to sport some of their merch can browse the retail floor, while those looking for cannabis can be helped by budtenders. In fact, New Amsterdam Naturals promises a 2 minute average wait time! Combine this level of expertise with their interesting wood paneling and creative lighting setup and you have one of LA's finest stops.
3. City Compassionate Caregivers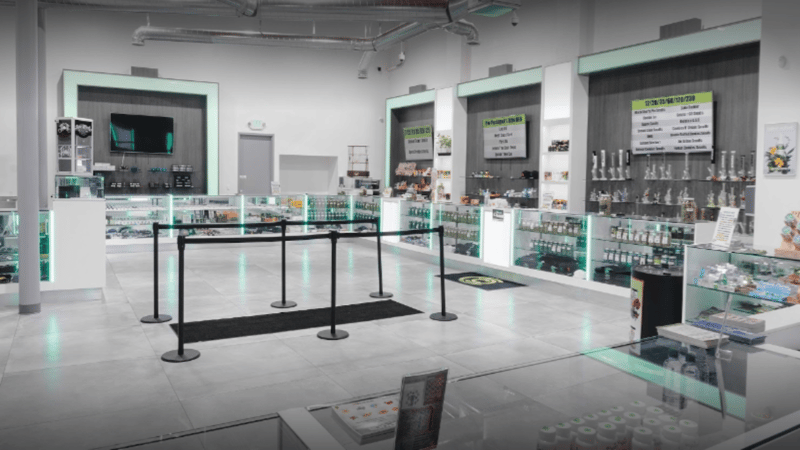 Referred to by many as "Weed Disneyland," City Compassionate Caregivers (CCC) utilizes an expansive retail location to display their selection of flower, edibles, concentrates, and more. It makes sense, as cannabis retailers make more per square foot on average than Whole Foods! But leaving decor aside for a moment, CCC also places a high emphasis on employing knowledgeable budtenders, creating that perfect blend of service and selection.
If you're not working with much square footage at your shop, find out how you can grow your dispensary despite the limited space here.
4. Humboldt Farmacy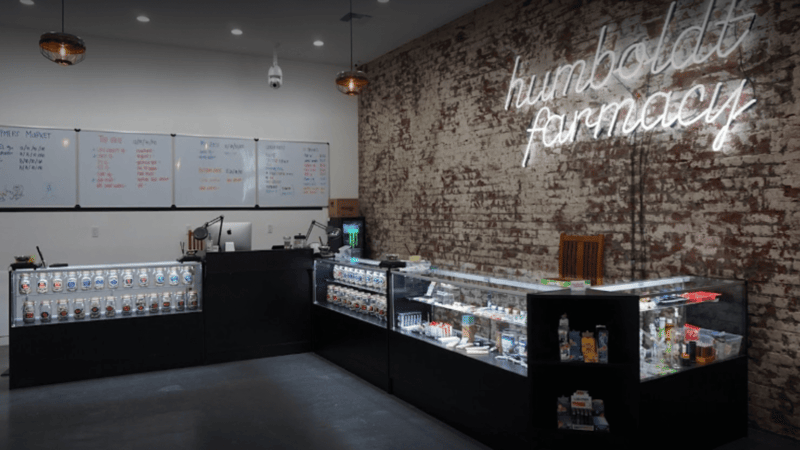 In the retail game, location matters and Humboldt Farmacy has some prime real estate in the Los Angeles area. With access to all of the major freeways, cannabis consumers will be pleasantly surprised when they enter this unassuming building. Known for an incredible selection of wax, gift bags for new patrons, and daily specials, you'll love their vibe. After all, any shop that has the gumption to place a neon sign on a brick wall knows what's up!
5. The Green Easy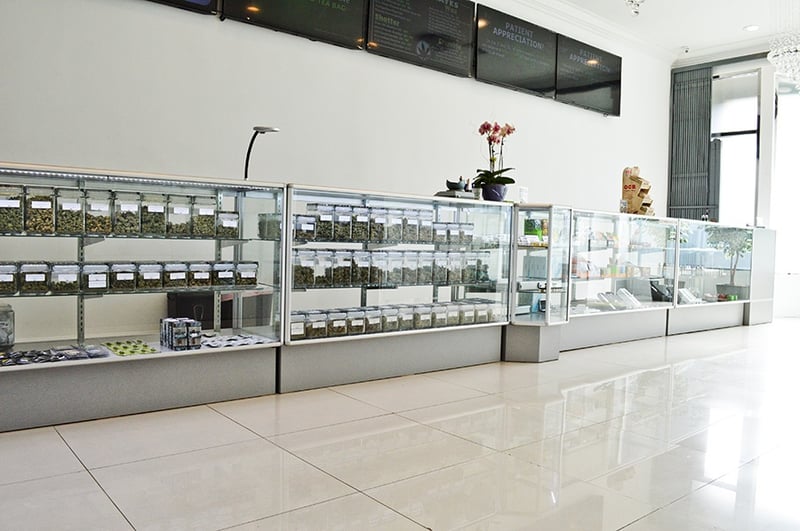 What's nice about the design of The Green Easy is that it's simple, clean, sleek and amounts to an efficient and pleasant customer experience within the environment. Characterized by glass and metal display cases that neatly display containers of product as well as smoking accessories, The Green Easy isn't trying to be pretentious or over indulgent in what they present.
A trip to the City of Angels is never nearly long enough, as the places to visit are endless. However, if you stop by any of these cannabis retail locations you'll be rewarded with some inspiration, quality flower, and a product selection like no other.
Need more information about how California dispensary laws are changing in 2018? Check out our resources page featuring the top cannabis retail operation questions from the Golden State.
Also, subscribe to our blog today.