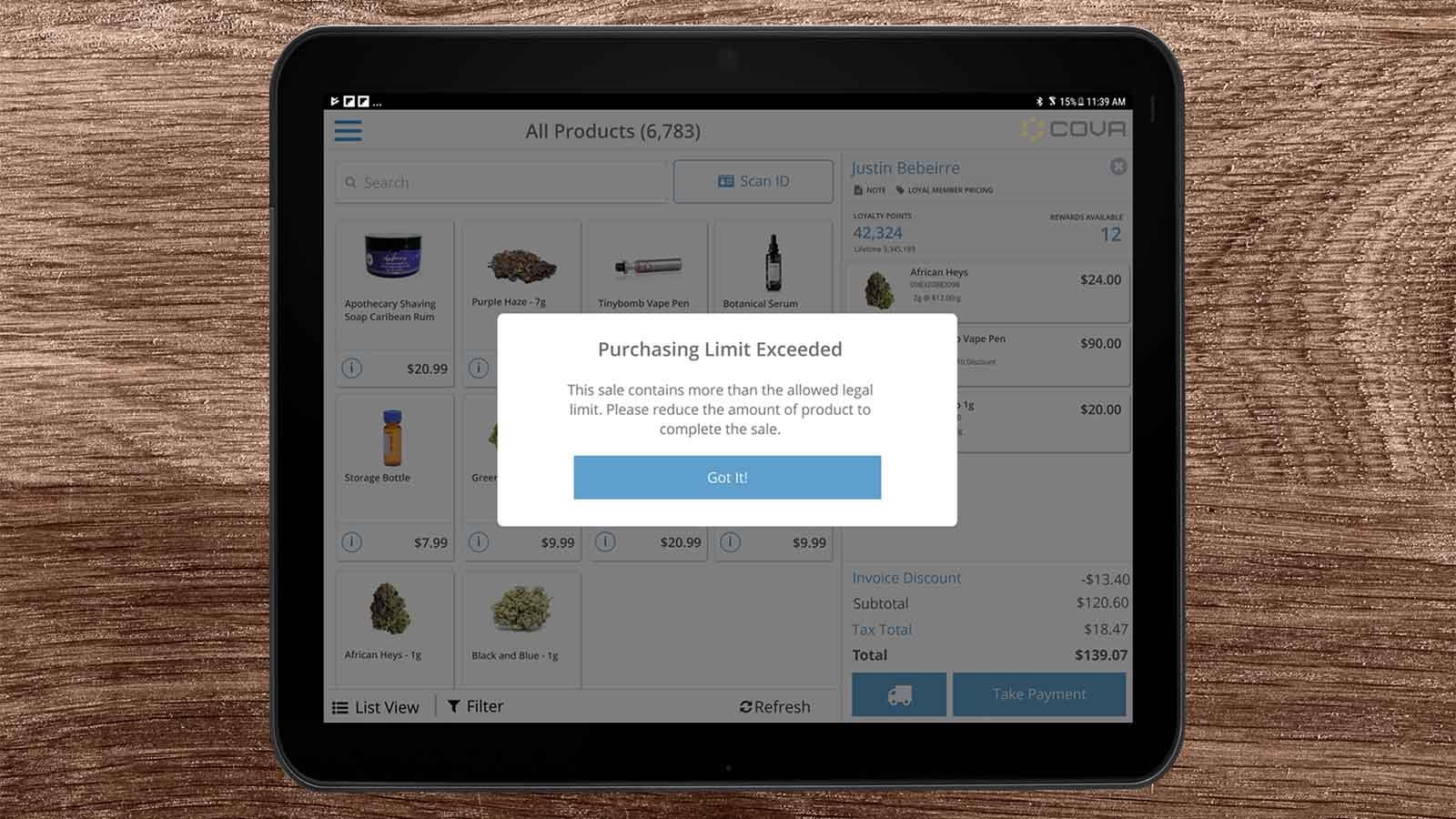 As Canadian citizens celebrate the passage of Bill C-45 and look forward to the start of legal recreational cannabis sales in October, Canadian cannabis retail shop owners are making preparations to ensure their operations are up, running and compliant with new federal and provincial regulations.
Among these
new regulations that budtenders
and retail owners need to be aware of — and compliant with — is Canada's daily cannabis purchase limits. The federal government has set a strict daily purchase and possession limit for non-medical cannabis, and retailers who violate the law by selling more than the allowed limit risk punitive action from provincial or federal authorities.
Dispensary Purchase Limits and Product Equivalencies in Canada
Bill C-45 sets the personal possession limit of dried, non-medical cannabis at 30 grams. Based on this, the daily purchase limit across the provinces is 30 grams of dried cannabis.
The federal government has also established equivalencies for cannabis products other than dried cannabis. Although edibles and popular forms of cannabis concentrates, like dabs, won't be legal to sell right away, it is anticipated that they will be legal within one year of C-45 taking effect. Under the guidelines, one gram of dried cannabis is equal to:
70 grams of liquid product
15 grams of edible product
0.25 grams of concentrate
1 cannabis plant seed
5 grams of fresh cannabis
How to Enforce Canada's Cannabis Purchase Limits
As a cannabis retailer, compliance is the name of the game. Even a single compliance infraction can land you in serious hot water, costing you severely in fines and penalties and potentially putting the license you worked so hard for at risk.


When it comes to enforcing daily cannabis transaction limits in Canada, it makes sense to put safeguards in place to help ensure your budtenders don't inadvertently sell more than what's legally allowed. Calculating product equivalencies at the register by hand or with a cumbersome conversion chart is simply not the most efficient method, either from a customer service or compliance standpoint.

Fortunately, there's a better solution. A cannabis retail point of sale system can help ensure smooth, quick transactions and prevent potential cannabis compliance infractions by automatically converting product equivalencies for customers purchasing more than one type of cannabis product. It can also automatically detect when the daily purchase limit has been met, and even alert your budtender before they accidentally process an illegal sale.
Protect Your Cannabis Retail Investment
You've worked hard to obtain your cannabis retail permit. Protect your investment by implementing point of sale software specifically designed for the business you run — because one small misstep could cost you your entire cannabis retail operation.
Learn more about how Cova's cannabis POS can help you stay compliant and maximize your business by requesting a demo today.