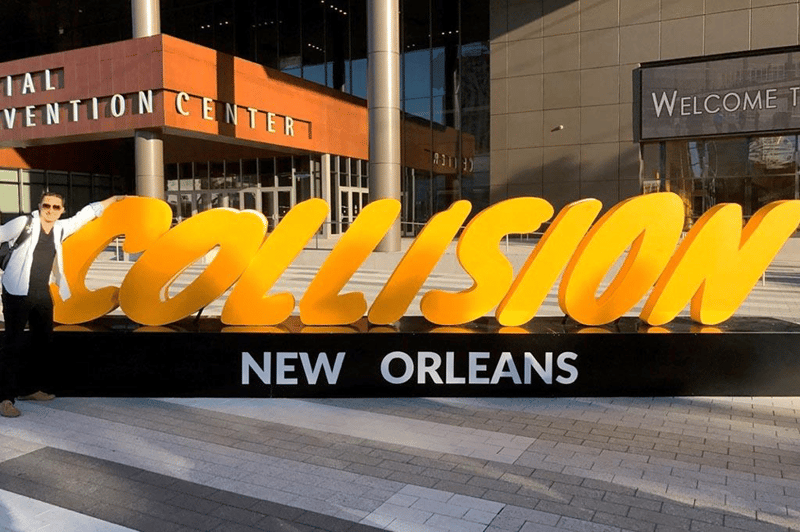 Last year, I attended Collision, a conference that brings together technology, thought-leadership, and investment in a no-frills frenzy, and was pleasantly surprised by the strong connections I made in the cannabis industry.
This year I returned with the intention of connecting with technology innovators and investors specific to cannabis. I had high hopes given the boom of technological advancements and growing hype in the industry.
Cannabis Industry Speakers at Collision
During the conference, we heard from various cannabis industry professionals and influencers including fellow Canadian entrepreneur, John Prentice of Ample Organics. We also listened to Ted Chung of Merry Jane, who shared the digital media platform's mission to liberate cannabis in today's society.
In a setting where pressure is already high, Kurt Akers co-founder of a community platform for cannabis enthusiasts, Kannatopia took to the stage where he delivered a palm-sweating, 4-minute pitch to a panel of business-leading judges. I have to give him credit, pitching for an industry under constant scrutiny and full of controversy is no easy feat.
Uncovering Emerging Technologies at Collision
The show floor is an incredible place to immerse in entrepreneurial energy and get a sense of emerging technologies. Start-ups were divided by maturity stage:
Alpha (idea phase, pre-revenue)
Beta (in-market, early stage, requires funding)
Start-Up (received seed funding, are established, ready for next stage of growth)
As I perused the show floor, I saw several technologies that could be put to use in the cannabis vertical. For example, during mentor hours, I met with a delivery logistics company that optimizes the "last mile" of deliveries. I pointed them in the direction of Eaze and Greenrush and suggested cannabis as an industry to deploy their ideas for better tracking and faster delivery of dispensary products.
The list of other technologies goes on to include everything from new ways of automated system testing, like Irish-based start-up, Unravel and advancements in HR management practices, like Canadian-based Hazel (both of which placed in the top three on the pitch stage).
Compted Marketing offers a forward-thinking technology that may impact the cannabis industry as it matures. Their in-car advertising allows for more accurate and relevant ads, provides a rich set of data for brands to understand unique reactions to messaging and offers calls to action. Riders can reserve restaurants, book hotels and, maybe someday, place a pre-order at the nearest dispensary location.
My Takeaways
Overall, the experience was great. I did, however, notice the lack of technical innovation and industry expertise specific to cannabis. I believe the increased number of quality, cannabis-focused events (O'Cannabiz, Lift) cropping up have pulled attendance from conferences serving broader audiences. After all, the cannabis industry does seem to stand on an island all its own. It's clear that cannabis start-ups and entrepreneurs are finding ample opportunity to connect directly to those standing on the island with them.