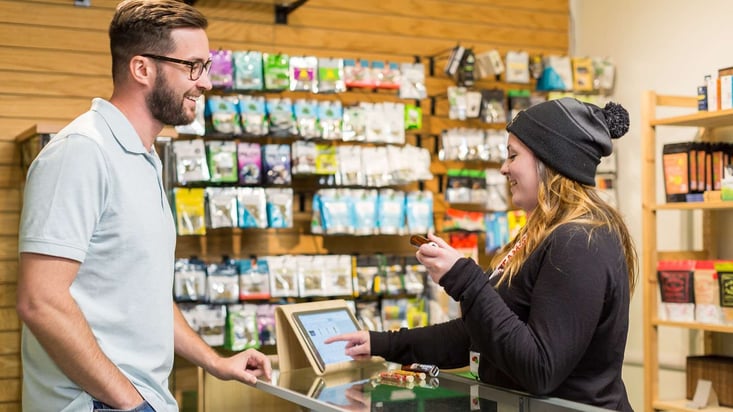 You should know by now that when compared to other retail businesses, cannabis is a unique vertical. Before embarking on such a business venture it's essential that you one, ask yourself the following questions, and two understand the steps to opening your very own a shop.
One of the most important steps in your cannabis retail journey is building a top-notch team to ensure day-to-day operations run smoothly. Today we're going to take a look at four of the key roles a cannabis retailer needs to fill, and how they fit into your operation.
1. Store Managers
The heart of any retail operation is the individual store manager, and cannabis dispensaries are no different. Responsible for overseeing all administrative functions of your store, this person will typically control scheduling, and handle much of the day-to-day business of your shop. Earnings for this position typically start at $75k or more annually, and often include profit sharing to help ensure peak performance.
2. Budtenders
Your budtenders are the public face of your dispensary, responsible for dealing with customers and dispensing your products to them. It's also the job that most people in the industry who lack higher education required for many of the higher-paying jobs initially seek out. This has led to relatively low wages for the position, the Glassdoor page on the subject shows them earning an average wage of about $12 nationwide.
3. Security
Cannabis dispensaries have a host of security concerns far in excess of most other retail operations. They are extremely vulnerable to both internal and external theft, and they tend to hold a large amount of cash along with a stockpile of valuable flower and product. These concerns mandate a significant investment in your security systems. Expect to pay on-the-ground personnel an average wage of $15, and more if they carry firearms.
4. Information Technology (IT)
As the cannabis industry continues to develop and mature, their reliance on technology in all aspects of their operations is only going to increase. Having a dedicated onsite IT specialist to help you maintain and operate all the various pieces of tech your dispensary uses is increasingly important. This is usually a salaried position for which you can expect to spend $50k or more annually.
While there are some additional positions to consider, based on the scope of services you offer and how much vertical integration is permitted by your state regulations, every dispensary will need to fill these four specific roles in order to succeed.
Make sure to regularly check back at the Cova blog for all sorts of information related to operating a successful cannabis retail operation, such as our guide to new canna-business crossover opportunities in hospitality, tourism, and entertainment, across the country.